If ever you've gaped in awe at the gargantuan circus tents at the Bayfront Event Space, they were likely the trademark swirls of a Cirque du Soleil tent. This time, it's red and white swirls that park themselves at Marina Bay Sands, and they belong to The Great Circus of Europe, presented by Uncle Ringo.
But there's icing on the churro: the circus is set in a wonderland of games, rides, and food, all of which arguably makes Uncle Ringo a Singaporean favourite carnival organiser. Circuses have become such a premium occasion in Singapore, and this takes us back to the days of circuses like The Great Indian Circus and its copycats taking place in fields for all to watch and enjoy.
For the first time in Singapore, The Great Circus of Europe
The Great Circus of Europe makes a boisterous appearance with both the death-defying and the jaw-dropping, making it a fantastic Christmas gift consideration! In Singapore till 1st January, tickets for each 90-minute show start at $70, and the show screens at 7.30 pm every day with the exception of a special New Year's Eve surprise — you can read on to find out more about that.
You'll love it if you love…
Gauging from a sneak peek, here's what gives this circus its edge(s).
A good clown
The Great Circus of Europe features Clown Andreea, who is amongst the world's few living female clowns. Clown Andreea is fresh, original, and uproariously spontaneous, relying little on making jokes at the expense of her audience.
Being afraid for someone's life
This Circus also features The Gerlings from Colombia, who put up an act reminiscent of one in Cirque du Soleil's Kooza. The Gerlings have two main aspects to their act, one of which is the Double-Spaced Wheel. The other is equally if not more exhilarating — The Thunderdome features five bike riders riding neck-to-neck in different patterns in a tiny iron mesh globe, even hitting 45 miles an hour.
And a jam-packed programme all in all…
The eight acts that The Great Circus of Europe presents fill the essentials of any circus. There's a daredevil act (The Gerlings from Colombia), a contortionist act (The Bone Crusher from Tanzania), a death-defying strap aerial act (The Serik Brothers from Kazakhstan), a mirthful clown (Clown Andreea from Romania), a catching and casting aerial acrobat act (The Survivors from the UK and Cuba), a rhythmic acrobatic act (The Athumani Warriors from Kenya), and a silk suspension aerial ballet act (Duo Nava from Mexico).
A New Year extravaganza
As part of Marina Bay Sands' 2020 celebrations, Uncle Ringo will host The Great Circus of Europe for a specially curated 10 PM show. Based on the shows' 90-minute duration, you'll likely end at 11.30 PM, right in time to catch some fireworks and yell New Year greetings.
Not to mention, if you're celebrating your New Year's Eve outside, why do it navigating through sweltering public crowds when you could instead, celebrate with a circus troupe in a spacious, air-conditioned tent?
Uncle Ringo's Best: Escapade Festival Village
As opposed to the circuses that typically occur at the Bayfront Event Space, Uncle Ringo has crafted an atmosphere that ensures everyone can bask in the whimsicality of this circus. An array of games, rides, and trending street-food options are all on offer.
While the carnival is free to enter, there is an activity fee for games and rides. Games cost 5 credits to play, whereas rides cost between 5 to 10 credits to partake in. Each credit will cost you a dollar.
Prices here are steeper than those of heartland Uncle Ringo experiences, though the ambiance and the options may make up for it. Not to mention, we are talking about an event that's taking place in Marina Bay Sands.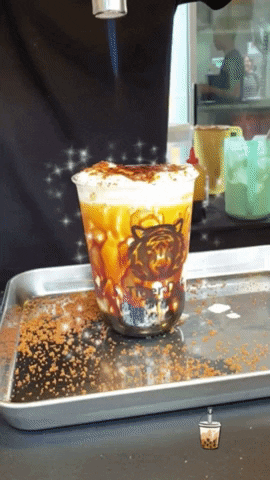 The food options deserve some special mentions because they're almost all 'viral' or really 'trendy' options. From spectacular renditions of go-to pasar malam food like takoyaki (with chilli crab variations), ondeh ondeh churros, and deep-fried oreos to culturally popular fusion food, there are options for everyone, none of them normal, and most of them seemingly appetising. Diabetes warnings!
Recently all the rage, White Rabbit bubble tea also makes an appearance, and it is made by extracting the flavour of the actual White Rabbit sweet as opposed to using only flavouring substitutes. You can find it at the Tiger Dot stall.
On a hot day, you'll definitely swoon at one of the products that the Soi Coco stall has to offer. The stall, which sells delightful rich-but-airy coconut soft serves, has a version of Thai Mango Sticky Rice that replaces coconut milk with a generous dollop of coconut soft serve. The result is worth a try even for those who don't typically enjoy the original dish.
---
Spend the final days of 2019 at Uncle Ringo presents The Great Circus of Europe for great food, drink, and intense fun. And if things get too stuffy at the carnival, just pop back into Marina Bay Sands for some fresh air and 'atas' mall scent. They definitely perfume that place.
Uncle Ringo presents The Great Circus of Europe is running now, till 1st Jan 2020, with a free-for-all carnival and a ticketed 90-minute circus show.
Tickets for The Great Circus of Europe can be purchased here.