Pros
Fantastic, flawless acting
Immersive, to an unprecedented extent
Visually impressive, but never allowing the story to concede to effects
Cons
Still can't believe George Miller's Justice League never got made
Perhaps it is an indication of us, as adults, yearning for stories of hope and gratification, but the idea of the adult fairy tale has only grown more dominant over the last couple of decades. And George Miller's recent foray into the less-than-whimsical fairy tale proves the necessity of such stories with Three Thousand Years of Longing.
Based on A. S. Byatt's short story The Djinn in the Nightingale's Eye, director George Miller takes his unique, but often dystopic, style down the djinn's bottle. His weaving tale is accompanied by the eccentricities of Tilda Swinton's and Idris Elba's performances, both of which perfectly contrast against each other–one a very alienated but mortal human, and the other an incredibly humanised eternal djinn, both in search of some form of reprieve.
While Miller's eye for visual storytelling and detailed scapes have often been defined by bringing intense life to less fantastical sets, he hits the dial to an equally Milleresque grade towards vibrancy and tones with Three Thousand Years of Longing. Unsurprisingly, the film remains as uniquely expressive and immersive as any Miller movie, yet with somehow even more emotional depth.
While it is a strikingly beautiful film, with many opportunities to offer a visual feast with each contained tale, the true achievement is in the sense of intimacy the tale weaves between the audience and the leading cast. There is a well-maintained illusion that anyone beyond Swinton and Elba are simply characters in the recollections our protagonists share, making it seem like the cast is smaller than it truly is.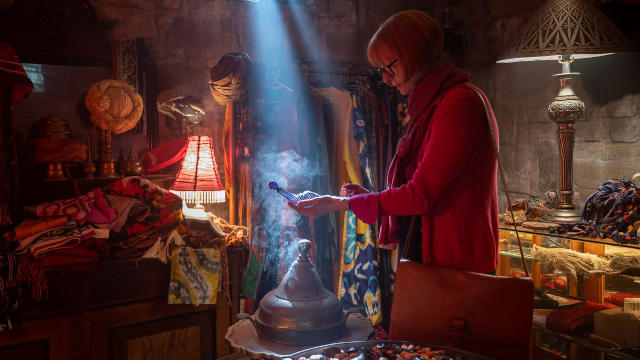 Not to say that the cast of the stories-within-the-story aren't amazing performers in their own domains. Each and every one of them, often entirely silent short of specific expressions, carry their roles and the adhering tales perfectly.
With little in the way of dialogue from these secondary players, Elba's and Swinton's interactions are all there is to feed entire character arcs, personalities, and emotions to the audience while never breaking the atmospheric tension.
It helps, of course, that Miller is no stranger to visual effects being used seamlessly in service of the story, without the former consuming the latter. This, especially, is put to the test with the multiple visually-demanding elements which remain prevalent in all the tales spoken by Elba's Djinn.
Of course, Miller is familiar with the employ of explicit narrative devices in his movies. To date, 1995's Babe remains a hallmark for many on how his unique spin on storytelling may have convinced a generation of audience to swear off bacon… almost. Bringing life to the more transient aspects of a tale is Miller's strong suit, and it is exceedingly present in Three Thousand Years of Longing.
Three Thousand Years of Longing hits cinemas, and the imaginations of those who seek a more mature fairy tale, on September 1st.