The Fandom Menace's attempt at a Singaporean superhero anthology comic book may not have panned out. But with the resilience of a small, North American carnivorous mammal, the campaign will be relaunched… but with a very streamlined goal.
Having initially dedicated the profits of the COVER-19 variant cover edition of the comic to Itsrainingraincoats, a Singaporean team dedicated to assisting migrant workers in Singapore, this relaunch of SingaHeroes will see a run featuring the publication of this edition exclusively.
In addition to streamlining their campaign, they've also found a way to reduce the cost of the books… mostly by foregoing most of their fees in the interest of having this edition successfully see the light of day. To put that in perspective, the goal has gone from $15'888 to a mere $888–all of which will go to printing the books, shipping them, and all the rest of it Itsrainingraincoats.
The ~100-page anthology, which features over 20 talents, will now be available for S$18. Shipping is tiered at $2 within Singapore, $5 within South-East Asian territories, and $7 for the rest of the world. Meaning even if you're in Timbuktu, S$25 would get you over a 100-pages of original superhero content.
So click >here< and go support a worthy cause... or two.
Original Article:
If you're generally aware of the Singaporean comic scene, you'd have seen the term "SingaHeroes" a fair bit in the last couple of months.
A superhero anthology on Kickstarter, SingaHeroes sees a massive collaborative effort with a twist: that all of its stories be based in Singapore! Whether the depiction of the island-nation is accurate or fictionalised matters not, but the stories have to be inspired by Singapore.
And if you haven't backed SingaHeroes yet, here're some reasons why you should:
SingaHeroes is a First of its Kind Singaporean Project
Comics aren't entirely non-existent in the Singaporean scene. It's just a little more underground than one would hope. Of the many writers and artists here in Singaporean, international recognition is limited to Sonny Liew and Stanley 'Artgerm' Lau.
While SingaHeroes does boast the likes of James Leong, Elvin Ching, and even Collateral Damage Studios, the bulk of the team are little known independent talents. In total, the anthology includes 9 "core" stories by the primary creative team, and 3 additional stories from guest talents.
It's by The Fandom Menace
The Fandom Menace (TFM) has been working hard for almost 10 years now on building support for local content creators. From educational events like Comic Art & Story-Telling (C.A.S.T.) their comic-creation process exhibition, to a cheap hotdesking space for independent media and arts enthusiasts, TFM's been around the local arts scene.
Our Editor-in-Chief Zed even had a sit down (over Zoom) with TFM founder Ryan Mennen about TFM's aims and SingaHeroes!
And, yes, this TFM is not related to the similarly named organisation in the US. In fact, the members of this TFM are all pretty solid Star Wars: Sequel Trilogy fans.
Stories from Celebrity Content Creators
Boosting its creator portfolio, SingaHeroes' also taps on the creative prowess of other Singaporean content creators. Frequent collaborators such as game designer David Goh and film critic Jedd Jong are joined by radio DJ and musician Joshua Simon, as well as SGAG's resident madcap duo Fauzi Azzhar and Mark Kinoshita!
SingaHeroes is Raising Funds for a Great Cause
Is any superhero project complete without supporting a great cause?
SingaHeroes is not only a project that sees the promotion of arts in Singapore, but also has 100% of profits from the COVER-19 variant edition of the book donated to ItsRainingRaincoats.

You can find out more about this initiative on this update.
More than Just Western-Styled Superheroes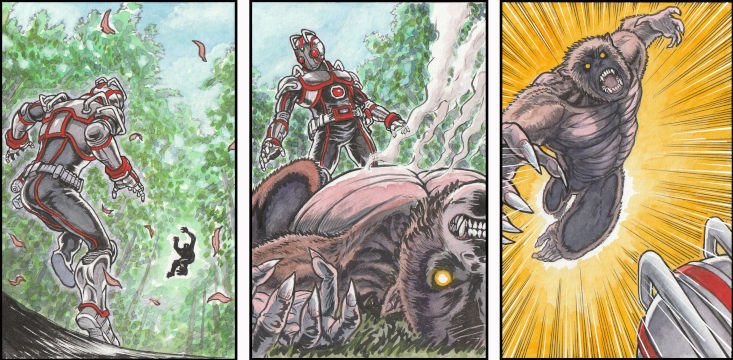 The term "superhero" is often synonymous to the American definition of the character, the Superman and Spider-Man types of characters. The truth is, there is so much more to this genre than the ones from the west.
While SingaHeroes offers an interpretive mix of characters as "superheroes," three tales in particular stand out. Grouped under the Team Henshin lot, Orang Kaiju, Coin Driver, and Majulah Operators are all pastiches of tokusatsu favourites Ultraman, Kamen Rider, and Super Sentai (or Power Rangers).
SingaHeroes Has Actual Diversity and Representation
Even within the international context of comics, characters from minority groups tend to get left out or forgotten, and this applies to creators, too!
SingaHeroes not only features an inclusive cast of multi-racial and LGBTQ+ characters, the editorial team has also ensured similar diversity in the talents contributing to the project. The best superhero comics, after all, champion inclusiveness and diversity. And while the dream is to one day have a healthy mix of everyone by default, extra steps have to be made now to prevent exclusion, inadvertent or otherwise.
By the Numbers: 100, 40, 20, 17!

No that's not the code from Lost (that was 4, 8, 15, 16, 23, 42). These numbers represent the breakdown of SingaHeroes:
– Over 100 pages of content, from stories to galleries and even a board game.
– Meet close to 40 new and original characters from returning ones such as traditional superhero characters like Crimson Star, to brand new and quirky ones like the Cai Fan Heroes!
– Marvel at the work of more than 20 talents from Singapore and Malaysia, a uniquely large team to have come together for this project.
– In addition to the 12 stories, there are also 4 galleries featuring art by various artists including James Leong and Elvin Ching's tribute to the front liners of this COVID-19 season. And if that wasn't enough, there's also a board game by Endogenesis designer David Goh.
Back SingaHeroes Now!
With only 10 days to go (maybe less if you're reading this later), SingaHeroes needs your support now!
With a digital tier at S$18, and physical tiers starting at S$28, this 100+ page book is worth every cent! And don't forget, backing at the COVER-19 tier (or any tier above that includes that variant) will see profits going to ta great cause!