Just a month ago Disney and Marvel Studios blew our minds with a whole new line-up of shows and movies set in the Marvel Cinematic Universe. And the steam engine keeps going with D23 2019 happening now.
UPDATE:
The Eternals
Both Kit Harrington and Gemma Chan are confirmed to be joining the cast as Dane Whitman and Sersi respectively.
A closer look at the cast of Marvel Studios' THE ETERNALS on stage at the #D23Expo pic.twitter.com/bTSkoXh6xI

— Marvel Studios (@MarvelStudios) August 24, 2019
Harrington joins his Game of Thrones cousin Richard Madden as the character known as Black Knight in the Marvel comic universe. While not an Eternal himself, he is often romantically linked with Sersi.
Gemma Chan now officially reserves the unique trait of having been two different characters in the MCU having first appeared as Doctor Minn-Erva in Captain Marvel earlier this year.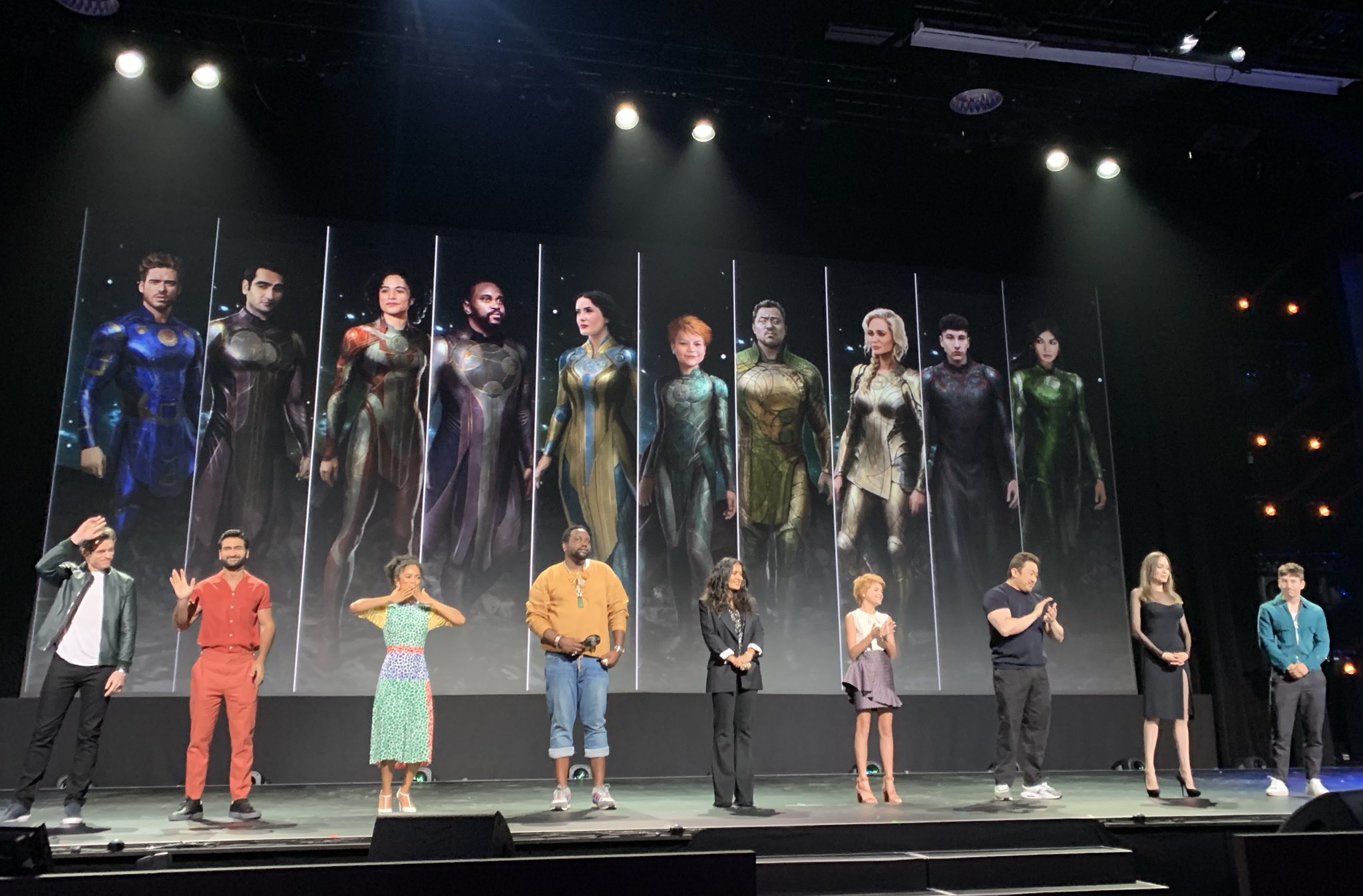 RELATED: NEW MARVEL PHASE 4 MOVIES ANNOUNCED AT SDCC
First, some new characters joining the slate are:
Ms. Marvel

Since the announcement of the Carol Danvers Captain Marvel film, fans have been expecting the unused moniker of Ms Marvel to be eventually assigned to Kamala Khan.
While the Inhumans series was Marvel Cinematic Universe first (and, hopefully, only) true failure, hopefully Ms. Marvel will be another opportunity to return to the characters of Attilan. Although the character has had little to do with the main Inhuman tribe in the comics, this would still open doors for every one's (second) favourite part-human race.
Moon Knight

From the moment Daredevil appeared on Netflix, anyone who's ever read a comic has been wanting a Moon Knight show. After all, if Marvel could deliver a better look at Batman than even DC could under the guise of Daredevil, imagine what they could do with Moon Knight!
With confirmations of a new Blade, and the return of Ghost Rider to the Marvel Studios fold (last seen in Agents of SHIELD) perhaps the time may be ripe for a Marvel Knights series… though, I'm pretty sure I've said this about the previous Netflix shows too…
She-Hulk

No lie, this is the series I'm most looking forward to now. She-Hulk's always been a tad more interesting than her green goliath cousin, and I'm really glad that she'll be getting the series treatment instead of singular movie after which her fate would depend on a sequel.
More interestingly, is that along with Jane Foster in Thor: Love And Thunder and Sam Wilson The Falcon and the Winter Soldier, She-Hulk would essentially be yet another second generation take on one of the MCU's pioneers characters.
While Hulk hasn't gotten much love on the big screen due to contractual conditions with Universal, this may finally be an opportunity to see Mark Ruffalo in a more prominent role than the comic relief he's been stuck with since Thor: Ragnarok.
RELATED: NEW MARVEL DISNEY+ SHOWS ANNOUNCED AT SDCC
D23's also offered an update on some of the shows that were announced at SDCC:
The Falcon and the Winter Soldier

Marvel threw fans for a bit of a loop when the confirmed Sam Wilson The Falcon as heir to the shield at the end of Endgame. Sure, it was obvious that either him or Bucky were gonna get their hands (bionic or otherwise) on the vibranium frisbee, but no one was expecting it to have been confirmed so soon.
With the announcement of The Falcon and the Winter Soldier seeing both of them stepping into Steve's super-soldier-sized boots is still a possibility, but it looks like we may be seeing yet another contender: U.S.Agent.
With Wyatt Russell assuming the mantle of the once-Captain America, it's possible we may be seeing the fallout of the Sokovia Accords so conveniently forgotten following Captain America: Civil War. After all, both Emily VanCamp and Daniel Bruhl are also confirmed to reprise their roles as last seen in Civil War.
WandaVision

Little is known about how we're gonna be seeing the very dead Vision back in this show, but the possibility of Wanda causing a reality mess-up is all but confirmed with the information that the show is inspired, partially at least, by The Dick Van Dyke Show and promises to be half-classic sitcom and half-MCU epic adventure.
More surprising is that we'll be seeing supporting characters from other MCU sub-franchises like Kat Dennings reprising her Thor role as Darcy Lewis, and Randall Park reprising his role from Ant-Man and the Wasp.Katherine Hahn also joins Marvel as "a wacky, nosey neighbor."
What If…?

Inspired by the iconic run of comics featuring possible variations of classic Marvel tales, this animated series will be set in the same vein.
Early previews have revealed an episode dealing with the possibility of Peggy Carter being the recipient of the super soldier serum, becoming a pseudo-Captain Britain, with Steve Rogers working alongside her with the assistance of a mecha-like armour.
Yet another glimpse had Bucky battling a zombie Captain America, certainly a harkening to the popular Marvel Zombies series.
With Disney's and Marvel's relentless announcements, it only remains to be seen if they'll be stealing the show at NYCC!