Pros
One of a kind Item
A toy engineering marvel
Premium materials
Always fun to have a child-sized toy in the house
Cons
Transforming is a chore
For the price, a bit more paint would have been nice
Unicron, The Lord of Chaos, Planet Eater and Chaos Bringer, first appeared in the 1986 Transformers Animated Movie and has set his place as the embodiment of ultimate evil in the Transformers universe.
After his first official release, albeit largely inaccurate, toy in 2003, we have seen multiple recolours, reissues and non-planet iterations of Unicron. Finally, in 2019, Hasbro launched its first and most ambitious crowdfunding project to date on its crowdfunding platform, Haslab.
Released under the War For Cybertron line and having successfully garnered over 8000 backers at a retail price of $574.99USD (SGD 800), this 27-inch fully transformable behemoth is the largest officially released transformer yet. It is also the most accurate representation of the 1986 movie Unicron that you can lay your hands on!
After playing around with the behemoth for some time, I do not doubt that it's a toy engineering marvel. It will probably be Hasbro's pièce de resistance – not just in terms of size but also the sheer amount of detail.
Still, I do have some gripes when considering its price point and what was promised VS what was delivered.
Unicron is flawless in both his planet and robot modes – every line, crevice and groove were well-thought-out and positioned to stand out on the figure. The plastic material they used for the toy feels like it's of better quality, as it is sturdier and more premium compared to your normal off-the-shelf Transformer toys.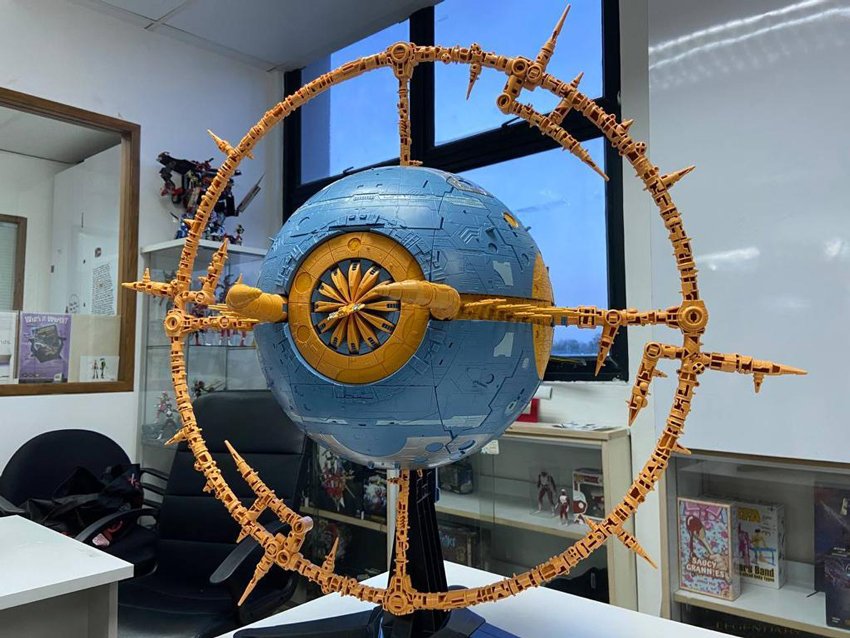 When transformed into planet mode, all robot mode parts are concealed within the 'planet's surface', effectively ensuring that the illusion of "robots in disguise" is always kept up. The same goes for Unicron's robot mode, as there is minimal kibble flopping around or protruding, giving the appearance that this toy is truly a fully-functional robot that's unhindered by his alternate form.
My only issue with Unicron's design is his bottom row of teeth when in robot mode. Unfortunately, they're unpainted and left grey, while his top row of teeth is painted silver – which doesn't match up to the promotional photos that showed both rows of teeth in silver. It may sound like a small issue, but given the price you pay, a little more attention to paintwork is expected, especially if it was already revealed in the promos.
Playability – This is the point where Unicron tanks as a toy for me and positions itself as a poseable statue instead. With its many articulation points, the head separating function and the toggleable planet 'mouth eating' function, the toy certainly fulfils all the criteria for an entertaining and playable toy.
It's all fun and games until you take a look at the whopping 31-page instructions booklet, containing about 100 steps on how to transform Unicron from planet to robot mode. While transforming him, you'll also come to realise just how tight every joint is and how hard it might be to pull apart some of them, especially when it feels like you might break something.
It took about 1.5 hours, completely drenched in sweat, to get Unicron from planet to robot mode, only to realise that the bigger pain awaits in transforming him back to his planet mode.
The instructions only tell you to reverse the steps, which in reality is ****ing unclear and unhelpful given that every step requires precision placement to fit back perfectly. This process cost me another 2.5 hours and another big bucket of sweat.
After that tedious affair, Unicron is decidedly a toy I'd only transform once a year or so. There's still some fun to be had as you can get some crazy cool poses out of Unicron in robot mode, thanks to the many points of articulation and the included stand.

Other than the massive figure itself, you'll get three miniature figures to scale with Unicron's size. There's the Autobot shuttle from the 1986 movie Galvatron and Rodimus Prime, where the latter two are also sadly less painted compared to the promo shots during the crowdfunding campaign.
You also get two stands – one for the big boy, so that the joints don't give way over time due to the figure's weight, and another smaller stand to hold up Unicron's head when he's in planet mode, and for you to place the other three miniature figures.
Lastly, you get swappable faceplates for Unicron. They let you re-enact the scenes when his head was blown off and when his face was damaged throughout seasons three and four of the original Transformers series. There's also an interchangeable chin for you to give Unicron a goatee!
Despite my gripes, I still think that this Unicron is the defining piece of any Transformers collection, and with only a finite number produced, the toy will only become more sought-after over time.
For those of you looking for one, expect to pay top-dollar. For those who already own Unicron in all his glory, let's hope Hasbro announces a Primus to stand next alongside our Unicron soon – once our wallets recuperate.