Pros
Solid build
Clever design
Indicator lights
2 USB Ports
Cons
Functional, not fashionable
As we move our offices home and set up our workstations, or even gaming rigs, it's quite typical to think about your many computer peripherals, your desks, chairs and lighting. However, one key aspect is very commonly overlooked – power. The APC SurgeArrest PM6 Series power strip by Schneider Electric could be the most important element in your entire set-up.
It is extremely common to have multiple connections, and extensions, to a single power point. It's one of those things that we know not to do, but end up doing anyway. We know the dangers, and we've read the literature and probably seen the videos. But we, myself included, end up doing it anyway. So while I've always thrown caution to the wind, the opportunity to review the APC SurgeArrest PM6 was one that definitely interested me.
Visually the APC SurgeArrest PM6 power strip looks extremely "normal". It's a power switch. It doesn't have any of the bling other "designer" power strips might have. When you take a closer look, and when you begin to integrate it in your setup, you realize that its extremely clever in its design.
Firstly you have 2 options on how you want to orient the power strip by running the 2 meter long cable using the grooves along its base. This allows you to easily place the strip along the left, or right, side of your station.
One of the things that bugs me the most is the irregular orientation and sized of power adapters. It can feel like a puzzle by itself just to get all of them aligned so that all your equiptment is powered up and your strip isn't half floating off the floor.
The APC SurgeArrest PM6 power strip's wedge design places three sockets on the top, and another three along the sides that allow you to accommodate all those irregular sized adapters pretty easily. It's wide base also keeps the strip flat on your surface.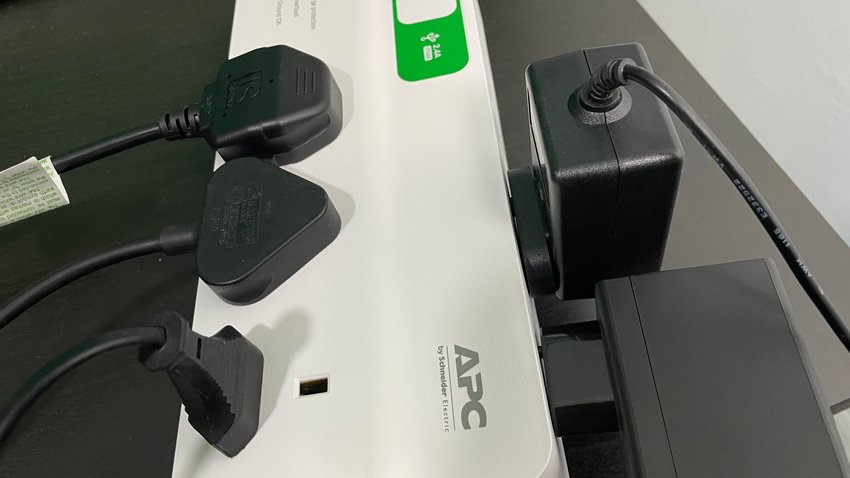 In addition to the 6 sockets, there are also 2 USB 2.4A ports for your mobile and tablet needs.
The APC SurgeArrest PM6 power strip also comes with indicators to show that the strip is not only protecting your devices but also that your devices are properly grounded. An indicator to informs you if the power strip is overloaded which can result in tripped breakers or electrical fires.
Using the power strip I actually noticed that my household iron was causing the indicator light to turn red. It was fine while fully loaded with any other adapters, but only the iron caused an issue. Upon checking I realized that the iron's fuse was on its last legs and once replaced, things were good.
Available at around SGD 75, The APC SurgeArrest PM6 power strip is not the most attractive part of your workstation, but it might just be the most important. It is cleverly designed and well built to serve your functional needs extremely well.