Valuable Like a Synthetic-Skinned Sex Doll
The fucken' cameos
The fucken' song cameos
The "fuck"s aren't overdone
Cheap, Like a Blow-Up Sex Doll
Humour falls flat sometimes, but not in the way that you may think
More Rock of Ages, please
Good Boys corners its young, ensemble cast into being wannabe tweens (not kids) that are raucous, edgy, wild, and overstated. It's an exemplary example of how adults view lovable young punks, though the juvenile stupidity that it features is largely believable and actually funny.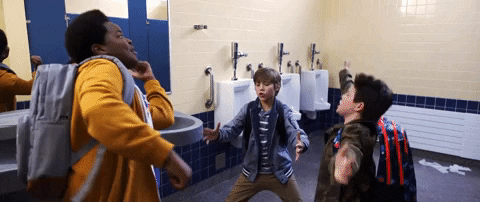 The movie sees talents from lovable American sitcom The Office converge, namely writer duo Lee Eisenberg and Gene Stupnitsky (also the director), (as well as some sweet acting by Stephen Merchant). The movie is also Stupnitsky's feature debut, and is characteristically extremely R-rated, presenting three distinctive young characters navigating their way through the spoils of pre-teenhood or tweenhood.
"May I Kiss You?"
In this instance, the tweens are taken on the emotional adventure of a tween's lifetime: trying to make it to a kissing party while fixing the hot soup they found themselves after spying on two girls (because they wanted to learn how to kiss). In the process, the children are taken through some very adult encounters not limited to the perimeters of drugs and sex toys (among which is a stinky string of anal beads).
While the premise and perhaps even the movie's trailers make this movie easy to dismiss as immoderate and distasteful, Good Boys is uproariously funny because of the inherent 'goodness' and naivety that the children exhibit in given situations. The writers constantly adapt and poke fun at the recurring but winsome tropes of entertainment forms featuring children, down to mocking the group's biking habit with Stranger Things. Above all, the children come out of the movie and its experiences with the perspectives of children – unknowingly using a dildo to bar a door did not teach the children knew much more about 'adult things' than they previously had.
ROCK OF AGES!
The winning characters are backed by the charisma and talent of Jacob Tremblay (plays Max, a hopeless romantic), Keith L. Williams (plays Lucas, unapologetic all goody-two-shoes), and Brady Noon (plays Thor, the singing, almost-beer-sipping 'tough guy'). All three cast members bring exceeding life and believability to their roles. Character Thor who has some great pipes also happens to be auditioning for Rock of Ages, which gives for some great classic music numbers amidst the understandably modern-but-boorish soundtrack that the movie has.
Prevailing above the recurring elements of potty-mouthed children and some crudely graphic components, Good Boys' central themes are honest and meaningful, also depicting the realities that time imposes on young friendships formed out of convenience and joint experiences. The movie finds a lovely balance between children struggling desperately for acceptance and individuality. This film is hilarious and, when the humour runs its course, gives way for some heartfelt moments that might just help you appreciate and reminisce the corny euphoria of everybody in class knowing the name of the girl that you like.