It's no secret that we love a good Ben & Jerry's pint. Every time the brand rolls out a new flavour or range, we're all expecting the usual shake up of new flavour base, swirl, chunk, and sometimes dough combinations. The level of expanse is almost ridiculous, but there's bound to be the Ben & Jerry's pint for every single person. Well, this time, the brand has tried something different. It has taken its over-the-top flavours a notch higher by creating ice cream in pints that feel like sundaes with the Topped range.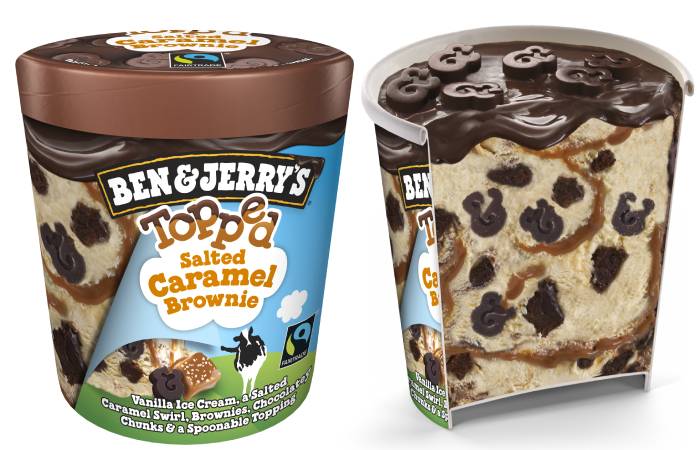 The new Ben & Jerry's Topped range comes with two new flavours in Singapore: Topped Caramel Cookie Dough, and Salted Caramel Brownie. The range features and all-new highlight, and it's in a layer of smooth, silken chocolate hazelnut ganache that sits on the top of each pint. It's the first thing you'll see as you eagerly pop the lid of your pint, and heaven knows it's picture perfect.
Here's our review of the range, which is available at all supermarkets, convenience stores, and online retailers islandwide and retails at S$13.90 a pint.
Ganache-topped pints to be eaten with the discipline of cake-eating
First things first, respect yo dessert. With the topped flavours, you'll want to dig in like how you do with a cake. Grab a spoon, start from the top, and cut straight down; tunnel through the ganache, and into the pint. All the way till you reach the bottom. That way, you'll get the perfect ganache-to-ice cream ratio, like that dreamy cream-to-cake ratio.
The hazelnut ganache, while luscious, decadent, and rich, is also very very sweet. Getting the perfect ratio, in my opinion, is really the only way to truly enjoy the ice cream, without it the "top" getting too overwhelming. But if you prefer a little bit of randomness, you could also chip at it or mix it into the rest of the pint (a mighty sin, in my opinion).
Not to mention, you'll also want to make sure you're not eating all of the ganache at the start, because it might just put you off the pint with how heavy the ganache is. Having a sweet tooth is most definitely a benefit, because the ganache alone could put somebody with a low sugar tolerance off, let alone when it's mixed with the ice cream.
Now let's get into those flavours.
Ben & Jerry's Topped Caramel Cookie Dough Review
Whoever says no to cookie dough? This pint comes with globs of Ben & Jerry's characteristically crunchy-sugary chocolate chip cookie dough. They're smothered n the brand's characteristically smooth chocolate ice cream. And if that doesn't satisfy your sweet tooth just yet, the ice cream also comes with caramel swirls.
The caramel swirls in this one are not suuuper thick, so it keeps the sweetness mostly manageable. I found this pint a little too overwhelming with the ganache, and didn't find it to be a particularly winning flavour combination. The flavours were just… kind of, there. This pint might have benefitted from a little bit of salt, although it might not be everyone's cup of tea.
For me, this was enjoyable, but nothing too special. The ganache is quite spectacular and definitely a new experience. But hey, maybe this'll be your sweet spot.
Ben & Jerry's Topped Salted Caramel Brownie
Oooooh mama. Now this one, is a winner. In fact, this might just be one of my new favourite Ben & Jerry's flavours. Under the layer of ganache sits a delightful vanilla base with… fudgy chocolate brownie pieces, salted caramel swirls, and chocolate chunks.
The vanilla base is what makes this so well, mixed with hints of brownie pieces and the ganache, it's like a chunky, crowded, supermarket version of a stracciatella and I mean that in the best way possible. This is for all you weekend chunk honeys who really just need a pint to curl up in your couch with.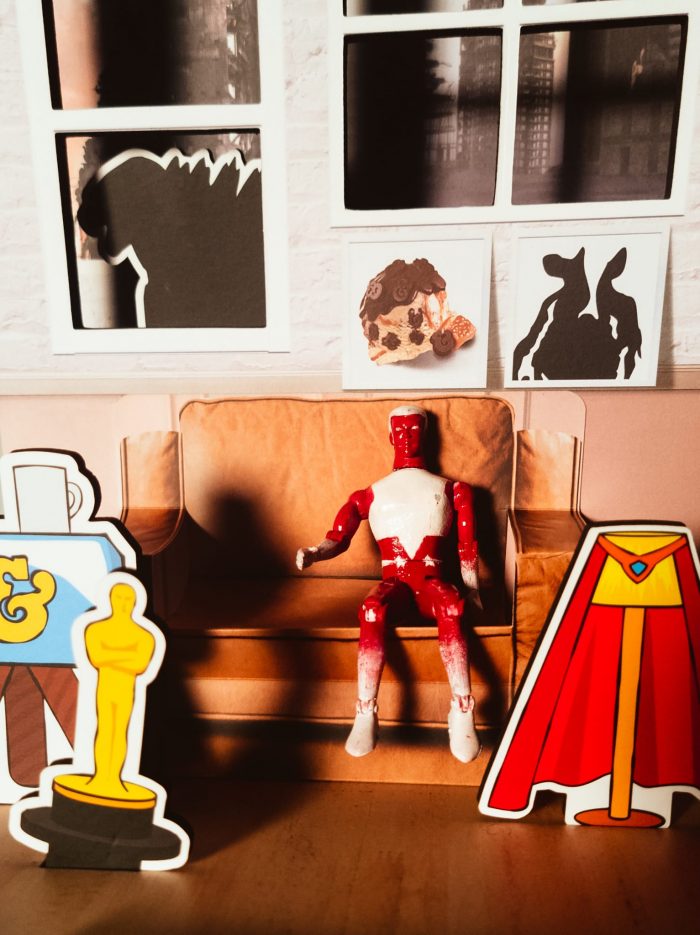 The salt in the salted caramel brings much needed balance to the sweet ganache and this pint, keeping it from getting too cloying. The vanilla also works as a refreshing pair to the hazelnutty flavour ganache and the chocolate chunks, so it's not just chocolate-on-chocolate, which sounds good, but didn't execute as well with the Ben & Jerry's Topped Caramel Cookie Dough flavour as it does for some of the brand's other flavours like Chocolate Therapy.
This is a well balanced pint, although it might still be a little too sweet for many of you. It certainly was too sweet for my partner, although he did admit it was a largely satisfying experience.
These flavours offer a new level of chunky indulgence. I'll say, try them.
If you're a fan of Ben & Jerry's style of indulgence, this certainly offers a whole new experience that feels extra decadent, and different. These are also a must-try if you like chocolate with hazelnut. If you find yourself having to pick between the two, then the Salted Caramel Brownie might be the safer choice.
Personally, I don't fancy the flavour of overwhelming caramel, and found that the amounts of caramel in these two pints weren't nearly as overwhelming as I thought they'd be. The other flavours take centre stage.
While these are the only two flavours in the Topped range for Singapore, hopefully we'll get to see some of the others soon, like the PB Over The Top, Strawberry Topped Tart, and the Tiramisu (which comes with mascarpone ice cream…sounds like a dream).