When you're looking for some serious fast therapy with your ice cream, you know where it's at – you're only going to find it in the chunks and swirls of Ben & Jerry's ice cream at the 7-11 near your block.
On a cold night last week, therapy was exactly what I needed. With the lines between rest and work blurred during WFH, both my brain and my heart had nothing left to give. So I cosied up with my partner under toasty duvet, and we sought comfort in good ol' ice cream.
I was feeling a little risqué. So instead of my usual go-to flavours like Chocolate Therapy, or a Häagen-Dazs Vanilla, I gave my night of sin to two B&J flavours that have made a recent appearance at supermarkets and convenience stores for $13.90.
Meet the two Ben & Jerry's flavours made for glamping at home: Glampfire Trail Mix and Gimme S'more.
Termed the "ultimate glamping duo", Ben & Jerry's Glampire Trail Mix and Gimme Smore flavours are supposedly made to accompany glampin' good times with the family. Marshmallows make a mandated appearance.
Here's what I thought of both flavours. And since I couldn't finish both pints in one night, I was going to have to put my Ben & Jerry's pint lock – the Euphori-Lock on my preferred pint to keep the thieving hands of my siblings away.
Which of the two flavours did I end up putting my Euphori-Lock lock on?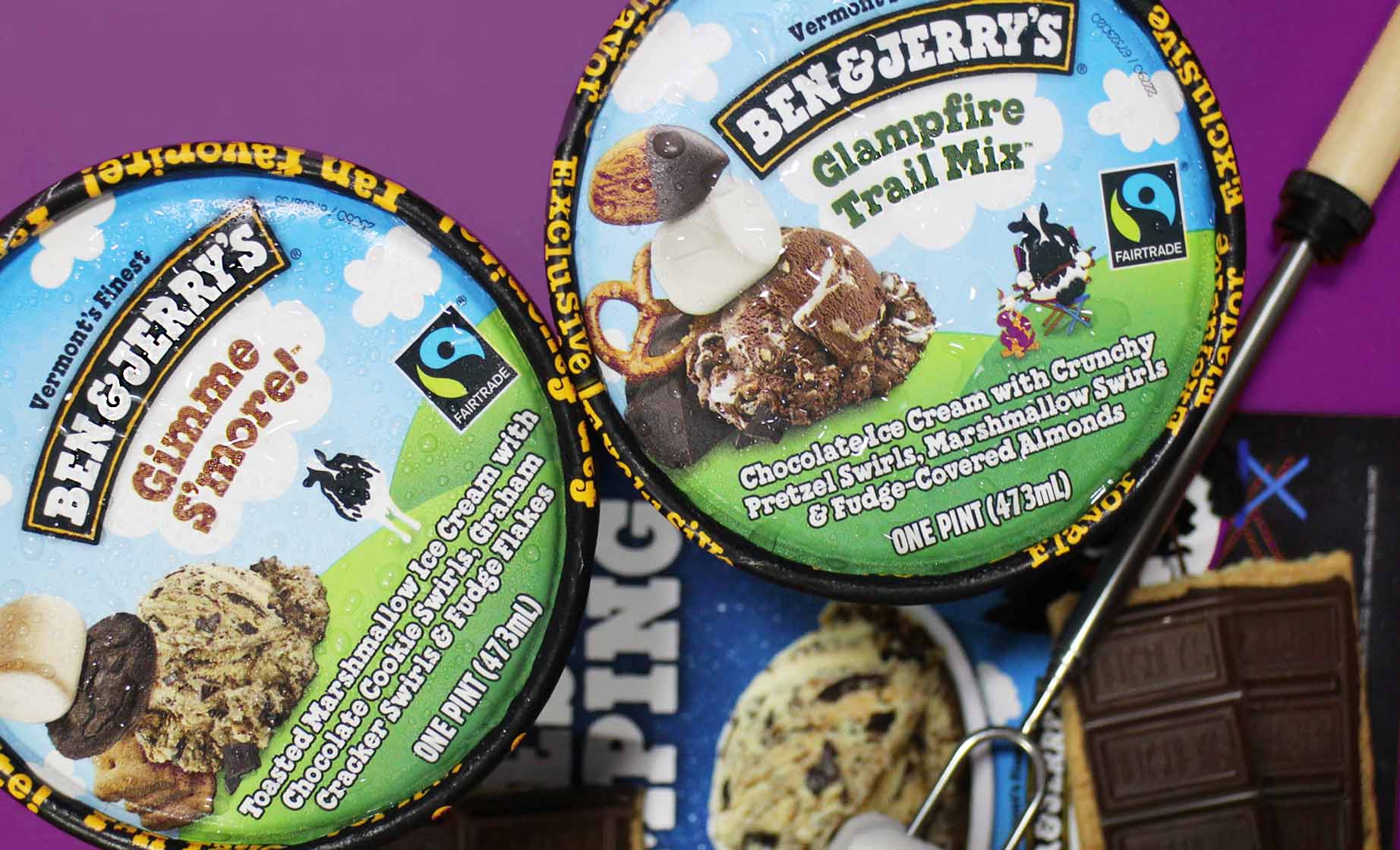 Ben & Jerry's Glampire Trail Mix Review
I'll be honest. As the type of gal who appreciates the rich, no-nonsense ice cream, reading the flavour description of the Glampfire Trail Mix had me interested in how the sweet-and-salty combo would play out. But beyond that, I feared that I'd be trying to fish my way out of an overcrowded pint.
The Glampfire Trail Mix is chocolate ice cream with marshmallow swirls, fudge-covered almonds, and crunchy pretzel swirls.
Ben & Jerry's chocolate ice cream is the perfect base for the layered flavours in this pint. The marshmallow swirls… they're remarkably good and had the fluffy, soft, melty texture of a marshmallow that you've just toasted over a campfire.
It does well with the chocolate base, which helps to mellow its cloying sweetness.
While I'm not the sort of person who'd go "eugh, nuts", I tend to avoid nuts in ice cream because they usually suck when frozen. The fudge covered almonds here are nice. Their chocolate shell helps them retain a crunch that works well. They feel like they've been dressed well to be frozen.
The cream of this crop is really in the pretzels, which are biscuity, salty, and a little gritty. Almost too salty. For me, it was just about nice, and it put big, rich girl pants on the entire product.
The chocolate ice cream becomes salted chocolate and the marshmallow swirls become easier to eat your way through.
With that said, the saltiness does border on overpowering, especially when my ice cream started to melt a little. Some time in the freezer restored its balance and the proportion of salt you'll get with every scoop.
This is indeed a crowded pint, but it is a trail mix. For what it's worth, the Glampfire Trail Mix pint is accessorised tastefully.
Its flavour profile (sweet-and-salty) makes it a pint you won't want to power your way through, but it does make it an interesting choice for family dessert nights when everyone is eating smaller portions.
Ben & Jerry's Gimme S'more Review
If you've been a fan of the brand, you might recall one of Ben & Jerry's previous smores flavours. Gimme S'more looks to deliver the full smores experience, with a toasted marshmallow base, chocolate cookie swirl, fudge flakes, and graham cracker swirls!
The base of this pint is delicious. Although, it doesn't particularly deliver on the gooeyness or flavour of a toasted marshmallow. This one tastes more like a masterful sweet cream flavour, reminiscent of frozen custard, with some very very mild caramel notes.
It's good enough to eat on its own, but it's no marshmallow. It's the accompanying ingredients that make it a standout flavour.
I loved the cookie swirls in this pint, which were gritty and bittersweet, something to meld well with the base flavour. It's simple enough, and there's no surprise that the two go well.
The graham cracker swirls were what gave me bliss. It's easily the best thing about this pint, and it melds well with everything. If you're not too fond of bittersweet chocolate though, you might feel like the graham swirls have no presence.
The graham cracker swirls are also salty and deliver the ingredients in this pint as one lip-smacking product. As opposed to the Glampfire Trail Mix flavour, this flavour is simpler and less busy. It's also less salty, which keeps it delectable even after a few spoonfuls.
So which one am I putting my Euphori-Lock on?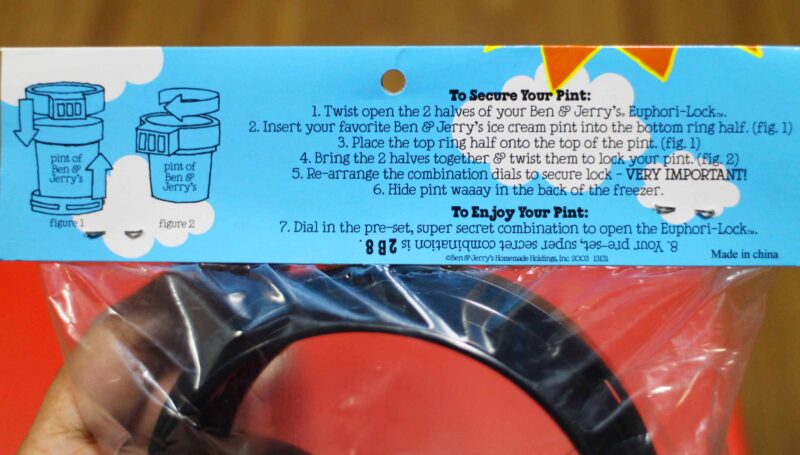 It wouldn't be fair to say that either one of these flavours is better than the other. They're both different. But liking marshmallows and the accompanying sugar levels will help make sure you love these flavours.
As a more neutral player, I'm going to have to put my pint lock on the Gimme S'more pint for its simplicity and balance. While the Glampfire Trail Mix is a punch-packing party in your mouth, the Ben & Jerry's experience, to me, is best enjoyed when I can dig into a pint for an indulgent binge. And, c'mon… graham crackers. Who doesn't love graham crackers?
Try the Ben & Jerry's Glampfire Trail Mix or Gimme S'more flavours, in Singapore stores now.