Bang & Olufsen has announced the launch of Beoplay Portal, its first-ever wireless gaming headphones.
Featuring a sophisticated aesthetic, premium materials, and immersive sound, Beoplay Portal brings all the hallmarks of Bang & Olufsen to the world of gaming — and beyond. Whether used for immersive gaming experiences, watching movies, or enjoying music, Beoplay Portal is designed to adapt to the situation, by offering an impressive set of features including low-latency surround sound, outstanding microphone performance, Adaptive Active Noise Cancellation, Transparency Mode, and an elegant user interface.
These expertly crafted lightweight headphones are built for long-lasting comfort, ease of use, and superior acoustic performance.
"Beoplay Portal is the first of its kind — a wireless headphone that combines gaming technology with Bang & Olufsen's characteristic sound, design, and craftsmanship," said Dorte Vestergaard, Director and Head of Bang & Olufsen's On-The-Go category.
"Our designers and engineers have worked tirelessly to create a pair of headphones that meets the advanced technological needs of the gaming community while also excelling during daily use. Bang & Olufsen is thrilled to be entering the gaming market with this category redefining product."
DESIGNED FOR XBOX
Beoplay Portal was developed as part of the Designed for Xbox program, and connects seamlessly to Xbox Series X|S and Xbox One consoles via Xbox Wireless protocol, providing a high bandwidth, low latency connection. Beoplay Portal is also compatible with PC and mobile devices via Bluetooth 5.1, aptX™ Adaptive, and USB-C, allowing gamers to take their immersive audio experience on the go.
TUNED SOUND
Tuned by Bang & Olufsen's acclaimed acousticians, Beoplay Portal provides a rich audio experience, delivering a high level of detail and nuance. Two custom-designed 40mm drivers with neodymium magnets ensure a precise and faithful acoustic reproduction. And with Dolby Atmos for Headphones, Beoplay Portal also offers virtualized surround sound, adding layers of depth and texture to games, movies, and music.
The sound performance of Beoplay Portal is further enhanced by a new generation of Adaptive Active Noise Cancellation technology. Using a combination of feed-forward ANC and feed-back ANC, Beoplay Portal allows users to fully immerse themselves, enjoying every detail even in noisy environments. The addition of Own Voice enables users to hear their own voices while simultaneously cancelling out extraneous sounds.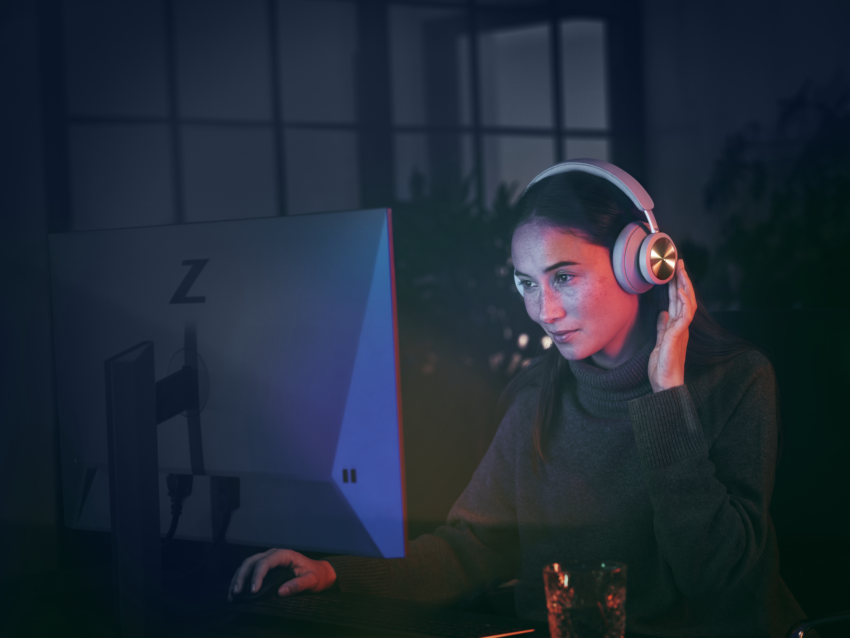 DESIGN AND CRAFTSMANSHIP
Beoplay Portal is available in three attractive colourways: Black Anthracite, Grey Mist, and Navy.
The earcups feature touch-sensitive aluminium discs with a stunning gradient effect, produced using a proprietary anodization technique developed by Bang & Olufsen. The jaw-supporting earpads are crafted from lambskin-wrapped memory foam.
There is a subtle protrusion on the rear of each cushion, which conforms to the shape of the user's head, enhancing comfort and eliminating sound leakage. The inner headband features offset padding designed to relieve pressure on the top of the head. This padding is covered with a high-quality bamboo fiber textile, which was chosen for its durability and breathability. And weighing in at a mere 282 grams, Beoplay Portal headphones are among the lightest on the wireless category, ideal for hours of continuous use.
Beoplay Portal also features an all-new virtual boom arm, eliminating the need for the traditional boom arm found on most gaming headsets. Using Directional Beamforming technology, an array of microphones helps to isolate and amplify the user's voice while eliminating background noise, allowing for crystal clear conversations — whether calling out objectives to teammates or talking on the phone to friends.
USER INTERFACE AND UPDATED BANG & OLUFSEN APP
Beoplay Portal features an elegant user interface comprised of finely tuned touch controls built into the side of the earcups. With several simple gestures, users can raise and lower the volume, adjust ANC and Transparency Mode, and control their music and phone calls.
The same functions can also be accessed in the Bang & Olufsen app (available for iOS and Android). With the launch of Beoplay Portal, the Bang & Olufsen app has been updated to include Gaming Mode, which introduces a new set of features designed specifically for gamers, including microphone optimization and game/chat balance.
When connected to Xbox Series X|S, Xbox One or PC using a dongle or USB-C, Gaming Mode is automatically activated. When connected using Bluetooth, the features will adapt to the needs of a traditional headphone, and the app's user interface will adjust accordingly.
Beoplay Portal has a 1,200 mAh lithium-ion battery, offering up to 24 hours of continuous playtime using Bluetooth and Active Noise Cancellation; or 12 hours of playtime using Xbox Wireless, Bluetooth, and Active Noise Cancellation.
PRICING AND AVAILABILITY
Beoplay Portal (SGD 799) will be available in Black Anthracite starting May 14, while Grey Mist and Navy will be available from June onwards.
In Singapore, the Beoplay Portal will be available exclusively at Bang & Olufsen's Grand Hyatt flagship store and select retailers such as Challenger and Harvey Norman in Singapore. Wireless dongle sold separately