Pros
Great price
Ultrawide screen is great for productivity
Premium gaming specs
ZeroBezel design gives you all the space you need.
Cons
21:9 aspect ratio isn't supported by all video streaming sources yet
PRISM+ is well known for delivering high-performance gaming monitors at a great price point. The new X340 Pro 165Hz Ultrawide Curved Gaming Monitor is no exception.
The PRISM+ X340 Pro 165Hz is an upgrade from the previous 144Hz version and retains many of the features that made it a great addition to your gaming setup while adding a bit more under the hood.
PRISM+ Malaysia provided us with a unit to test and review, and we were definitely impressed.
One of the first things you'll notice about the monitor is its sheer size. There's something to be said about having a big screen. At a massive 34 inches, the ultrawide monitor gives you a sense of power – especially if you're upgrading from a smaller one.
Out of the box, the PRISM+ X340 Pro 165Hz is very easy to set up. At the time of review, the X340 Pro 165Hz comes with the Elevate X1 Stand (worth RM299) which other than having to use a couple of screws, simply clicks in place.
If you have experience putting monitors, or even IKEA furniture together, grab a standard screwdriver and you'll find that it's extremely intuitive and you should have it powered up and running in about 5 minutes.
If you don't, the manual is easy to understand, and it should take slightly longer and probably about 10 minutes.
Once we had it connected and running, we couldn't help but sit back and take in the extra real estate now available – our previous monitor was the PRISM+ F270i Pro.
Featuring a maximum resolution of 3440 x 1440 and a 1500R curvature, the monitor feels extremely comfortable and allows you to take in the entirety of the screen.
The ZeroBezel design also makes sure that it looks modern, sleek and no space is wasted.
The X340 Pro 165Hz uses a VA (Vertical Alignment) panel with a Color Gamut of 120% sRGB and HDR400, at a Peak luminance of 400 cd/m2 (up to 50% higher than typical SDR), that allows it to deliver vibrant colours as well as deeper blacks.
While we advise taking some time to adjust the colours to your liking, X340 Pro 165Hz can switch between four preset profiles at a touch of a button – Photo, Movie, Game, FPS, RTS and Standard.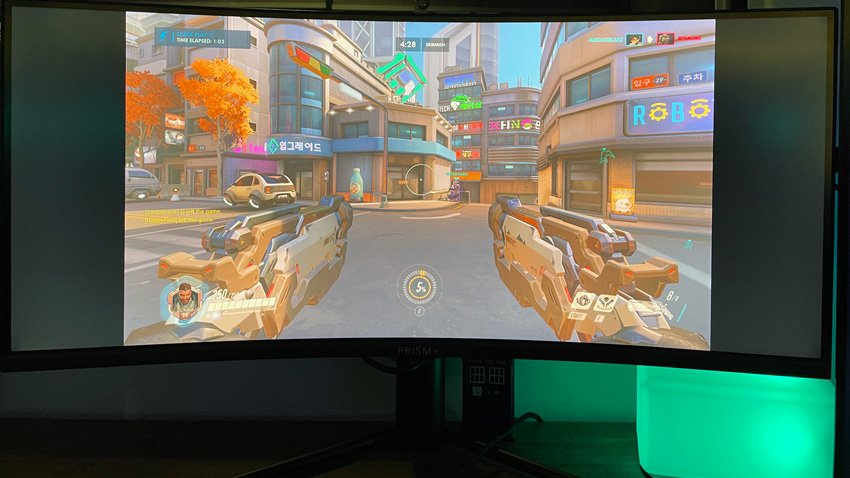 It also features low blue light and flicker-free technologies that help reduce eye strain.
The 165Hz refresh rate and 1ms response time are especially great for gaming – especially if FPS games are your preference and every little advantage matters.
In fact, at the higher refresh rate, you can immediately feel the difference outside of a gaming environment when you move your mouse, windows or apps around. It is a noticeably smoother experience.
Real-Time Strategy (RTS), and basically any game with detailed environment and maps, looks exceptionally good on the widescreen, allowing you to take in even more of the maps and detailed landscapes.
The X340 PRO 165Hz also features Adaptive-Sync technology that eliminates visual tearing – especially as the action picks up in-game.
While movies look good, unfortunately not all content is ready to take advantage of the 21:9 screen ratio. Most are still only optimized for 16:9, which will place black borders around your visuals and won't be able to take advantage of the entire screen.
Another downside of the VA panel is that colour tends to shift slightly if you're watching the screen from an acute angle. I wouldn't expect to use this monitor for a watch party, but if it's just a couple of people generally centred around the screen, it shouldn't be an issue.
However, the 21:9 aspect ratio is an absolute joy when you need to knuckle down and get down to work.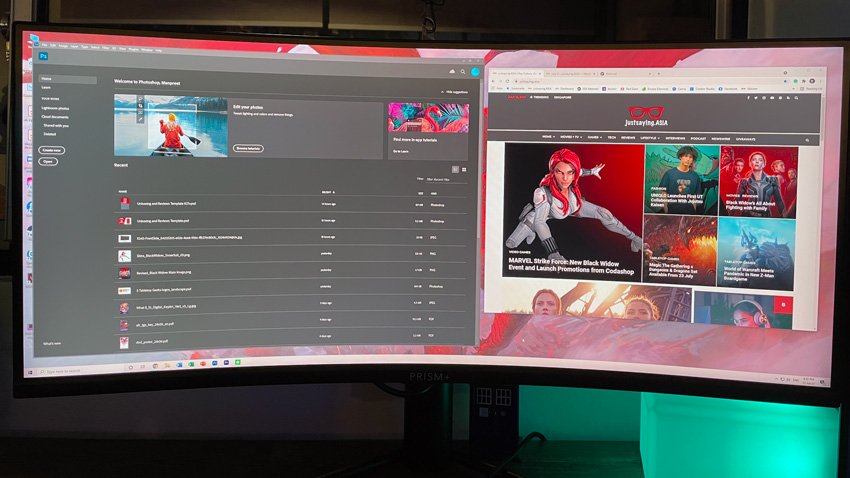 You can easily manage multiple windows and applications. The UWQHD display puts all the information you need in front of you for easy access from having browser windows open side-by-side to extending video editing timelines across the screen.
At RM 1,799, the PRISM+ X340 Pro 165Hz Ultrawide Gaming Monitor is great value for money for gaming or even levelling up your daily productivity.
It provides a very comfortable viewing experience even when you spend long hours in front of the screen and while there are some drawbacks with the 21:9 aspect ratio with movies, it's definitely not a dealbreaker.
For those in Kuala Lumpur, PRISM+ Malaysia has a warehouse in Petaling Jaya that allows for quicker delivery times.