Rain or shine, the spirit of Pink Dot has never been dampened, so why should a pandemic do anything to stop Pink Fest?
Back for its third run, this year's Pink Fest sees a bulk of its events go digital, making it only easier and more accessible than ever before! And not only are there new additions to the regular Pink Fest line-up, this years sees a bit of a shake-up with all-new content!

An enriching and enlivening program of virtual panel discussions, skills workshops and mentorship sessions designed to help you get your career back on track. The program has been curated with the help of experts from an array of inclusive companies across various industries in Singapore. The Inclusive Careers Lab is made possible with additional support from ResMed and Twitter.
Dates: June 14th to 25th 2021

Singapore, are you ready for your newest star? Expect to be wowed, entertained and touched by the talent on offer in this show. We're looking for actors, comedians, poets, contortionists, impressionists, magicians, ventriloquists, singers, dancers or any other hidden talent that hasn't been showcased to the world yet. Maybe you're incredible at lip synching! Come join us!
Queer Got Talent is a collaboration between Pink Fest and fashion boutique Super Freak. Open to all, especially anyone who feels like the odd one out. This is your time to shine, plus $1'000 for Best In Show and oodles of fabulous swag up for grabs!
To take part in the competition, all aspiring stars should head to the online form for more details.
Date: 26th June 2021
Venue: Facebook Live starting at 3:30pm (SGT)
Sign-up Form: https://forms.pinkfest.sg/queers-got-talent
Deadline: 5pm (SGT), 18 June 2021

Empowered by a mystical being, Eric and Hallie transform into the super-powered Scalemail & Ixora, using their abilities to battle bullies and bigotry and protect the oppressed! The dynamite buddy-cop duo debut in this short comic book story from the pages of the successfully crowdfunded campaign, SingaHeroes.
This very special Pink Fest edition also contains a behind-the-scenes look at the comic creation journey from script to art to letters.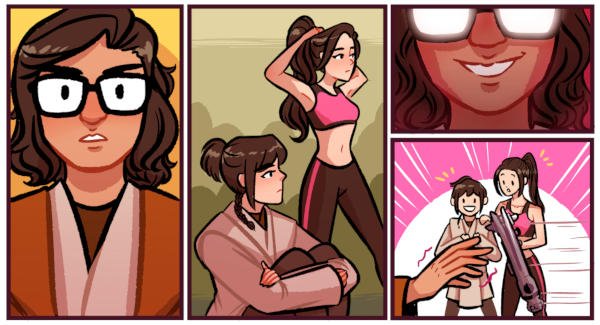 The short story also features a special guest appearance by local Star Wars fan group FightSaber!
Pre-Order Period: 30th June 2021
Delivery: Early August 2021

A livestreamed, light-hearted and fun show featuring all creatures furred, feathered and scaly. Pet owners can win $1000 for Best In Show and a cornucopia of treats for pet and owner. Inclusive brands will be joining in live with special offers. The entries will be judged live by a panel of animal loving celebrity guest judges: Actor, director and comedian – Hossan Leong; founder of Voices for Animals – Derrick Tan; and chef and food writer Sarah Huang Benjamin. The show will be hosted by the hilarious and multitalented Audrey Luo, who most recently starred in Wild Rice's 2021 production of The Amazing Celestial Race. To take part in the competition, pet owners and parents should head to the online form and upload their entries.
Date: 19th June 2021
Venue: Facebook Live, 3:30pm (SGT)
Sign-up Form: https://forms.pinkfest.sg/proud-pets
Deadline: 5pm (SGT), 11 June 2021

Beginning 18th June, The Projector's annual queer film festival returns to Pink Fest to tempt cinephiles with nine titles curated from across Asia and around the world.
Five in-cinema screening that include:
Weekend (R21)
Saving Face (R21)
Memories Of My Body (M18)
Little Girl (M18)
Tove (R21)
For audiences who want to watch from the comfort of their own home there are four Pink Screen titles available on The Projector+:
House Of Hummingbird (M18)
Portrait Of A Lady On Fire (R21)
Summer Of 85 (R21)
The King And The Clown (NC16)