Jabra has announced the release of the latest in its Evolve range of enterprise headsets, the Evolve2 75.
Jabra's latest hybrid working research shows that 68% of employees see their ideal work week include a hybrid model of working from home and an office. 85% of knowledge workers said being confident in their audio, video and connectivity allows them to excel at work. With that in mind, the new Evolve2 75 aims to be the flexibility hero, with comfort, concentration, collaboration and insights at its core.
These pose the biggest challenges for organisations whose employees are working in changing locations, so Jabra has packed the Evolve2 75 with new features that push sound quality and comfort even further. Maximising flexibility and increasing concentration, the Evolve2 75 delivers crystal-clear calls and pitch-perfect music in any surroundings.
Jabra has focused on engineering a superior ergonomic fit for the ear cups, reimagining the leatherette, dual cushion design to improve ventilation and reduce ear pressure. In turn, this optimises the curvature and padding of the headband to ensure this headset stays securely in place, and improve the overall active noise cancellation performance.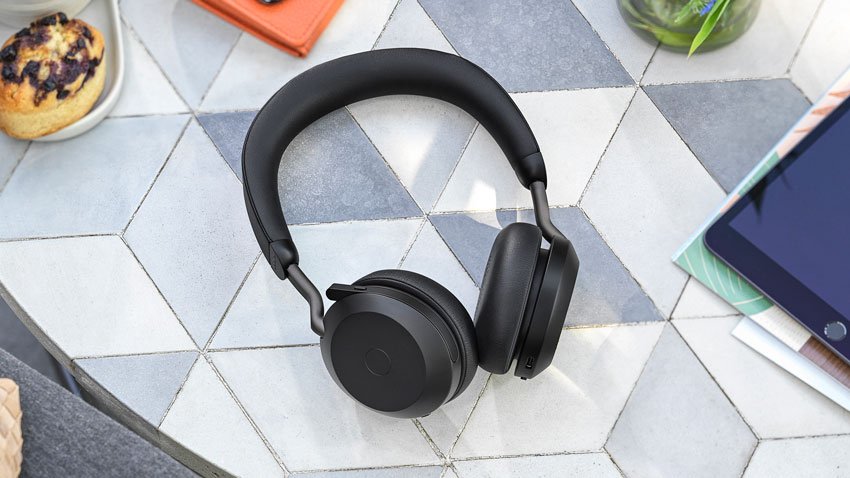 The Evolve2 75 is the first of Jabra's Evolve headsets to include fully adjustable Jabra Advanced Active Noise cancellation (ANC), so you can pick and choose how much (or how little) of your surroundings you hear. A 'HearThrough' button allows for tuning back into the sounds around you when you need to, without even having to take your headset off.
With customisable settings like MySound (for the Sound+ mobile app), optimising music for personalised hearing profiles, and Equaliser adjustment, available through the Sound+ app plus Jabra Direct on mobiles and PCs), the Evolve2 75 suits changing needs.
The mute and auto answer-enabled microphone boom arm on this new headset is 33 per cent shorter than on the previous Evolve 75 design, giving users even greater flexibility and better-sounding audio. The arm is also intended to meet Microsoft's stringent Open Office requirements and is designed to cut out ambient sound in open-plan offices and loud, busy indoor areas.
The headset has a discreet mode feature, you can easily fold away the boom arm when required for quality calls on the go.
The headset's 8-microphone technology works with Jabra's revolutionary triple chipset-powered algorithm to distinguish between your voice and the noise around you even more precisely, for the sharpest-sounding calls yet. The Evolve2 75 also includes a 'Busylight' with increased 360º visibility for when total focus is needed.
Jabra Xpress software also makes it easy to update firmware and manage settings remotely. The 30-metre wireless range and dual connectivity to computers and mobile devices gives the Evolve2 75 extra flexibility, and promises increased freedom to walk and talk without affecting call quality.
"Our goal for every addition to the Evolve Series is not to simply create a new headset, but to set a new standard. That's why we look at all aspects of the product during development in order to get to the best audio experience imaginable," said Holger Reisinger, SVP for Enterprise Solutions, Jabra.
"With the combination of our ground-breaking new dual-foam technology, an improved headband and a revolutionary new 'comfort pattern' design, the Jabra Evolve2 75 provides incredible noise isolation and comfort for an all-round improved audio experience that feels as good as it sounds."
The Evolve2 75 will be available from November 11th 2021 at selected retailers. The Evolve2 75 comes in UC and MS variant with the option for USB A or USB C, and in 2 colours – Black and Beige at SGD549. The Evolve2 75 with Charging Stand (only available in Black) will be available for SGD628.