Xencelabs Technologies Ltd. has announced the launch of its latest digital drawing tool, the Pen Display 24 Studio Series, which offers artists a new creative option.
This product is an addition to the company's range of professional digital design tools, which includes the Pen Tablet Medium, Pen Tablet Small, and the Quick Keys customizable remote, creating a comprehensive portfolio of drawing tools for creative communities worldwide.
The Pen Display 24 made its public debut at the Game Developers Conference (GDC) in San Francisco in late March 2023. It boasts a range of features and capabilities, such as enhanced glare reduction and fingerprint resistance, an edge-to-edge drawing surface, a natural drawing experience, Pantone Color and SkinTone validation, the included Tilt Stand, VESA mount flexibility, silent and fanless operation, and a security slot for the Kensington MicroSaver 2.0 lock.
"Since we launched our first product, we've constantly looked for new ways to improve the creative workflow. We listened to artists, and their input is reflected in the Pen Display's design: stunning display fidelity, excellent drawing experience, superior ergonomics, and more. This device is designed for maximum productivity, adapting to the user's preferences, not the other way around," said Michael Thompson, Head of Global Product at Xencelabs.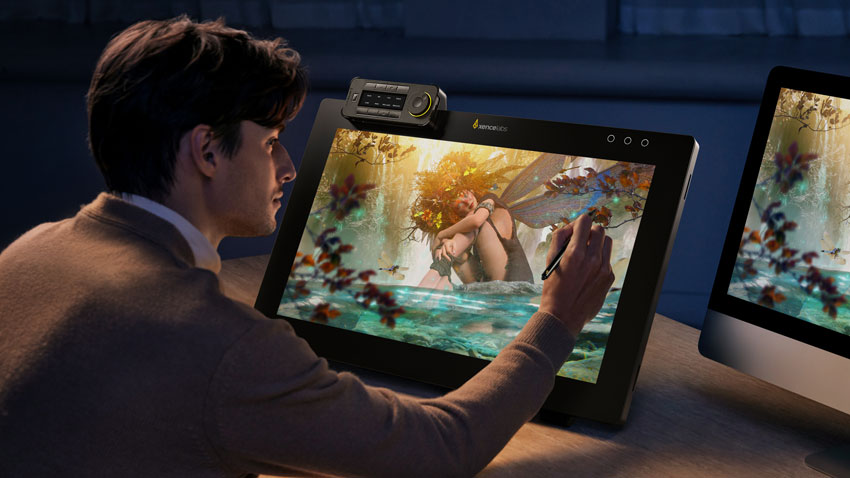 The Pen Display 24 comes with all necessary accessories, including a Tilt Stand, to enable users to start working immediately after downloading their preferred driver (Mac, PC, or Linux) and plugging in the display. The Linux driver works similarly to the Windows and Mac drivers and has full functionality.
The Pen Display 24 offers a range of features and benefits to enhance the user's drawing experience. Its edge-to-edge tempered glass features Xencelabs' Super-AG Etching for glare and reflection reduction, delivering clarity even in bright rooms with overhead lighting.
The continuous surface is uninterrupted by buttons or seams, and an anti-fingerprint coating reduces streaking and smudges caused by everyday use. The etched glass screen provides the right amount of friction for a natural drawing feel, and two pen sizes are included to fit different hand sizes and preferences.
The display's pressure curve has been meticulously tuned for optimal responsiveness and stroke-to-stroke accuracy, and the pen response is adjustable to each user's drawing style. The Pen Display delivers 1.07 billion colors for accurate color reproduction, and its 4K Ultra-high definition resolution (up to 3840 x 2160) is designed to contribute to an improved workflow, as images that are enlarged several times still retain clarity and sharpness.
The Pen Display 24 includes Xencelabs Quick Keys that can be attached to anywhere on the side of the display, making it easy to find a comfortable location. The Quick Keys allow artists to incorporate shortcut keys into their workflow through an easy-to-use interface, and the integrated OLED display lets users see button assignments at a glance.
Users can quickly access settings via three programmable LED buttons on the top of the Pen Display.
The Pen Display 24 is designed for silent and fanless operation, with a magnesium alloy rear housing that dissipates heat and eliminates the need for a fan. The included Tilt Stand enables the display to be tilted comfortably at any angle between 16 and 72 degrees and is easily adjusted with one hand.
A standard VESA mount (100X100mm) allows the lightweight (5.8 kg / 12.8 lbs) Pen Display 24 to be easily used with additional stand options, such as an arm, with no adapter needed.
The Pen Display 24 will be available in the second quarter of 2023 for US$ 1,899. Pre-orders are now open via the Xencelabs website.