ViewQwest has been awarded Singapore's fastest fixed network by Ookla, the company behind Speedtest for Q1 – Q2 2022.
This is alongside Singapore's neck and neck race with Chile to keep the crown of fastest broadband speed in the world, with Singapore coming out on top for three out of the first six months in 2022.
Of the five major broadband service providers that were measured – ViewQwest, M1, MyRepublic, Singtel and StarHub – ViewQwest emerged as the top fixed network in Singapore with top download and upload speeds of 766.53 Mbps and 838.12 Mbps respectively.
"This is now our fifth award as Singapore's fastest fixed network, and it is a recognition of our relentless effort to ensure that we deliver superior internet services to our business and residential customers," said Ms Jurist Francisco-Gamban, Chief Marketing Officer of ViewQwest.
"We are a critical enabler for businesses forging their digital future and for consumers pursuing their digital lifestyle. Beyond delivering the fastest connections, we believe in taking a proactive role to ensure that these connections are secure and that our customers are informed about protective measures against cyber threats."
"Whether they are a mid to large enterprise requiring bespoke managed network and security solutions, a small business adopting their first cyber security initiatives, or a household looking for easy and effective cyber protection, ViewQwest can help."
"Speedtest Awards, presented by Ookla, are an elite designation reserved for the fastest and top-performing fixed broadband and mobile operators around the world," said Doug Suttles, CEO at Ookla.
"It is our pleasure to present ViewQwest with the award for Fastest Fixed Network in Singapore This recognition is a testament to their exceptional performance in Q1-Q2 2022 based on Ookla's rigorous analysis of consumer-initiated tests taken with Speedtest."
Since 2018, ViewQwest has clinched the top spot as Singapore's fastest ISP, making 2022 the fifth consecutive year that the company has received the award. ViewQwest is only one of 2 ISPs in Southeast Asia to have achieved this recognition.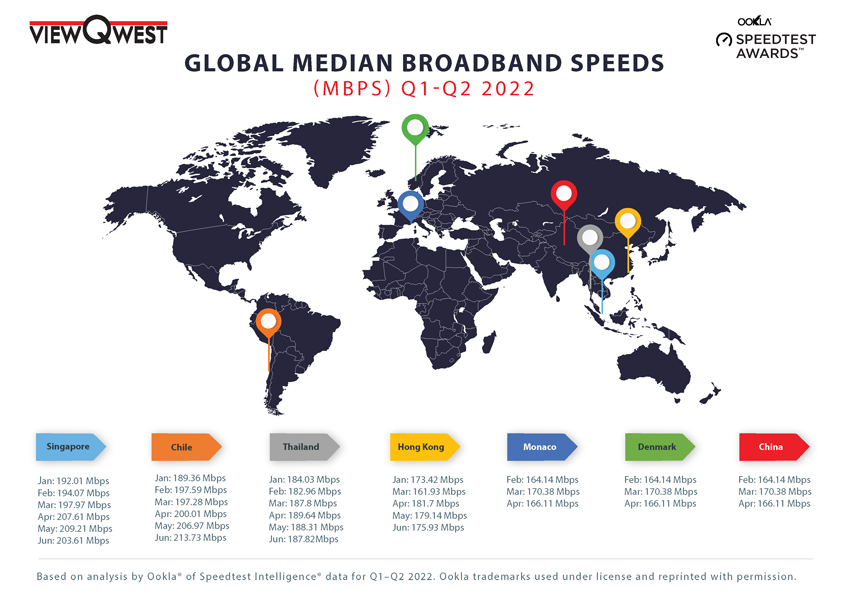 ViewQwest's success at maintaining the fastest broadband speed mirrors Singapore's own steady rise on the global stage as the nation has consistently ranked within the top two spots for the past six months while seeing a rising trend for overall broadband speeds.
In 2021, ViewQwest launched SecureNet, the first built-in broadband network security service for homes and SMEs in Southeast Asia.
Customers can sign up for a 1Gbps broadband plan starting at $28.99/mo. All plans come with SecureNet @ Home, an enterprise-grade network security service powered by Palo Alto Networks that protects all devices and users connected to their home Wi-Fi from cyber threats.
Bigger households can easily opt for 2Gbps plans starting at $40.99/mo to ensure optimal speeds for all activities done at home from work to play.