When Secretlab meets Lamborghini, the result is a visually stunning masterpiece that perfectly fuses form and function. The Secretlab for Automobili Lamborghini Pinnacle Edition gaming chair celebrates the exceptional attention to detail and mission for serious performance shared by the two brands.
Having incorporated Lamborghini's DNA, the Secretlab for Automobili Lamborghini Pinnacle Edition challenges the status quo yet retains everything people love about Secretlab chairs.
With only 50 pieces to ever be crafted worldwide, The Secretlab for Automobili Lamborghini Pinnacle Edition is a symbol of exclusivity from start to finish, proudly indicated by a serialized "01 di 50" badge on the back of the chair. Each one intricately handcrafted, the chairs will be produced in waves to ensure the most stringent quality measures — Wave 1 drops now in highly limited quantities.
Drawing inspiration from the performance-driven design of Lamborghini's iconic super sports cars, the Secretlab for Automobili Lamborghini Pinnacle Edition boasts a specially handcrafted carbon fibre shell on its backrest, a tribute to Lamborghini's industry-leading research and use of the lightweight material to support aerodynamic performance in its cars.
The carbon fibre shell's shape is inspired by the clean surfaces and edges of Lamborghini cars, seamlessly merging the Lamborghini DNA aesthetic with the signature form of the Secretlab TITAN Evo 2022 chair.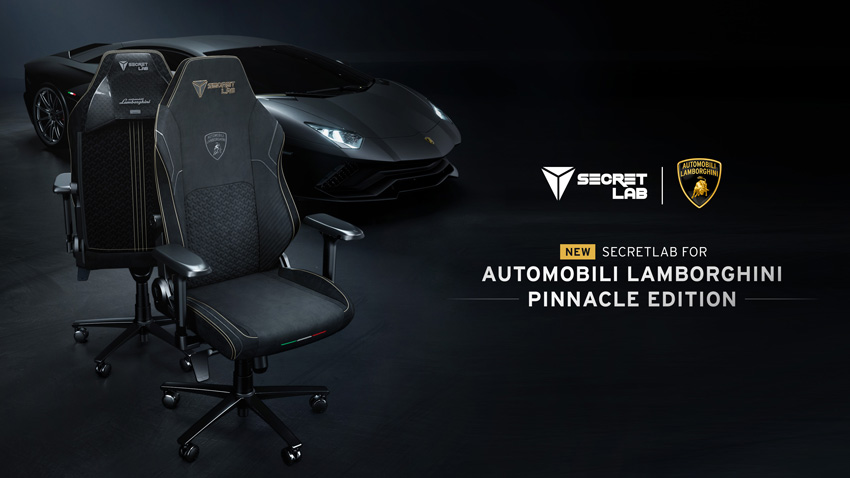 "Carbon fibre plays such an integral role in Lamborghini's super sports cars, we knew we had to incorporate it into the Pinnacle Edition. This was a first for us, or any gaming chair for that matter, which meant spending countless hours studying and experimenting with it," said Alaric Choo, co-founder and Chief Strategy Officer at Secretlab.
"The carbon fibre shell alone went through over 20 iterations before we were satisfied with it, but it's all part of our uncompromising approach to design,"
Upholstered in Alcantara, the Pinnacle Edition transports you right into the seat of a Lamborghini super sports car, complete with Lamborghini's iconic Y-pattern quilted on the backrest.
Embroidered lines feature on the chair's side wings and seat base as a unique interpretation of the Y-shapes that are commonly seen in Lamborghini car seats. Shaped in harmony with the chair's contours, the lines subtly direct your eyes to the Automobili Lamborghini shield logo which takes centre stage on the backrest, and the Italian flag bar on the front of the seat base, symbolic of Lamborghini's Italian heritage.
Doubling down on performance-driven design, the Secretlab for Automobili Lamborghini Pinnacle Edition comes equipped with the full suite of ergonomic features of the TITAN Evo 2022, Secretlab's most technologically advanced chair yet, offering science-backed support and for all-day comfort.
Together with the Secretlab for Automobili Edition that was released for sale in October, the Secretlab for Automobili Lamborghini Collection brings the daring spirit of Lamborghini off the road and into the comfort of your home.