As we embrace new ways of living and working, one thing's for certain, virtual calls are here to stay. In celebration of World Photography Day, Tourism New Zealand has launched a new virtual background kit to transport you to the unparalleled landscapes of New Zealand.
From the summit of Aoraki Mt Cook, to the valleys of Matukituki, the collection of 17 breathtaking backgrounds has been released in partnership with the world's top photographers like Junji Takasago, Will Patino, Lukasz Larsson Warzecha and Navaneeth Unnikrishnan.
These prized photos are being shared to enjoy while they wait to see the natural wonders in person when the time is right. They offer a glimpse into intimate moments in nature that the photographers have masterfully preserved with a click of a button.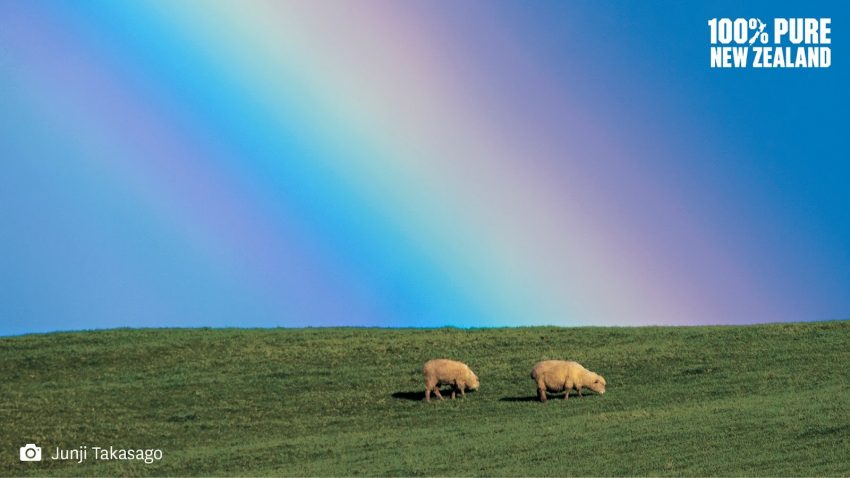 Japanese photographer Junji Takasago, with a celebrated career spanning over 30 years, recalls how he captured this peaceful scene at Coromandel Peninsula: "When my family and I stayed at a camping site in the Coromandel Peninsula, we saw numerous rainbows from early morning till evening. Somebody at the site told us that rainbows appear wondrously often in this area. We felt so blessed and happy seeing these rainbows."
"As everyone knows, sheep are everywhere to be found in New Zealand. They eat grass in earnest like machines all day long. A perfect rainbow appeared above them once, and the sheep of course took no notice of it, but they looked harmonious and nice with the beautiful arch."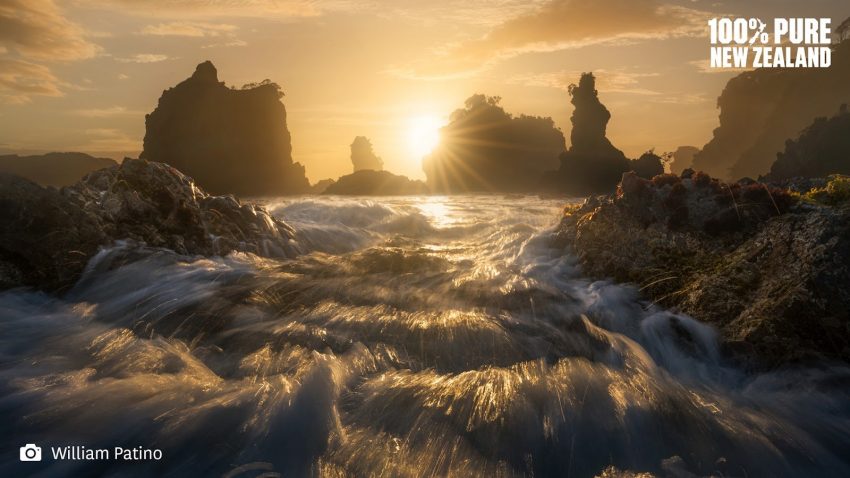 Landscape photographer William Patino, who has worked with the likes of Apple, Sony, BBC Earth and NatGeo Australia, shares his thoughts on his photo, "Valley of Secrets" at Diamond Creek Fiordland: "Maps are a fantastic tool for planning aerial photography in the backcountry. Looking at the topo map one day, this beautiful valley and curve of the river caught my eye."
"I was eventually able to check it out late one afternoon, utilising a helicopter to get the right altitude to frame the scene and showcase the river's curve, as the last light skimmed the peaks that rise so dramatically in these glacially carved valleys."
Self-taught Astro-Landscape photographer Navaneeth Unnikrishnan, who represents various brands including Sony, Fstop Gear and OPPO, reflects on his photo at Orakei Korako Geothermal Park called "An intricate painting": "This image is more like an artistic painting that takes time and attention to grasp its meaning. In reality, as well, this location deserves a lot of study and realization to understand Nature's own wonder in creating a unique landscape like this."
"Orakei Korako Geothermal Park is an amalgamation of geysers, hot springs, mud pools, and other geothermal formations that have their individual elements of beauty which are evident in this aerial shot as well. The vibrant orange with a mix of green, along with patches of blue and the filling white made it attractive."
"In addition to this, I loved the branch-like pattern that these elements had created here, which added all the drama to the image. Capturing this image was a realization of how tiny we are in comparison to nature and its unique elements. Indeed, it is one of the best thermal areas in New Zealand."
Photographer, cinematographer and director, Lukasz Larsson Warzecha, travelled to New Zealand to film a TV series "Epic Trails". He captured this behind-the-scenes image of TV show host Eric Hanson at Mount Hikurangi. Eric had just completed the Te Urunga-Tu, the sunrise experience, and was hiking in the first rays of light on the non-volcanic peak.
Other virtual backgrounds in the downloadable kit include waterfalls and lupine flowers in Milford Sound, dolphins jumping at sunset, stormy scenes in Abel Tasman National Park and the moon above Mt Aspiring among others.