Tiger, Singapore's home-grown beer brand has launched the #SupportOurStreets regional initiative in Singapore. The campaign aims to help local F&B community such as coffee shops, food courts, bars, pubs and restaurants tide through the unprecedented challenges from the impact of COVID-19.
Commenting on this announcement, Andy Hewson, Managing Director, Asia Pacific Breweries Singapore said, "Tiger was born on the streets of  Singapore. Without the streets and our famous F&B outlets, there would not be Tiger. As the beer of Singapore, we have strong roots in the community and have weathered many storms together with generations of Singaporeans. We want to do our part to help our local F&B partners revive faster until they can thrive again.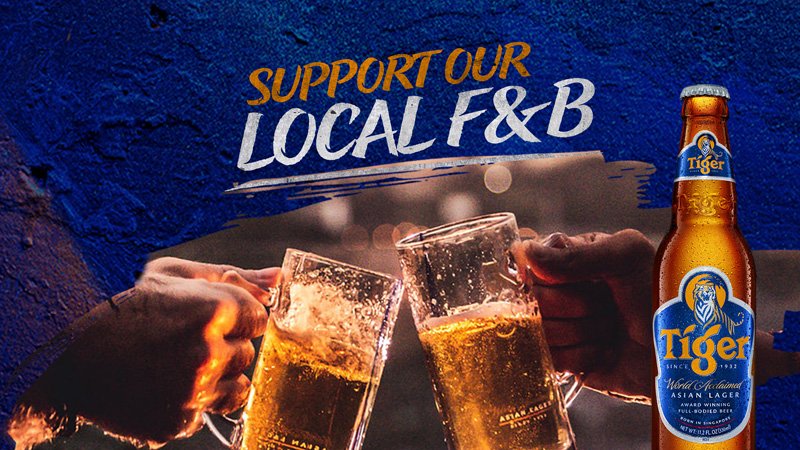 #SupportOurStreets is an initiative that will provide a means for Food and Beverage community to come together with consumers in a bid to raise over S$1.3 million to support the local F&B community. Launching in Singapore and Malaysia first, it will set to roll out activations across the region over the next two weeks.
Since the outbreak, the F&B industry has been amongst the most badly affected with some expecting as much as an 80% revenue loss. In a recent survey conducted among the #savefnbsg coalition, 88% of restaurants indicated that they may not be able to survive April without assistance.
This means our food culture and heritage is under threat, along with many iconic eateries and timeless neighbourhood coffee shops, bars or pubs which may not weather this storm. More importantly, the livelihoods of over 220,000 people and their families supported by over 18,000 local
A survey conducted by #savefnbsg coalition among key industry players F&B establishments are at stake unless Singaporeans, who typically spend over $19 billion each year on food and beverages, come together to support the local F&B community. Tiger has made it easy, fast and meaningful through the 'Support Our Local F&B' initiative to #SupportOurStreets.
Running from now till 31 May 2020, consumers can support their favourite local F&B community by going to Tiger's website to make a $10 contribution. There is no limit to the number of times consumers may make a contribution. Each week, the contributions are collated and all proceeds will go directly to the F&B community.
Standing in solidarity with the community, Tiger will kick start the fund with a $100,000 contribution. Together with the collective contribution from Singaporeans through the 'Support Our Local F&B' initiative, every small gesture can make a big difference and temporarily buffer the impact of the crisis. This is an unprecedented time where every bit of help matters and counts.
In addition, Tiger also pledged to contribute up to $600,000 worth in beer product sponsorship to support the recovery of the F&B community. As a gesture of appreciation from Tiger, each contribution will entitle consumers to a digital drink voucher redeemable for two Tiger beers when the outlets resume operations to encourage footfall and support the outlets' restart and revival.
Through the 'Support Our Local F&B' initiative, Tiger aims to raise an additional $300,000 in contributions from Singaporeans, which will go directly towards more than 430 participating F&B outlets with more joining in the weeks to come. In preparation to support the industry's recovery,
Tiger is also planning a care package to be rolled out when F&B partners restart their businesses again.
Singapore and Malaysia are the first countries in Asia Pacific region to launch the #SupportOurStreets regional campaign with markets including Cambodia, Myanmar, Philippines, Thailand and Vietnam set to roll out their activations over the next two weeks.
As part of continued safe distancing measures across the region, Tiger Beer would also like to urge everyone to stay off the streets to #SupportOurStreets.