Pros
Extremely portable
Smart features
Good audio and video reproduction
Much can be said about the benefits and advantages of portable projectors – from convenience to eye health, there's no doubt that they're becoming increasingly popular. We take a look at the Viewsonic M1+_G2, a diminutive portable projector that's packed with features.
The Viewsonic M1+_G2 looks nice and sleek and is extremely small at only 151mm x 126mm x 40mm, and weighing around 1kg, it can easily fit in a small bag with space to spare. Its metal build is sturdy and its smart design further aids its portability as the lens cover doubles as a projector stand that's very convenient to use.
Setting up the Viewsonic M1+_G2 doesn't take very long. The projector turns on as you place the lens cover in "stand" mode and it's extremely intuitive from there. The projector has a4 variety of inputs to choose from – 1 HDMI port, a USB Type C port, a USB Type A port, a Micro SD Card slot, and the ability to connect via BlueTooth and WiFi.
Once connected, you're ready to project. The Viewsonic M1+_G2 has a native resolution of 480p (854×480). However, it is able to support Full HD up to 1080p. Visuals are sharp and crisp and colours are bright. Due to its unique 360 degree design, you are able to project images anywhere – the ceiling, wall or floor with ease, especially with the auto keystone feature to quickly set up your visuals.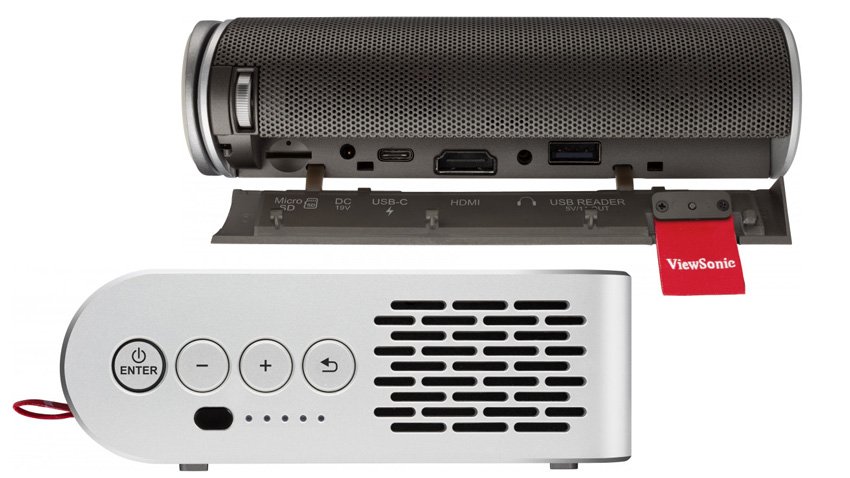 Unlike the latest short-throw projectors, you will need some space between the projected surface and the M1+_G2. The further the projector sits away from the projected surface, the bigger the visuals. 1.6m will get you 60″ projection, and you can get a huge 100″ projection at 2.6m away. However, for best performance, use it in a room with low light and a good projector screen.
Powered by dual speakers by Harman Kardon, the audio is actually very good with balanced highs and lows, and the mids reproduced very well for an all-around experience for movies, or music alike. You can even use the Viewsonic M1+_G2 as you would a typical Bluetooth speaker when you just want the audio and not the video.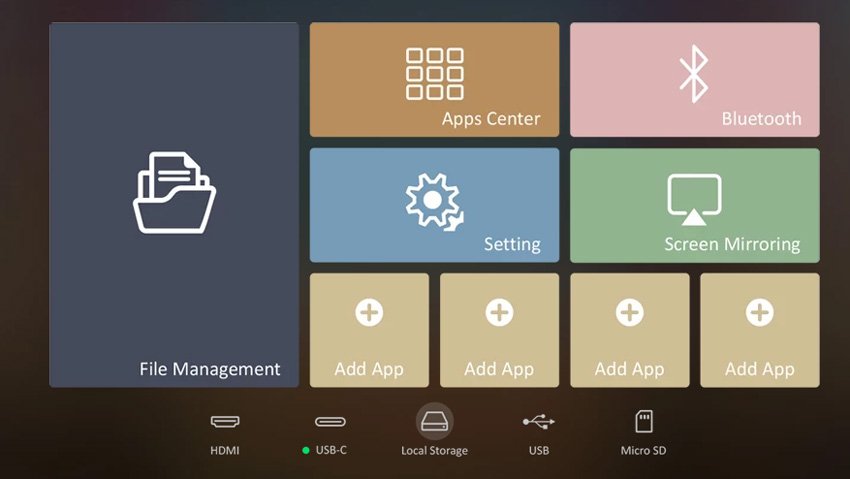 The Viewsonic M1+_G2 also works as a media centre that allows you to download popular streaming apps such as Netflix, Amazon Prime, Twitch, Spotify and much more. The interface is very easy to get around and also allows you to mirror your mobile device via Bluetooth as well.
At right around SGD 600, it is pricey. However, you would be hard-pressed to find a good competitor that as portable as the ViewSonic M1+_G2.
The ViewSonic M1+_G2 is a really portable all-in-one media center that's ready to follow you wherever you may go.