Pros
Solid build
Good data transfer rates
Bi-directional wireless charging
Able to share data wirelessly
SD card backup
With file and application sizes getting bigger and bigger, portable storage has never been more important. Previously we've tested some really fast portable storage solutions – Sandisk Extreme Pro Portable SSD, WB Black P50and Seagate Firecuda Gaming SSD, but now we take a look at the Trek iSSD that looks to provide a more complete solution.
No stranger to innovation and storage solutions, Trek2000 is a Singapore-based company that might not be one of the big names out there, is the original inventor and patent owner of the Thumbdrive. They're back with their latest product, the Trek iSSD a portable SSD, power bank, bi-directional wireless charger and SD card reader and backup all-in-one.
Available in three different capacities and colours – 240GB (Black), 480GB(Blue) and 960GB (Red), the Trek iSSD really isn't much to look at. Aesthetically, there's really nothing that catches your eye. The 120 x 75 x 15mm device, weighing at 230g, fits in the palm of your hand like a power bank rather than a modern portable SSD.
It is a solid build, if not pretty and I wouldn't be too concerned if I dropped it a couple of times. I do dislike it's smooth reflective finish that does nothing more than collect fingerprints.
In the words of Mark Cuban on 'Shark Tank', "it looks like its been designed by engineers." But in that, probably lies its unique selling point as well. The Trek iSSD may not have the bling factor of the modern SSDs, but it does do a lot more.
You may think that it's built like a power bank. That's because it is. It is also a media hub and a SD card reader in addition to being a bi-directional wireless charger.
The Trek iSSD can connect to both Windows and Mac OS like any standard portable SSD using either a USB Type A connection or the faster USB 3.1 Type C that can get you speeds up to about 450MB/s. It recorded a 390MB/s on our CryatalDiskMark test on a USB 3.2 Gen 2×2 interface, which is much slower than the new portable SSDs that can hit speeds up to 2,000 MB/s. However, it is its other features that allow it to shine especially for content creators on the move.
The SD card reader on the side allows you to quickly backup your SD card, without the need of an external computer, by just pressing the power button twice. This is especially useful when you need a SD card and don't know what's in it. Backup, format, use. Or just backup anyway. Safety first.
A favourite feature is the fact that you can connect to the Trek iSSD wirelessly, through its wireless b/g/n connection, to transfer files from your mobile device to the device. All you have to do is connect to the iSSD's WiFi, download the app from the Apple or Google Play Store, load it up and transfer.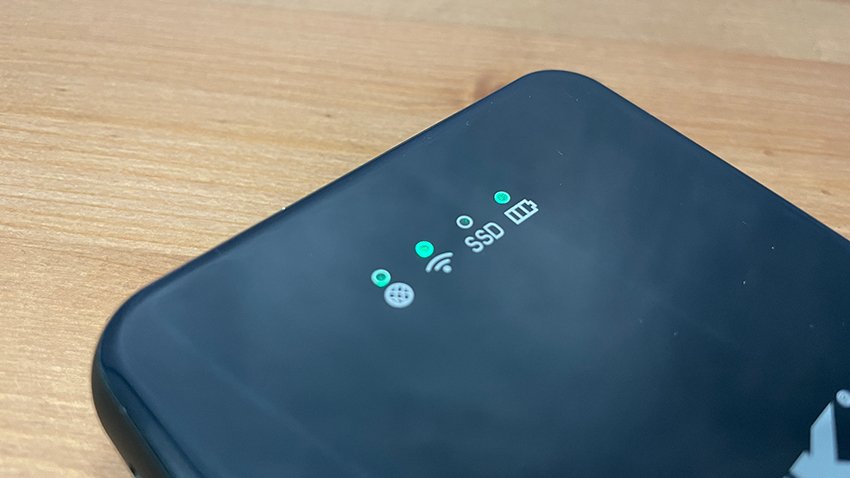 Using the same steps, up to 8 devices can be connected to the iSSD at the same time. This makes it extremely easy to share and transfer files to other devices. Running out of juice? just place your Qi compatible device (most big brands are) and charge on the move.
The Trek iSSD is a great all-in-one, portable solution to your needs on the move. From storage to transfer of files, to power – it does it all. The Trek iSSD is available in three models – 240GB (Black) at $179, 480GB(Blue) at $349 and 960GB (Red) at $499.