The Good
Modern Design
Great analogue sound
Feature rich connectivity
The Bad
Remote controller connectivity can be improved
If you're looking for an all-in-one audio system for your living room (or even if you're not), Ruark Audio's R5 is definitely a strong contender.
For those unfamiliar with the brand, Ruark Audio is a family-owned British company who have been creating fine audio products since 1986. They stand by their ideology that their systems are designed to be seen and that they work tirelessly to ensure they enhance their surroundings and sound as good as they look.
Once you take a look, and a listen, at a Ruark Audio product, from the base R1 to the luxury R7 model, you'll be quick to realize that the claim isn't all that far fetched. Quite accurate actually.
The Ruark Audio R5 takes inspiration from the flagship R7 radiogram in both aesthetics and sound, at a slightly smaller form factor. Available in both Rich Walnut or Soft Grey lacquer, rounded edges and solid build give you confidence that the components that make everything tick are well isolated and protected.
The fabric grille on the R5 makes a statement and will adds style giving a look as modern as it is classic that will fit any living space.
Inside the R5, it uses  newly developed Class A-B amplifiers in a 2.1 configuration with active electronics to control the loudspeaker units which created a warm soundscape that belies the size of the system.
Connect to Spotify, Tidal, Deezer or Amazon Music with Wi-Fi streaming, connect via aptX HD Bluetooth, tune in to DAB/FM and Internet radio tuners, connect a turntable via a dedicated RIAA input or pop in a CD, you have options. Tunes from the moody electronic tones from Billie Eilish, the classic Queen riffs or the cast of The Greatest Showman, the R5 performs very well creating a well balanced and full sound-stage.
While music is easily its forte, a system for the living room needs to do much more. Sitcoms on Netflix and even sports commentary is clear. Granted a 2.1 configuration is not going to get you the 7.1 surround sound that you get from having… well seven speakers, but the two speakers and the down-firing subwoofer of the R5 do a good job in completing the sound.
As with Ruark's other products, the exclusive RotoDial controller makes operation simple. Also included with R5 is a matching 'radio-link' remote which mirrors exactly the controls on R5.
Radio communication means that you don't need to point he remote control at the system. The remote control is easily one of the things that draws me towards the R5 as well as the only aspect that left me slightly wanting for more.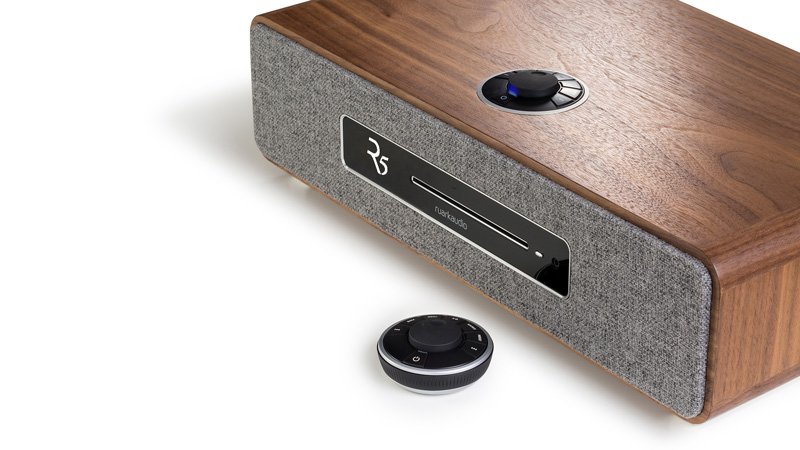 I loved the uniqueness of the remote. There is something so satisfying when you turn a dial instead of the common up/down remotes. While connecting using radio frequency means that you don't need to point the remote towards the system, which again is extremely satisfying – however, it is the same technology that causes drops in connection. Connection drops do happen and while its takes just a couple of seconds to reconnect, it is the one part of the whole review experience that let me down.
Priced at around SGD 2,299 it isn't the most expensive in the market while not being the cheapest either. However, what you are guaranteed is a great sound system backed by a family legacy of making quality products.
A great all-in-one system, the Ruark Audio R5 is a great system for any living space, and one I would recommend for your living room. Its range of connectivity options means you'll always have a reason to turn it on – I've never had a better reason to dust off the CD collection.