Pros
Cleverly designed for the worstation
Full HD Camera
Good mic pickups
Balanced audio for speech
Cons
Can't be used without app - as a main monitor
Pricey
The Poly Studio P21 personal meeting display, makes it simple and easy to set up a premium video conferencing experience in your personal workspace.
With work-from-home the norm these days, the Poly Studio P21 is designed to be the one device that delivers the complete experience, including display, camera, microphone and speakers, with a single USB connection to your PC or Mac.
Poly, a merger between Plantronics and Polycom, has been a mainstay in enterprise communication for a long time, and they bring that know-how to the home setting.
Aesthetically, the Poly Studio P21 looks… well, normal. Its white body, black frame and grey speaker aren't anything that'll stand out too much, but then again that's perfect for a "work" setting.
Standing at 47.8cm high and 57.5 cm wide, the Studio P21 features a 21″ screen and an integrated 1080p camera. It takes up just as much space as a standard monitor would on your desk, but due to clever design, it does help eliminate some clutter – more on that later.
Setting up the Poly Studio P21 is pretty simple and there are a few connectivity options – a USB 3.0 Type-C port and USB 3.0 Type-A ports. It is meant to be a secondary display for your laptop, and as such, does not feature an HDMI port.
Before you can use the P21 as a secondary display, you do need to download the DisplayLink Manager app. Once that is done, a USB connection is all it takes to get it up and running.
The display is bright and clear. It makes a good productivity monitor with a fixed 1080p (1920 x 1080) resolution at a 16:9 aspect ratio. A good-sized second screen to work your spreadsheets or presentations on.
Designed with video-conferencing in mind, the Poly Studio P21 really is an all-in-one solution.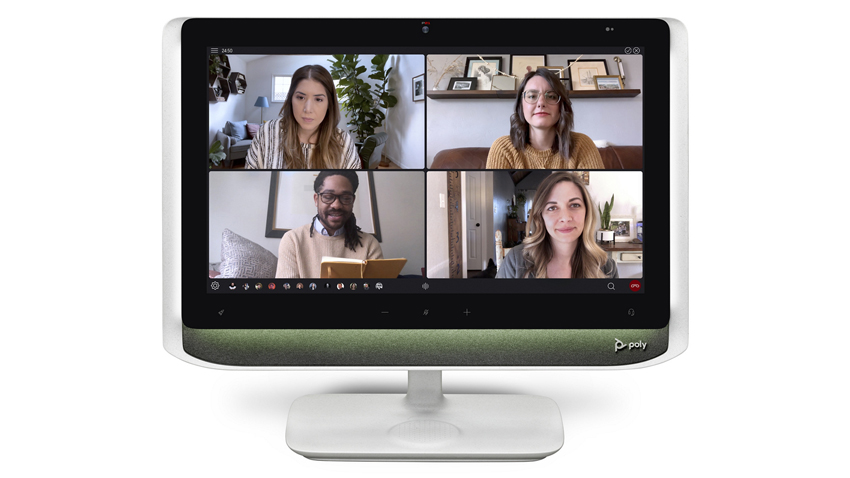 The Full HD camera is sharp and delivers a clear and balanced image. In the event your lighting isn't the best, the monitor has ambient lights built in to give you enough light to facilitate good image transmission. You can control the intensity of the lights through touch-countrols along the sides of the back of the monitor.
However, it does not have auto-framing or "following" features that keep the subject in frame automatically. However, the Poly Lens app does give you a good level of control on the zoom (electronic, up to 4x), brightness and exposure level.
For privacy, there is a sliding shutter that you can easily use to cover the camera lens.
The built-in speakers also deliver good quality sound – better than most for video conferencing. The audio is balanced for clear speech. Audio pickup via the built-in mic was also good and clear.
However, the speakers wouldn't be my go-to if I wanted to watch movies or certain genres of music. The audio gets muddled when there's too much going on.
That being said, you can easily attach a headset to one of the USB ports available at the rear of the monitor. For general use though, the built-in speakers are very dependable.
The base of the monitor is an example of cleverly integrated design and features wireless mobile phone charging. The scooped base also allows you to use it to place small items such as SD cards and USB sticks within easy reach.
Priced at close to SGD 1,500, it is pricey and you might be better off purchasing a good webcam for much cheaper if you already have a secondary monitor.
If you don't and are looking for a good integrated solution, the Poly Studio P21 is very dependable and will be a very good addition to most work-from-home setups.