Pros
Great sound
Outstanding battery life (80 hours)
Stylish look
Comfy and portable
Cons
Earcups don't do much to dampen external noise
Not too long ago, we reviewed the premium Marshall Monitor II ANC Headphones. This time, we take a look at the more accessible Marshall Major IV that might not have all the bells and whistles but has quickly become one of my go-to headphones.
The new Marshall Major IV look like you'd expect them to – like Marshall headphones. In fact, you'd be hard-pressed to tell them apart from its previous edition. The Major IV retains the trademark black vinyl Marshall look with the white logo on the earcups with a nice matte finish.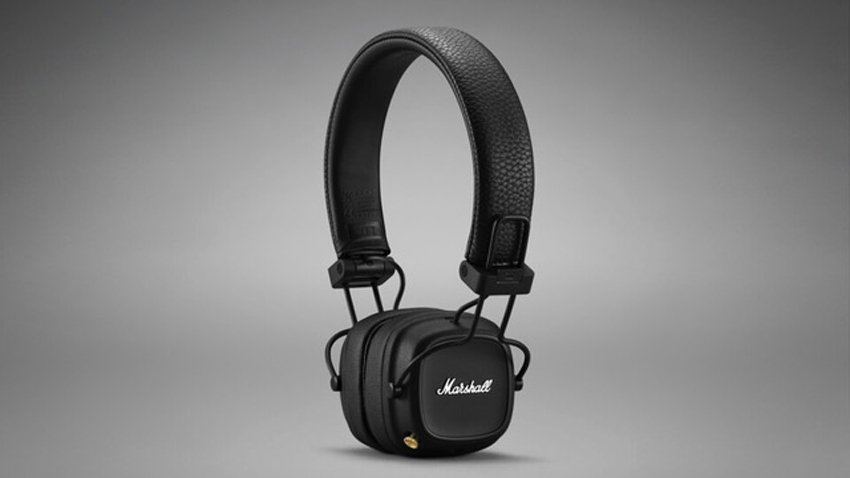 The headband is as reliable as you'd expect from its class, and the earcups and metal frame and earcups look pretty solid. While I prefer the comfort of over-ear cans, the on-ear Marshall Major IV is extremely comfortable with its soft cushions that fit the shape of your ear, even when used for an extended period of time. The headset is very light, and the earcups fold inwards at an angle, making it very portable.
View this post on Instagram
Turn on the headset by long-pressing the brass coloured joystick, located on the right-hand earcup, and you'll hear a short guitar riff letting you know that it's powered on. Hold on to the button to activate pairing mode. Connection via Bluetooth is speedy and stable, and you should have no issues getting up and running right out of the box. The joystick is extremely intuitive and simple to use.
There is also a 3.5mm jack and a Marshall coiled cable provided if you prefer a wired connection. You can juice up the Marshall IV via USB-C or wireless charging by placing the left earcup on any Qi-compatible wireless pad.
A huge win for the Major IV is its ability to go for up to an incredible 80 hours of wireless playtime on a full charge – more than doubling previous editions' battery life. 80 hours is excellent – that's more than 3 days of continuous use!
Once you're connected, you'll discover that even though the Major IV is Marshall's entry-level headphones, there's no compromise on sound quality. The 40mm dynamic drivers deliver an extremely warm low and midrange.
From Queen, Steve Vai and Jimi Hendrix to the song stylings of Eminem, Billie Eilish and Ed Sheeran the headphones performed really well. If I really wanted to nitpick, it would be that the higher range lacked just a little bit of shine – but that's only if you're really looking for a fault.
A pleasant surprise was that the Marshall Major IV's timbre is exquisite for the spoken word. Audiobooks sounded crisp, clear, and I spent hours on Audible catching up on some "reading".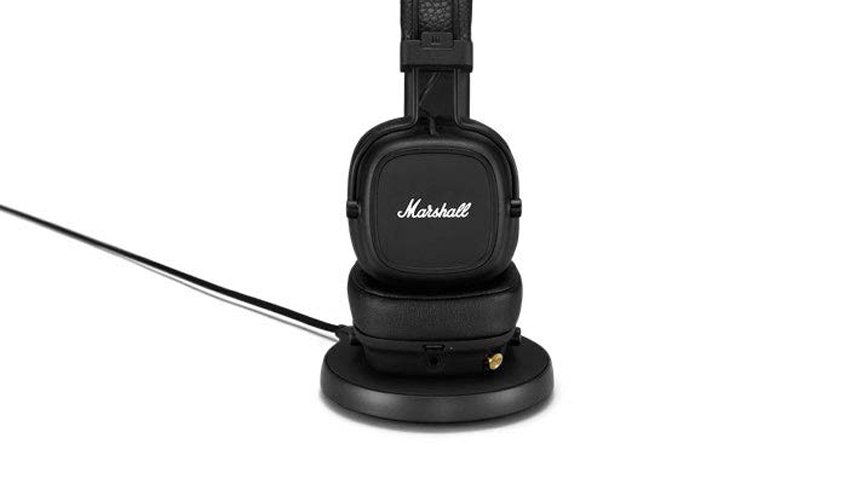 Another cool feature is that as well as allowing you to plug in and play when you're low on power, the Major IV's 3.5 mm socket also allows a friend to plug in their headphones and listen to the same thing you're listening to. Taking calls on the headphones also worked very well, and call clarity was outstanding on both ends.
One of the only issues that I found with the Marshall Major IV was its (lack of) noise-cancelling ability. While it might not have active noise cancelling, even passive noise-cancelling didn't do much when on public transport. The ambient sounds bled through quite easily, and while the listening experience was still good, you won't get a "cone of silence" (far from it).
Priced at SGD 269 the Marshall Major IV is a stylish, extremely portable, Bluetooth headphone with great sound and amazing battery life.
The Marshall Major IV is now available thru TC Acoustic on their webstore and other Marshall distributors.