Pros
Looks very cool
Black and Red build options
Details in the amplifier are awesome
Cons
The guitar itself does feels less sturdy than other builds
The Fender Stratocaster guitar and '65 Princeton Reverb amplifier are the latest to join the LEGO Ideas lineup, and we take a look at this very cool display piece.
When first released in the 1950s, the Fender Stratocaster was one of the most innovative guitars of its time. The Stratocaster was the first Fender guitar with a contoured body and did not significantly resemble earlier acoustic models.
The double-cutaway body, elongated horns, and contoured back (which are commonplace today) were all designed for better balance and comfort to play while standing up and while slung off the shoulder with a strap.
The Stratocaster also featured feature three pickups and a spring tension vibrato system which allowed it to temporarily change the pitch of the strings. The three-pickup design allowed for increased versatility and choice in tone quality over one-and two-pickup electric guitars allowing guitarists such as Jimi Hendrix, Stevie Ray Vaughan, Eric Johnson, and Eric Clapton to create their signature sounds.
The new LEGO Ideas Fender Stratocaster (21329), consists of 1074 pieces, that allows you to build your LEGO Fender Stratocaster guitar and the classic '65 Princeton Reverb amplifier.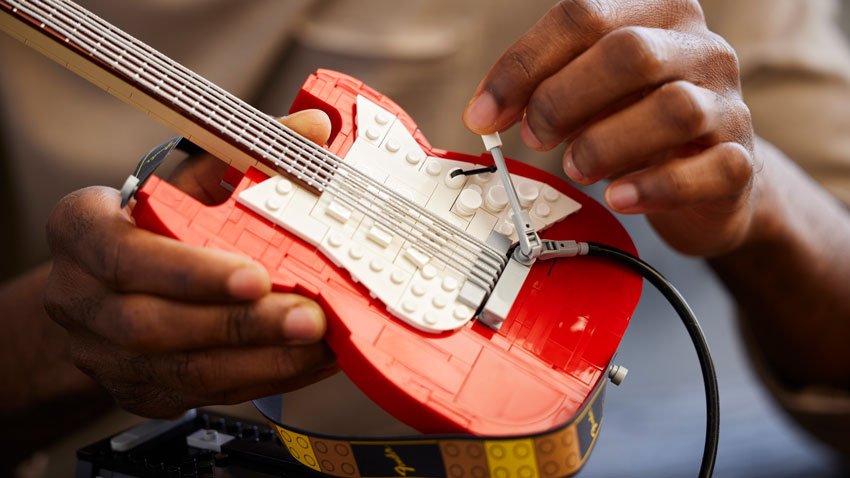 The guitar and amplifier are a joy to look at and while the build process isn't too complicated and doesn't use new techniques – it is part of the LEGO adult lineup rated at 18+ and kept my 11-year old busy for a day, there are definitely components that will wow you.
You can choose to build the guitar in red or black – we chose red, and you'll soon have a very cool electric guitar centrepiece that features a posable whammy bar, pickup switch and tuning pegs, six strings, Fender logo stickers, and a Fender textile strap. All the features look really good and complete the guitar.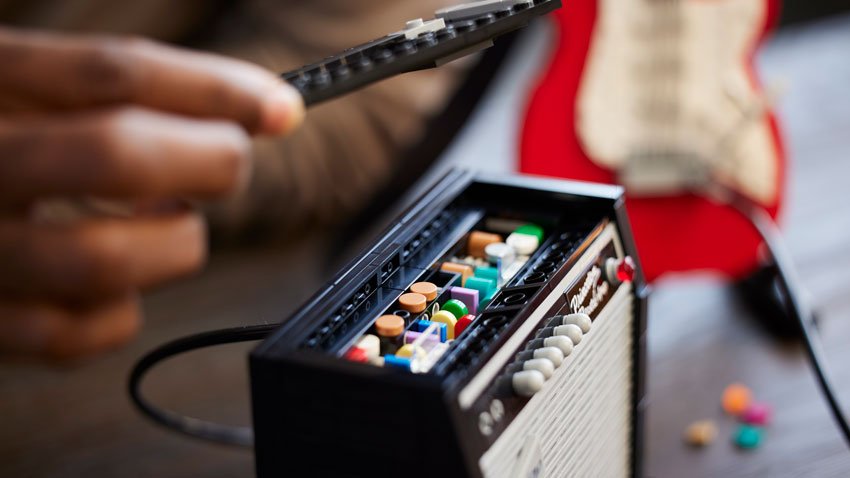 Place the guitar aside for a moment and the LEGO '65 Princeton Reverb amplifier has more in store with removable panels for easy viewing of the motherboard, reverb tank, speaker and other interior details, plus rubber cables to connect it to the guitar and footswitch.
The one thing I would take note of though is that the guitar really is a display piece and might not necessarily be as sturdy as some of the other LEGO builds. I do not recommend placing it in a place where there's a chance for someone to try and "play it".
Together they make the perfect gift for any guitar player, Fender fan, music lover or LEGO builder. The LEGO Ideas Fender Stratocaster (21329) is as cool, sleek and iconic as the original. Available at USD 99.99 it is actually very reasonably priced as well.