Pros
Amazing acting
Great storytelling
An interesting and fresh sci-fi universe
Cons
A little too predictable
The plot's much too derivative
Some studio's gonna wreck this with an unnecessary shared universe
Not for nothing is Rogue One considered to be one of the least divisive pieces of Star Wars content from the last decade. And it probably has to do a fair bit with being the least Star Wars-y content in quite some time–succeeded only by its own spin-off: the Disney+ series Andor.
Sure, the planets, the aesthetics of the Empire and rebels, many of its vehicles and technology, and a certain asthmatic wizard-cyborg all scream Star Wars but, at the heart of it all, Rogue One is a war film. One which touched on many aspects and themes that somehow just never really occurred in a franchise with the word "wars" literally in its name.
And herein lies the foundation for director Gareth Edwards' own sci-fi war piece The Creator.
To say that The Creator is anything less than truly inspired would be doing the film as well as the sci-fi genre's extensive influence on pop culture an injustice. Truly, in some ways, The Creator homages so many movies before itself, that it sometimes comes off as a distilling of the genre.
Even Edward's Rogue One is clearly visible in moments of the film. Thankfully, deft worldbuilding, coupled with amazing performances and character moments, elevates the movie from being a love letter to sci-fi, to being it's own unique entry.
There isn't very much of The Creator that has not been seen before, but Edwards and co-writer Chris Weitz's treatment of the narrative and characters makes it a journey worth treading. While, perhaps, a little too much significance is placed on certain late-game revelations–all of which are very much predictable by that point–The Creator pushes forward as a character's journey in a war-torn world which simply happens to resemble a sci-fi dystopia.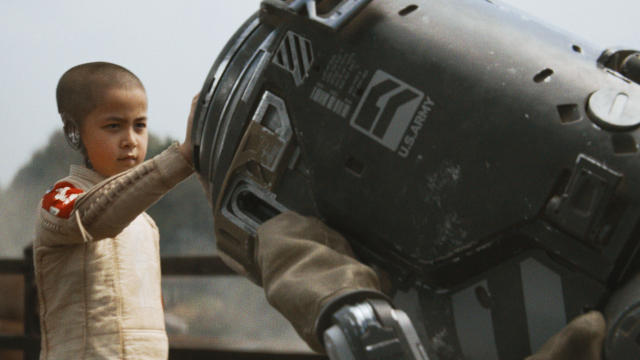 It's not often genre films allow for stellar acting or breakout cast, but Voyles' performance in The Creator reached beyond the bar, delivering an astounding display of range and talent. Her role is well juxtaposed against the cold brutality of Allison Janney, playing against type with scary efficiency. Janney's veteran status as an actor is in full force in this relatively fresh universe, the Peter Cushing of Edward's worldbuilding.
While these roles certainly contribute to holding up the film, smaller parts by equally experienced actors such as Ken Watanabe, Gemma Chan, Veronic Ngo and Sturgill Simpson also go a long way to add a resonant sense of realism to the universe.
The Creator, as it stands, is far from redefining the sci-fi genre. It is, however, a reminder of some of the best features the genre has to offer, and returns the type to its roots as a commentary on the world we live in and how fragile a situation we face daily.
The Creator is out in theatres and is a great start to the final leg of film releases of 2023.