Pros
Gorgeous, detailed graphics
Venom abilities breathes new life into combat
Super fast loading time
Cons
Short campaign
Shortage of iconic villains
Limited DualSense integration
Two years after the release of PS4 hit title, Marvel's Spider-Man, Insomniac Games returns with a standalone sequel, Spider-Man: Miles Morales. Bursting with exciting web-slinging action and heartfelt moments, Spider-Man: Miles Morales is a refined effort with hyper-sharp focus on the best elements of its predecessor.
Gone are the annoyances like instant-fail stealth missions and repetitive but lacklustre side quests. Instead, Insomniac manages to weave together a well-polished and engaging game that simultaneously elevated our gaming experience to new heights and left us wanting more.
Related: The PS5 Is A Gaming BEAST!
Going the Miles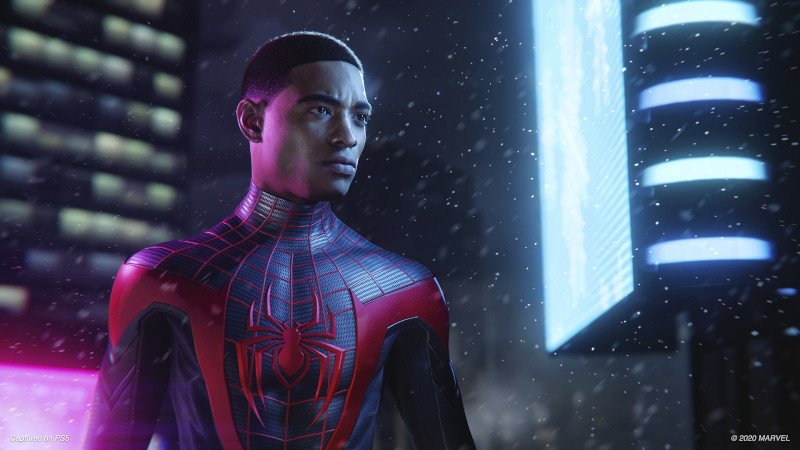 Like the title suggests, you play fledgling superhero Miles Morales as he fights to protect New York City without his mentor, Peter Parker. Miles has to balance the growing responsibilities of being the only superhero in town whilst taking care of his friends and family. In doing so, his resolve will be tested and he'll have to make some hard decisions. It's a fairly simple plot but one that leaves a lot of room for emotional depth in the narrative. Some of the best moving moments come from Miles' inner conflict and self-doubt as he struggles to live up to Spider-Man's legacy.
Swinging around New York City is more exhilarating now, thanks to the amazing graphics. And while I'm sure the game looks great on the PS4, the PS5 is where it truly shines. The PS5's ray tracing support adds a whole new level of realism and detail that, quite frankly, blew me away. It is especially beautiful when the sun breaks through the clouds during sunset, or reflects off the snow clad streets of the city. Being able to see Miles' reflection in glass panels of buildings as he's swinging by instantly raises the level of immersion, so much so that I hardly made use of the fast-travel option, preferring to enjoy the realistic visuals.
Short But Sweet

That said, the game is surprisingly short. It took just 10 hours to complete the main story, and about four more to reach 100% completion. I was done with the game in two days and I couldn't help but feel that Spider-Man: Miles Morales is more of an expansion of the original game than a full-on sequel. On the other hand, the game feels more refined in all the best ways. There are less randomly generated, repetitive crimes to clear, thank god. And side quests are a lot more diverse and intriguing, filled with meaningful missions that allow Miles to have unique interactions with people in his community.
Spider-Man: Miles Morales offers two graphical modes. The Fidelity mode focuses on graphics but gameplay is capped at 30fps. Alternatively, you can switch to Performance mode to run at 60fps with reduced ray tracing. In both cases, the game still feels incredibly smooth on the PS5.
My biggest and only let down is the game's lack of iconic villains. In the original, Peter Parker faced the Sinister Six and forces of Sable, with cameos from Spider-Man's rogue gallery aplenty. In Spider-Man: Miles Morales , Miles fights a total of four villains with two other villains making a brief cameo. That's half of the original game!
The Kid's Got Style
Miles' movements clearly show that he's new to this, from the slight way that he wobbles after swinging onto a roof to the wild, flailing of his web-slinging. These amateur tics not only set him apart from his more seasoned mentor, but eventually become part of Miles' style, making web-slinging in the city feel fresh and distinct.
Combat in Spider-Man: Miles Morales also feels different, better even, due to Miles' unique abilities. A variety of bio-electric "venom" attacks become available as you progress, allowing you to unleash a number of combo attacks. From stunning enemies with these attacks to releasing huge bursts of electricity, these are accompanied by insanely cool take-down animations. With a wider pool of attacks to choose from, Miles' combat style is arguably more diverse and stylish than Peter Parker's.
Or maybe I'm just partial to how freakin' cool his venom abilities are.
Combat and exploration are also enhanced by the DualSense controller, albeit in subtle ways. For instance, during combat, the haptic feedback generates vibrations whenever Miles' venom abilities are used. You can also both feel and hear the "thwip" from the DualSense controller whenever Miles shoots a web. Tactile feedback during cutscenes is well-thought-out too, often making it hard to put down the DualSense. However, as we've seen how much more the DualSense can achieve in Astro's Playroom, I had expected more creative use of haptic feedback and adaptive triggers in Spider-Man: Miles Morales .
A New Hero for A New Gen

On the PS5, Spider-Man: Miles Morales plays like a seamless cinematic movie, with little to zero downtime. The fact that fast-travel is instantaneous never fails to leave me impressed. The PS5's ultra fast SSD definitely delivers as promised, and this makes for such a smooth and enjoyable experience during open world exploration. There is even no loading time in between cutscenes and respawns.
If you can overlook the game's short length, Spider-Man: Miles Morales is the perfect game for the PS5's launch day. It improves on the original and shows off the best that the next-gen console has to offer. From super realistic ray tracing effects and crisp 4K graphics to seamless gameplay with zero loading times, this PS5 entry delivers. Moreover, the game promises a rich, compelling story, exciting combat and a boyishly charming protagonist to boot.
Spider-Man: Miles Morales is a definite must-have for PS5 owners or anyone who's a fan of the genre.