Pros
Great paring Saketinis
Lots of variety in the delivery and takeaway menu
Cons
A bit on the pricier side
Sushi quality can take a hit from delivery
Takeshi-San, known for its instagrammable Kaidan sets, has launched a new SHN (Stay Home Necessities) delivery and takeaway menu to satisfy at-home cravings for its sushi rolls and modern Japanese fare and specially concocted shaken-upon-order bottled saketinis.
Takeshi-San's saketinis are a twist on the usual vermouth-forward cocktail and are shaken (not stirred) with the restaurant's curated selection of sakes and spirits that pair excellently alongside its Modern Japanese menu.
There are two options to choose from: the Chill CB Saketini Set, which features original Saketini and sweet lychee Saketini, or the Love Tranquility Saketini Set, which is a mix of fruity Momo Saketini and Sakura Saketini.
To me, summer in Japan is synonymous with refreshing Japanese peaches aka momo. And so I couldn't pass up the chance for a spring/summer concoction and opted to try the Love Tranquility Set.
I'm glad I wasn't disappointed. The Saketinis were light and refreshing with a slight, bitter aftertaste. Both the momo (peach) and sakura flavours come across very strongly, especially their aroma. I almost preferred them more as a post-meal drink than as an aperitif.
Though I love peaches, I found myself leaning towards the floral taste of the Sakura Saketini, which reminds me of the flavour of Roku Gin. The Sets also come nicely packaged in a brown box, with the thoughtful inclusion of plastic martini glasses – just in case you're short of appropriate glassware.
The bottled saketinis sets come in pairs ($48) or a set of 4 ($80). A set of two saketinis (2 x 300ml) can serve up to 4 glasses.
The DIY Sushi Roll is another feature of the SHN (Stay Home Necessities) menu. You get to flex your creativity to create unique sensations with Takeshi-San's popular sushi rolls and pair them with four flavoured sauces – Wasabi Mayo, Mentaiko, Spicy Mayo, and Eel.
I'm the sort who prefers to play it safe, so I went with a classic Sushi Box set instead. The Salmon Treasure Set is a lovely sight, and with 28 pieces of nigiri sushi, the generous serving is enough for two people to share on the side.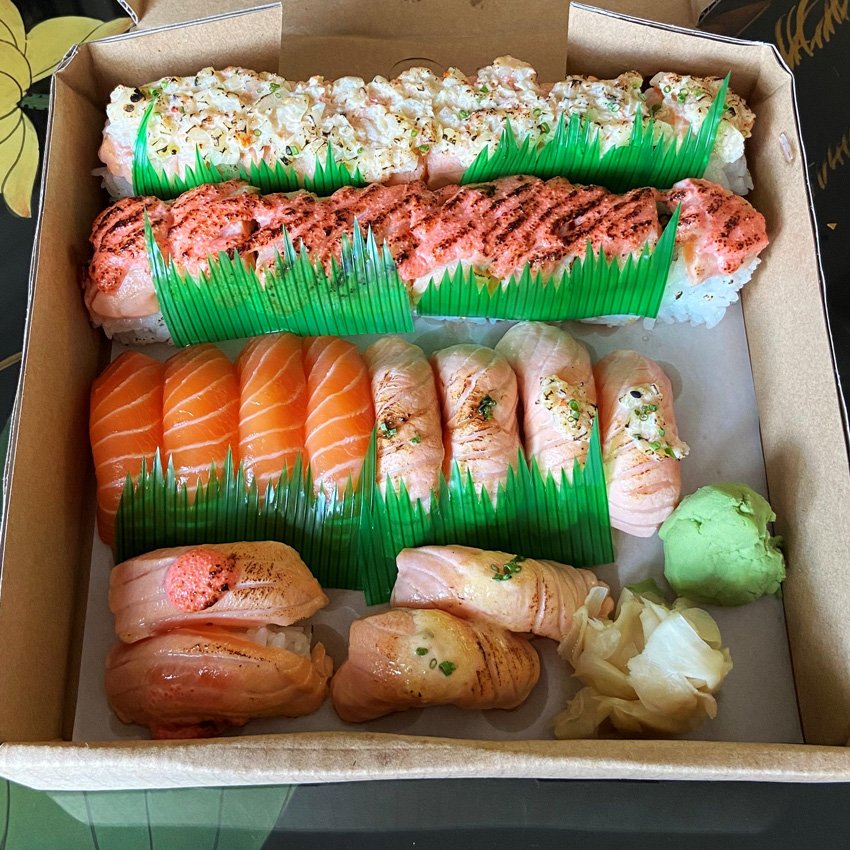 If you're a fan of aburi and mentai flavours, this is the set for you. A collection of all the best mentai and aburi salmon combos, I enjoyed the freshness of the salmon and I liked the Salmon Mentai Roll best, thanks to the generous spread of mentai sauce.
I had expected more from the Salmon Aburi Roll, but the journey to from restaurant to home had taken its toll on the tempura soft shell crab which had become soggy and lost its crispiness. The rice of the sushi roll also became a tad mushy, which resulted in the rolls being stuck to the baking paper underneath.
I do believe that these are issues that come with delivery but I think it is important to note that the texture and flavour of the dishes will take a hit.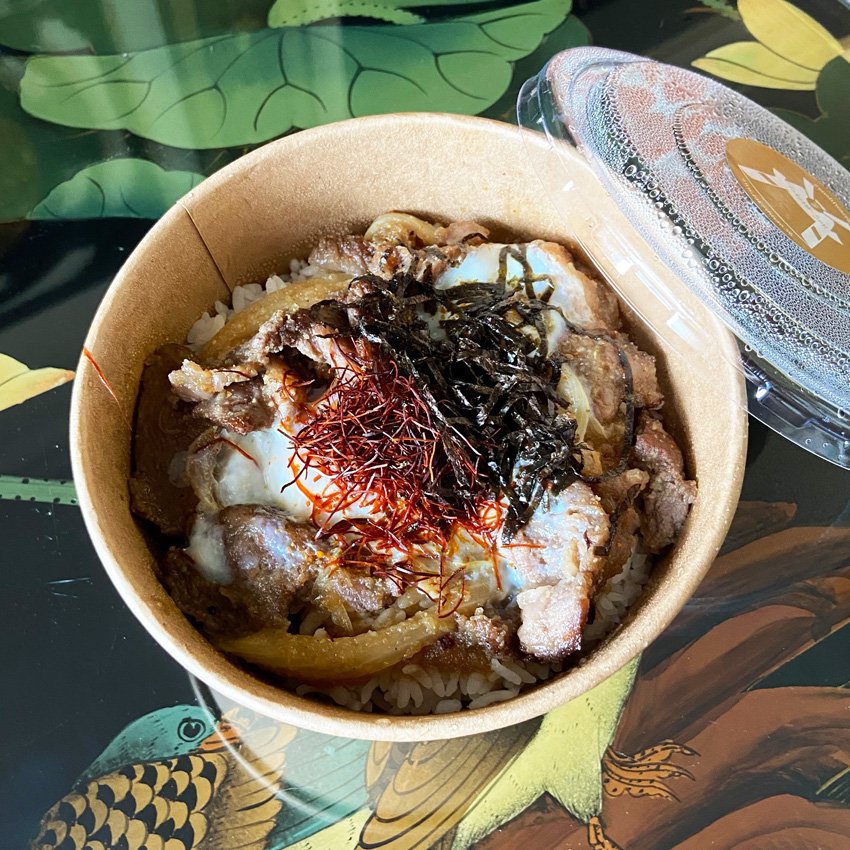 On the other hand, the Wagyu Yakiniku Don survived the delivery and tasted absolutely delicious. It arrived still warm and the rice had soaked up all of the juicy goodness of the wagyu. The wagyu chunks were also tender and very flavourful, with fat that literally melted in my mouth.
If you're worried about sushi quality dip during delivery, I highly recommend Takeshi-San's donburi or chirashi don options instead. There's even a more premium Truffle A5 Wagyu Don and signature Takeshi Chirashi Don which looks heavenly!
Some of Takeshi-San's popular staples such as its Mentaiko Scallop Pasta, Incredible Hulk and Volcano Sushi Roll are also available for delivery and takeaway. Better yet, for a limited time only, you can enjoy 1-for-1 Warriors Recommended Selections and free delivery for orders over $150.
So be sure to check out Takeshi-San's Delivery and Takeaway menu!
For first-hand indulgence of Takeshi-San's renowned Kaidan Sets and upcoming dine-in menu featuring Truffly Uni-mazing Main Courses, book your reservation now at www.takeshisan.sg.
Takeshi-San is located at 38 Lorong Mambong Holland Village.