Pros
Imaginative and fun level design
Fantastic use of music
Fun for all ages
Utilises the Playstation 5's game guide feature well
Cons
Doesn't bring anything new to 3D platforming genre
Levels can become repetitive
Uncompelling story
When it comes to iconic Playstation mascots, Sackboy doesn't rank among my top few. Even when LittleBigPlanet was first launched to wide critical success on the PS3, I had only ever thought of Sackboy as a family-friendly character with an interesting online community building feature. As a kid who grew up on Spyro and Crash Bandicoot, Sackboy, who never received a full-on platformer game, didn't quite grab my attention.
That is about to change. Big time.
Sackboy now returns to the Playstation4 and 5 to re-capture the hearts of both young and old as a dedicated platforming adventure. Bursting at the seams with irresistible charm and creative level design, Sackboy: A Big Adventure has won me over. From the wonderfully crafted worlds to the head-bobbing beats of remixes, the game is an absolute joy to experience.
For the intent of this review, the game was played on a PS5.
Related: The Playstation 5 is a Beast!
Don't fall for the cutesy aesthetics, thinking it's just a console launch for younger children. Developer Sumo Digital manages to incorporate enough of a challenge that will definitely please all gamers of the platformer genre, both seasoned and new.
Material Boy in a Material World

The story in Sackboy: A Big Adventure is painfully simple. To save Craftworld and its sackfolk inhabitants, Sackboy has to defeat the big bad Vex. However, where the game falls short of a compelling plot, it makes up for it with gorgeous designs. There are five differently-themed worlds to explore, each with its own unique levels to conquer, eccentric but memorable characters to meet and cool costume pieces to collect.
One of the most endearing aspects of LittleBigPlanet is carried over to Sackboy: A Big Adventure: the ability to customise your sackperson! There's now added incentive to replay levels just to find a hidden costume piece, or gather more Collectibells to spend at the costume store. With countless costumes to collect, from an Elvis Presley lookalike to a pinata or a pirate, your Sackboy will never be short of style.
Behold A Crafty World

It's an eyeful of joy in Sackboy: A Big Adventure. Thanks to the PS5's capabilities, the game's arts-and-craft aesthetics look exceptionally detailed and realistic in 4K/60fps. It's great fun discovering how everyday materials from the arts-and-craft box are patched together to create distinct, imaginative levels. The creative details are small but numerous – from an arctic theme that uses cooler boxes as platforms to glitter on blue ribbed fabric, simulating the shimmering depths of the ocean, it's a fantastic treat for the eyes.
Granted, Sackboy: A Big Adventure doesn't bring anything new to the 3D platformer genre. But the varied, multi-faceted levels in the game are enough to keep one engaged throughout its roughly 14 hour long gameplay. Some levels are straightforward obstacle courses, while others require you to explore for keys to unlock the next area.
Related: Going the Miles with Spider-Man on the PS5
Some levels necessitate controlling hovering platforms where you have to tilt the DualSense to move Sackboy around – too fast and you might miss a platform, too slow and Sackboy can get hit by an enemy.
Related: The Plasystaion 5's Dualsense is a Game Changer!
Challenging But Fun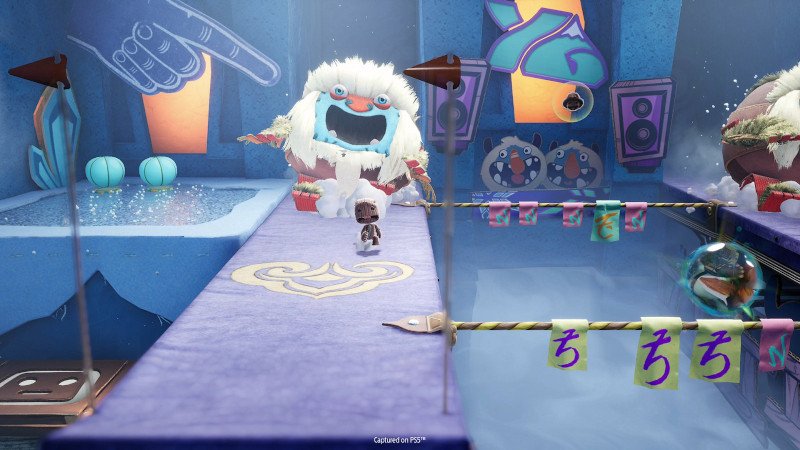 Be it traversing vertically with sticky goo on his feet or using boomerangs to collect hard to reach items, there's never short of ways for Sackboy to interact with his environment. The most fun and challenging aspects of Sackboy: A Big Adventure lies in solving puzzles and clearing collectibles and score bubbles without dying. As the levels become trickier and harder to master, it makes for rewarding replay, especially for platformer completionists.
There are also time trials in the Knitted Knight challenges to put any seasoned gamers' skills to the test. These reward collectibles as well and the quick loading time on the PS5 is also particularly helpful when you find yourself having to repeatedly reload levels.
Gameplay is deeply satisfying and immersive due to Sackboy: A Big Adventure's clever use of the DualSense controller's haptic feedback and adaptive triggers. You can feel the resistance whenever Sackboy pulls on a coiled rope or a light rumble every time he strikes at an enemy. Even walking on different fabric textures result in palpably nuanced feedback!
Play it to the Beat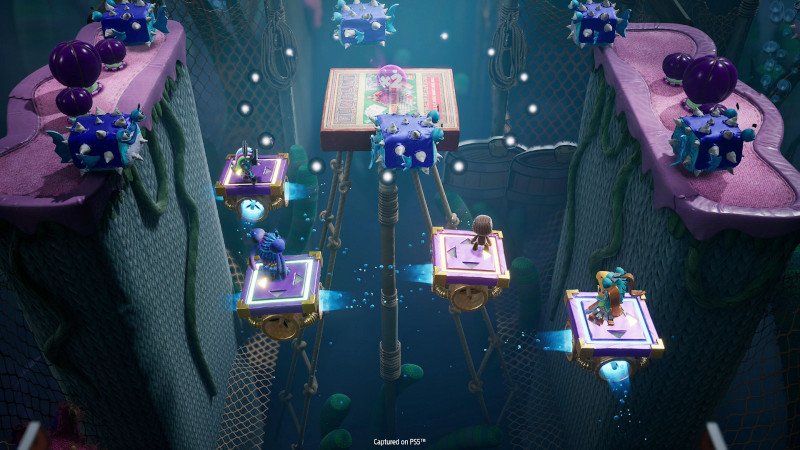 One of the most memorable aspects of Sackboy: A Big Adventure is the musical levels. Short of spoiling it, I'll just say that these feel-good levels left me singing and bopping to the beat with a goofy smile on my face. Everything from floating platforms to cardboard cutouts bounces to the funky beats of songs from the likes of Bruno Mars, David Bowie and more. The DualSense also pulses rhythmically to the songs, topping off this multi-sensory platforming experience.
Sackboy: A Big Adventure also proves extremely fun for co-op play. The co-op exclusive levels need teamwork to progress, including throwing each other onto platforms which led to some good laughs, thanks to mischievous friends who'd miss on purpose. You can play the entire game with up to four players, allowing you to fully utilise Sackboy's extensive wardrobe. Unfortunately, online multiplayer is unavailable for now, so until the patch arrives, local co-op is the only way to go.
Tailor-Made for Fans

Sackboy: A Big Adventure is an incredible feat of imagination and tight platforming that manages to hold its own against launch day titles like Spider-Man: Miles Morales and Demon's Souls. While I'm not sure if his dedicated platformer debut is enough to catapult Sackboy to stand alongside Playstation platforming icons like Spyro and Crash Bandicoot, Sackboy: A Big Adventure still has enough charm and surprises to impress both new and seasoned fans of the genre.