Razer has launched the Basilisk V3 Pro, a next-gen customizable wireless gaming mouse built for performance and complete customizability.
Being Razer's most advanced gaming mouse to date, the Razer Basilisk V3 Pro sets a new standard for the enthusiast gaming community with a Razer HyperScroll Tilt Wheel, Razer Optical Mouse Switches Gen-3, 10+1 programmable buttons, Razer Focus Pro 30K Optical Sensor, wireless charging with Razer Mouse Dock Pro and Wireless Charging Puck (both sold separately), and more.
"The Basilisk V3 Pro is our most feature-rich gaming mouse to date, with all the bells and whistles to blow the competition out of the water," said Chris Mitchell, Head of the PC Gaming Division at Razer.
"Essentially, the Basilisk V3 Pro gives gamers every feature they could ever want, and more customization options than ever before."
Powered by Razer Chroma RGB, the Basilisk V3 Pro features 13-Zone Chroma Lighting with Full Underglow, giving gamers the ability to customize each zone from over 16.8 million colors and countless lighting effects, while experiencing greater immersion as they react dynamically with over 200 Chroma-integrated games.
With the use of the Razer HyperScroll Tilt Wheel, players can either speed through content in a free spin until stopped, or switch to tactile mode for more precision and satisfying feedback that is ideal for cycling through weapons or skills.
Achieving a complete resolution accuracy of 99.8%, the Focus Pro 30K Optical Sensor offers a powerful sensor solution equipped with AI functionality such as Smart Tracking, Motion Sync and Asymmetric Cut-off – for ultimate performance at the highest levels of play.
With the Smart Tracking feature, the Basilisk V3 Pro auto-calibrates across different surfaces so that it is able to maintain a consistent lift-off distance no matter what surface it's used on, allowing gamers greater control and accuracy, even on glass.
In addition, the Basilisk V3 Pro sports Razer Optical Mouse Switches Gen-3 for absolutely zero double-clicking issues and no debounce delay while still featuring a more tactile feel, and an even longer click lifespan. These switches are rated for a click lifecycle of up to 90-million clicks, increasing durability by over 25% compared to the previous switch generation.
The Razer Basilisk V3 Pro also incorporates Razer HyperSpeed Wireless for a 2.4 GHz connection so that gamers can enjoy an ultra-responsive experience with speeds 25% faster than other wireless tech. Thanks to multi-device support, gamers can streamline their setup and free up a USB port by connecting both a compatible wireless Razer keyboard and the Basilisk V3 Pro to a single dongle.
Also boasting Bluetooth connectivity as well as a Type C connection, this allows for more versatility and seamless device switching. The Basilisk V3 Pro is also compatible with Razer's newly released 4K Hz HyperPolling Wireless Dongle to allow gamers to achieve absolute control with a true 4000 Hz wireless polling rate.
Along with the Qi-certified Basilisk V3 Pro (when Wireless Charging Puck is attached), today Razer also announced the new Razer Mouse Dock Pro with an Integrated 4K Hz Transceiver. Offering Magnetic Wireless Charging for a seamless, convenient experience, charging has never been more intuitive.
Gamers can replace the regular mouse cover puck with the wireless charging puck (included with Mouse Dock Pro) in a compatible Razer mouse and charge the mouse by placing it onto the dock – which has a magnetic fit that stays secure while charging.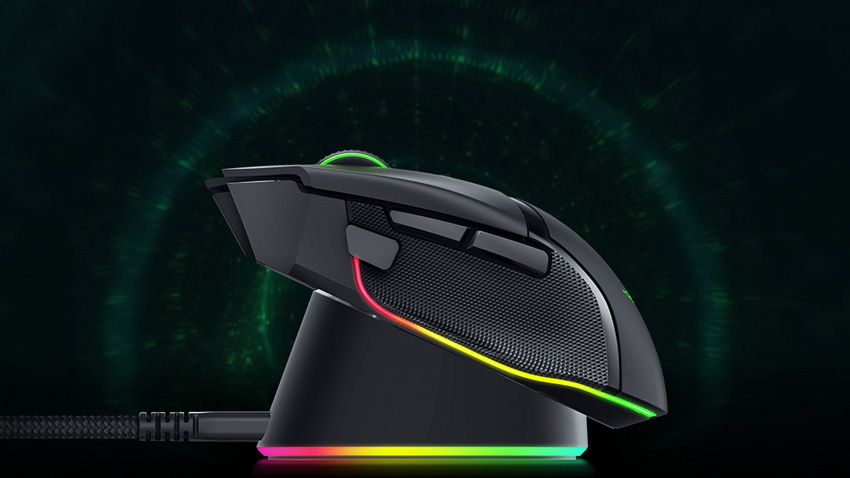 The Mouse Dock Pro also features an integrated Razer HyperPolling 4K Hz Transceiver for true 4K Hz wireless polling rate, and 8 Razer Chroma RGB Lighting Zones, with the ability to choose from 16.8 million colors for customizable style and greater game immersion.
The Razer Basilisk V3 Pro will be available for SGD 249 / RM 799. The Razer Mouse Dock Pro + Razer Wireless Charging Puck Bundle is available at SGD 119 / RM 369.
Razer.com – August 23, 2022