Singapore-based consumer electronics brand, PRISM+, today announced its plans for expansion, following the success of its first institutional funding round by TNB Aura.
Having established itself as a major player in the home entertainment electronics industry, the brand is now making waves with its move into the smart home appliance space.
Last month saw it become the first Singaporean brand to launch its own line of air conditioner systems with the PRISM+ Zero Series, and it will look to introduce even more home appliances in the coming year.
To optimise its entry into the smart home appliance market, PRISM+ is venturing beyond its eCommerce roots into offline channels – as it anticipates audience demand for a physical experience to touch and feel products before purchasing.
The brand has already put its plans to launch a chain of retail outlets in Singapore and Malaysia into motion. To date, the brand has already launched three outlets in Singapore located at the nation's most popular shopping malls and plans to open six outlets by the first quarter of 2023, as it gears towards island-wide coverage.
Meanwhile, the brand also recently launched its first outlet in Kuala Lumpur, Malaysia, with plans to announce more stores in 2023.
TNB Aura Institutional Funding a Vote of Confidence for PRISM+ Business Model and Products
Led by Singapore-based venture capital (VC) firm, TNB Aura, PRISM+ raised SGD $45m to power the development of new products and expansion into Southeast Asia. Keen to replicate its success in Singapore and Malaysia, the brand has set its sights on the Philippines market, where it hopes to replicate its direct-to-consumer business model by the first quarter of 2023.
As thesis-led investors, TNB Aura has led investment rounds into other D2C players such as Zenyum, ORA, Gush, Tjufoo, and others. The venture capitalists launched its inaugural Southeast Asia-focused VC fund in 2018 to great reception and have since grown to be one of the leading VCs in Southeast Asia.
The VC firm's decision to back PRISM+'s expansion into Southeast Asia comes off the back of the brand's foray into the smart home appliance industry. Through its research, the VC firm concluded that the industry was ripe for disruption and noted that PRISM+ was well-positioned to be a major player in the region with its direct-to-consumer business model and value propositions – such as its emphasis on customer service, pricing, product quality, and product features.
"As thesis-led investors, we were excited to partner with Jonathan and PRISM+ as soon as we heard of their plans for the future. We believe the regional D2C market has reached an inflection point, with digital penetration, payments and fulfilment infrastructure increasingly able to support high-quality D2C offerings across both online and offline formats," said Charles Wong, Founding Partner of TNB Aura.
"PRISM+ is primed to become the regional champion of a market traditionally dominated by East Asian giants such as Xiaomi, Samsung, and LG. Our investment signals our confidence in supporting PRISM+ as it seeks to grow to new horizons."
"We have found tremendous success in the past few years, and now have the necessary resources to put our expansion plans into motion," said Jonathan Tan, Managing "Director of PRISM+.
TNB Aura's confidence in the project succeeding is backed by thorough research of the brand's capabilities and offerings, and PRISM+ will benefit from their experience in helping tech startups grow through areas such as corporate governance, on top of having the network and know-how to navigate the Southeast Asia region."
Beyond ecommerce: Staying ahead of the pack with move to offline retail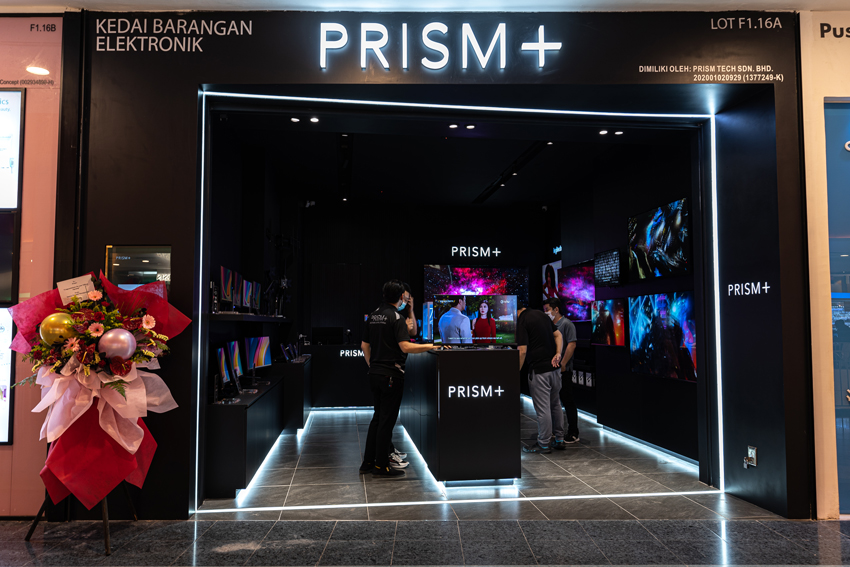 While most brands shifted their businesses online during the pandemic, PRISM+ prepared for the return of the offline retail experience. The consumer electronics brand partnered with popular furniture retailer, Hipvan, in 2021 for a permanent in-store PRISM+ pop-up at Suntec City.
The success of the partnership further encouraged the brand to explore offline roadshows around Singapore in 2022 and cemented the brand's belief in launching its own retail stores.
With its entry into the smart home appliance industry including big-ticket items such as its smart air conditioner series, the brand understood the importance of establishing a higher level of trust with its audience.
Its experiential stores are designed to allow consumers to physically interact with its range of product offerings while providing them access to well-trained representatives who could best advise them on their needs – essentially humanising their retail trip and providing consumers with an end-to-end PRISM+ experience.
The commitment to providing a holistic offline experience has also seen PRISM+ expand beyond product offerings. With the launch of its smart air conditioner series last month, the brand also introduced a full suite of aircon maintenance and installation services.
The service has been highly sought after since the launch of the PRISM+ Zero, and to date, the brand's team of experienced air conditioner technicians have since successfully installed air conditioner systems in over 100 Singapore homes. With air conditioner sales continuing to surge, the brand is currently looking to aggressively expand its team of technicians to meet demand, offering attractive sign-on bonuses for new hires.
Jonathan describes the brand's offline growth as a natural evolution from its e-commerce roots. "In this post-pandemic landscape, we are seeing consumers return to malls and retail spaces in full force. People crave the personal touch that has been missing."
"The electronics industry has long relied on brick-and-mortar stores to sell the immersive experience of their products. We hope to shake up this age-old formula by showing customers that a premium home set-up need not come with a hefty price tag as we retain our direct-to-consumer approach across all our channels."
In Singapore, the PRISM+ Experiential Stores are currently available at the following locations:
PRISM+ @ Vivocity: 1 HarbourFront Walk, Vivocity, #02-12
PRISM+ @ Suntec City: 3 Temasek Boulevard, Suntec City West Wing, #02-313
PRISM+ @ Jurong Point: Jurong West Central 2, Jurong Point 1, #01-50
PRISM+ @ Junction8: To be announced on 25th September 2022
In Malaysia, the PRISM+ Experiential Store is currently located at Sunway Pyramid: 3 Jalan PJS 11/15, Bandar Sunway, Lot No. F1.16A (Level One, opposite U-Mobile).