Omnidesk has unveiled Verge, its all-new fully height-adjustable L-corner desk, the latest wildwood flagship option and a rewards program.
The Omnidesk Verge is a fully height-adjustable L-Corner desk that's available in 2 colour variants. It is an expansion of the flagship Omnidesk Pro 2020 in a form factor that seeks to optimise both real estate and productivity.
"With newer BTOs and Condos getting more and more economical in their spatial offerings, our fans are forced to find new ways to reimagine their space. The Omnidesk Verge is the perfect form factor for those looking to optimise both their space and productivity," said Benjamin Huang, Omnidesk's Managing Director.
The Omnidesk Verge
Unlike a typical straight-edge desk, the Omnidesk Verge bends at an angle, allowing you to flush the Verge against the corner of the room. Coming in at 80" x 47" the Omnidesk Verge is essentially two Omnidesk Pros merged into one cohesive piece of ergonomic design.
The new form factor is designed to allow you, with just a simple swivel of your chair, to seamlessly transition between work, play and everything in between. The distinctive form factor also should provide you with a less cluttered table.
To ease cable management an additional grommet hole is provided as well. Featuring the very same proprietary toxin-free micro-textured powder coat, the Verge can provide the same gaming-grade mouse tracking performance as the existing Omnidesk offerings – available in both matt white and black.
With the integration of Omnidesk's signature ergo-curve on the Verge's edges, you should experience full ergonomic comfort from corner to corner.
The Omnidesk Verge is available in both Black and White and would retail at a launch promo price of $1,550 on 18th June.
The Walnut: Wildwood Collection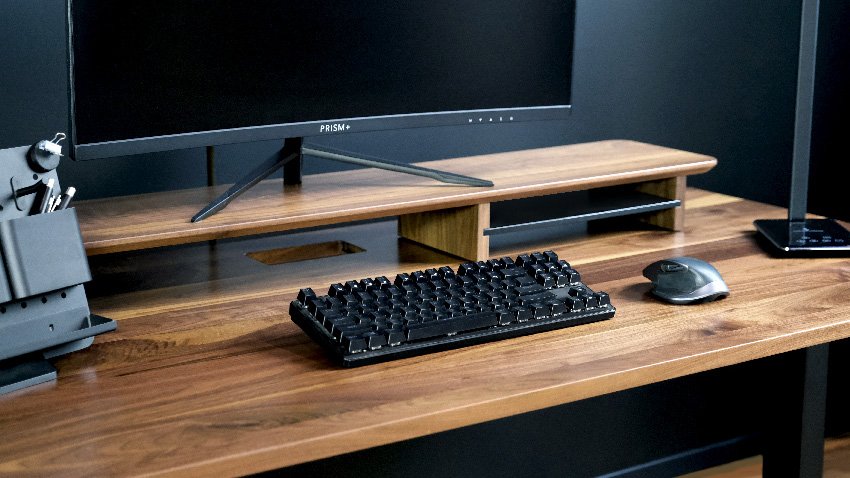 American Walnut, one of the most sought-after solid woods in the world due to its distinctive texture and exquisite patterns, is now available as the latest flagship in the premium Omnidesk Wildwood collection, The Walnut.
"Our premium Wildwood collection has been one of our best sellers ever since its inception and we're not known to rest on our laurels, we want to continually push the boundaries of ergonomics and aesthetics – finding the apex of form and function," said Benjamin Huang.
Every Walnut tabletop is unique by virtue of its naturally occurring patterns which are preserved by a team of artisans. The Omnidesk Walnut tabletop is available in 48", 60" and 72" from 15th June onwards, and would be priced at $1,359, $1,409 and $1,529, respectively.
Launch Promotions
The Omnidesk Verge Starting from $1,550 (Usual Price: $1,800) the Omnidesk Verge is available in both Black and White, and it only comes in a single size. Promo valid while stocks last.
The Walnut Wildwood Tabletop The Omnidesk Walnut tabletop is available in 48", 60" and 72" and would be priced at $1,359, $1,409 and $1,529, respectively. Promo valid while stocks last.
Omidesk Rewards
The Omnidesk Rewards scheme will soon be available for customers since the company's inception in 2018, as well as newer fans.
Any customer who signs up for the Omnidesk Rewards program will earn Gemstones via activities such as referrals and purchases. These Gemstones can be used to exchange for discounts on future Omnidesk purchases. You can earn rewards when you successfully refer your friends and family.
Existing customers can sign up with the email address they provided during purchase and Gemstones will be automatically credited to their account.
In addition, Omnidesk has also extended its warranty period to 10 years with the purchase of an additional 2 years warranty and social media interactions. The rewards program will be up in the very near future.