MCM and XOUXOU, combine luxury fashion and technology to capture the essence of Germany's burgeoning creative community to present their common philosophy and mutual vision on progression, creativity, inclusivity and movement with iPhone 13 cases.
The collaboration expands MCM's category mix of technology-oriented accessories and represents the freedom and mobility of MCM's METAVERSE.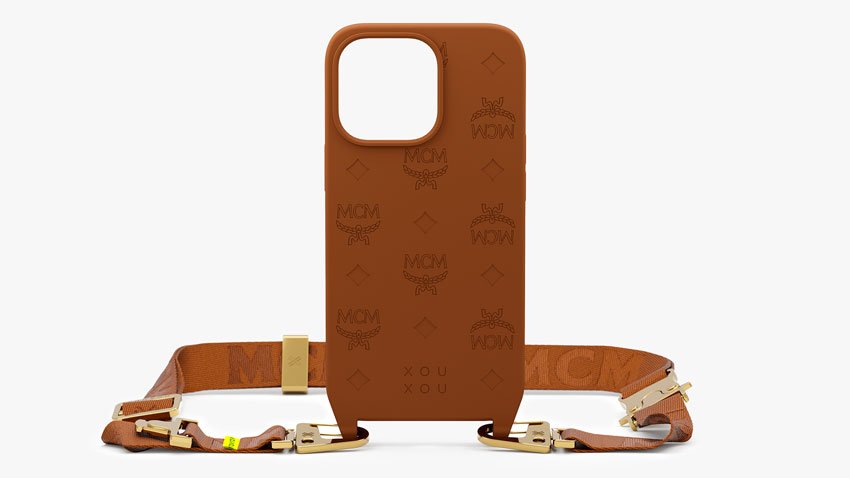 The hands-free functionality of the mobile phone case, embodied by XOUXOU, creates luxurious flexibility for its wearer and borderless freedom for the digital nomad.
"I am honoured to partner with XOUXOU as they represent a new generation of tech-driven solutions coming out of Germany. They capture the energy and dynamism of our base in Berlin by merging innovation with culture and community." Dirk Schönberger, MCM Global Creative Officer.
Designed exclusively for the iPhone 13 Pro and iPhone 13 Pro Max, the cases are made of the highest quality materials and feature MagSafe technology. The case is made of soft-touch coated TPU (Thermoplastic Polyurethane), the engraved MCM monogram and a woven co-branded lanyard.
The elegant design is available in two colour options: MCM's iconic cognac with brass hardware finished in 18K gold plating, and classic black and premium stainless-steel hardware.
"Working with Dirk Schönberger and the MCM creatives is such a pleasure –we are very excited and could not have wished for a better partner for our first collaboration in the luxury market. Together we have fused tech and luxury into an accessory for creative go-getters and jet setters who desire practical solutions for travelling in style and the daily life on the move," Yara Jentzsch Dib, XOUXOU Founder.
The MCM x XOUXOU mobile phone case will be available online and in-store now at SGD 360.