Following an eleven year journey towards the defeat of Thanos seems to have only been the beginning of Marvel Studios' cinematic universe… albeit, a very long beginning with it having taken a whopping seven years between the mad Titan's introduction to his defeat.
Related: Marvel's Multiversal Madness Set to Rule Cinemas
And even then, Thanos' influence is far from over be it in the post-Endgame Disney+ shows or, presumably, in Phase 4 give his link to the Eternals. As an Eternal himself, Thanos has been a threat to the race in the comics–certainly something that may have influenced the choice to introduce these characters now.
While much of the film's buzz over the last year or so has been surrounding the star-studded cast, recent talk has highlighted the now Academy Award-winning director Chloe Zhoa, fresh off her reign at the Academy Awards for Best Picture Nomadland.
(…) back to world-building. It is my favorite thing. That's why I love Star Wars. There is a world that is so rich. I wanted to enter it and see what I can do. It's the same as what you're saying. Can I put a spin on it while still being true to the essence of it? That's exciting to me. It's not that different than me going to the world of rodeo cowboys and saying, 'My spin on that is going to be this,' and it's a collaboration. The chemistry of that, when it's right, it could be very exciting.
– Chloe Zhao, Director
In addition to the trailer, Marvel Studios has also released a first look poster that certainly wields celestial vibes.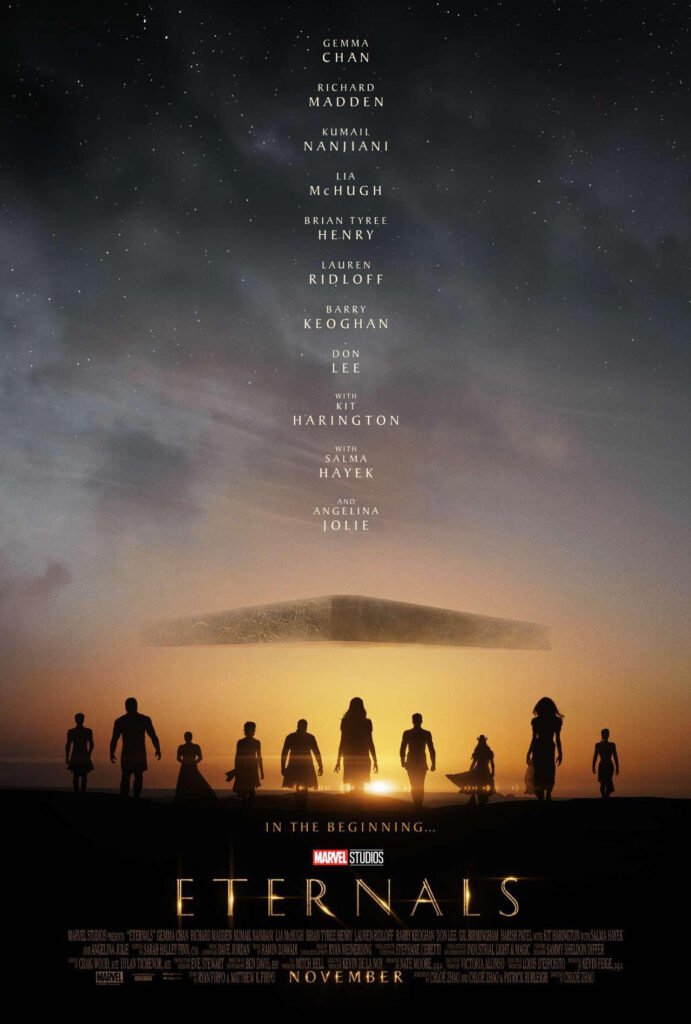 Eternals stars Gemma Chan as Sersi, Angelina Jolie as Thena, Richard Madden as Ikaris, Kumail Nanjiani as Kingo, Lauren Ridloff as Makkari, Brian Tyree Henry as Phastos, Salma Hayek as Ajak, Lia McHugh as Sprite, Don Lee as Gilgamesh, and Barry Keoghan as Druig. The movie also features Madden's Game of Thrones co-star Kit Harrington as Dane Whitman, better known as Black Knight.
Eternals is slated to open in theaters on 5th November 2021.