Pros
Iconic Marshall design
Powerful sound
Sturdy build and IP67 protection
Stackable audio
Looking for a portable Bluetooth speaker with excellent performance, weather-resistant design, and an iconic look? Look no further than the Marshall Middleton, a mid-sized speaker that offers superior quality and packs quite the punch.
The Marshall Middleton retains the brand's iconic, industrial design that is reminiscent of the head units of classic, loud guitar amplifiers.
The silicone-like covering on the top, bottom, and sides is black, and the front grille is similar to modern guitar speaker cabinets. The brass Marshall logo on the front and a gold rocker button on top of the unit completes its iconic look.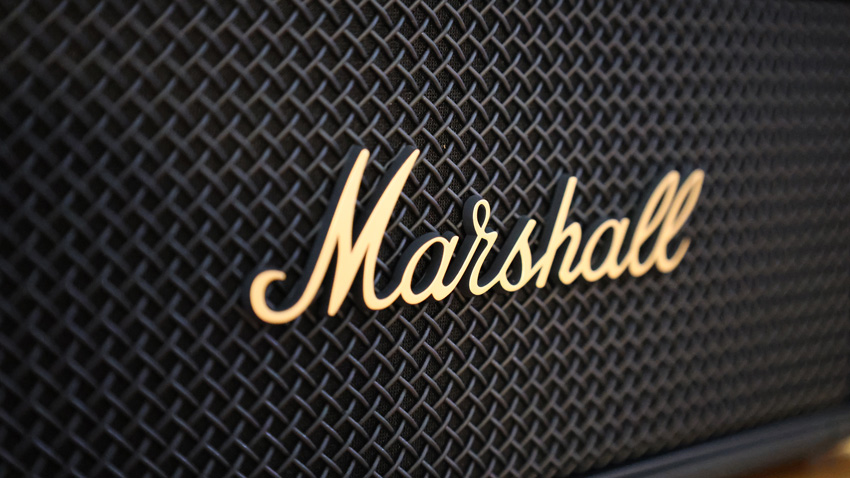 The back and each end of the speaker have grilles, which feature passive radiators. Under the hood, there are two 3-inch woofers, each driven by a 20-watt Class D amplifier, and two 0.6-inch tweeters, each driven by a 10-watt Class D amp.
That's a fair amount of power for a speaker of this size, and the Marshall Middleton can get quite loud.
The Marshall Middleton is weather-resistant, with an IP67 rating, which means it can withstand immersion in up to one meter (3.28 feet) of water for 30 minutes without failing.
This rating is surprising, given that there is an exposed USB-C port (for charging its battery or using that battery to charge another device, such as your smartphone) and a 3.5mm aux input on the back of the cabinet.
The speaker's controls consist of a multi-function rocker switch, touch-sensitive strips for adjusting bass and treble levels, and small buttons for Bluetooth pairing and battery-level checking.
The lanyard attached to the speaker is soft and large enough to make the 4-pound speaker comfortable to carry. The fact that the lanyard looks like a guitar strap, adds to the speaker's overall 'rocker' design.
The Marshall Middleton is easily one of the best-sounding, weather-resistant, mid-sized portable speaker we've heard. Even before considering its IP67 weatherization rating, it competes for best of class.
It provides a clear top-end without being harsh as many small speakers tend to be. Cymbals shine, and the bass response is impressive. It really comes into its own when playing songs like "All Along the Watchtower" by Jimmy Hendrix or "Stairway to Heaven" by Led Zeppelin.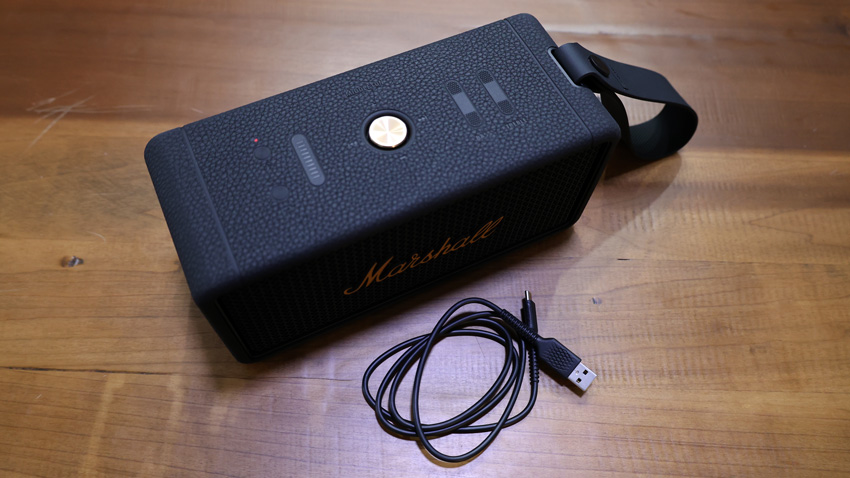 To amplify your music, you can also connect the Middleton to as many other Middleton speakers as you like to create a multi-speaker Stack session with the Marshall app.
The controls on the speaker are easy to use, but they're not particularly easy to see. The dual-purpose level indicator for the tone controls and battery is small and it can be a challenge to read.
You get about 20+ hours of portable playtime on a single charge, and it takes about 4 and a half hours to be back to full battery.
At SGD $499, the Marshall Middleton isn't the cheapest in the market – far from it. However, it is a powerful mid-sized, portable speaker that offers superior quality and performance. It is definitely one that you want to take out and about.
Its weather-resistant design and iconic look make it an excellent choice for anyone looking for a speaker that can withstand the elements and provide high-quality sound.
Its performance, build quality, iconic design, and protection from the elements justify the price tag. It'll turn heads not just for its design, but for its sound as well.
The Marshall Middleton is available from TC Acoustics.