Mamma Mia!
Older people having fun!
A feel-good watch for that much-needed serotonin kick
Endearing relationships between characters sold through great acting
It's a freaking jukebox musical with ABBA songs. What else can I say?
Slipping Through My Fingers
I know it's not the point, but I still need answers
The set is being squeezed to its last drop (but that being said, still does its job pretty well)
I first learned of ABBA as a child, my parents singing snippets of their songs while doing something mundane. I rediscovered these soundbites in their full form as a young adult, pleasantly surprised at their carefully arranged instrumentation (the preciseness of Mamma Mia) and perhaps unusual inspirations (classical phrases in SOS's verses).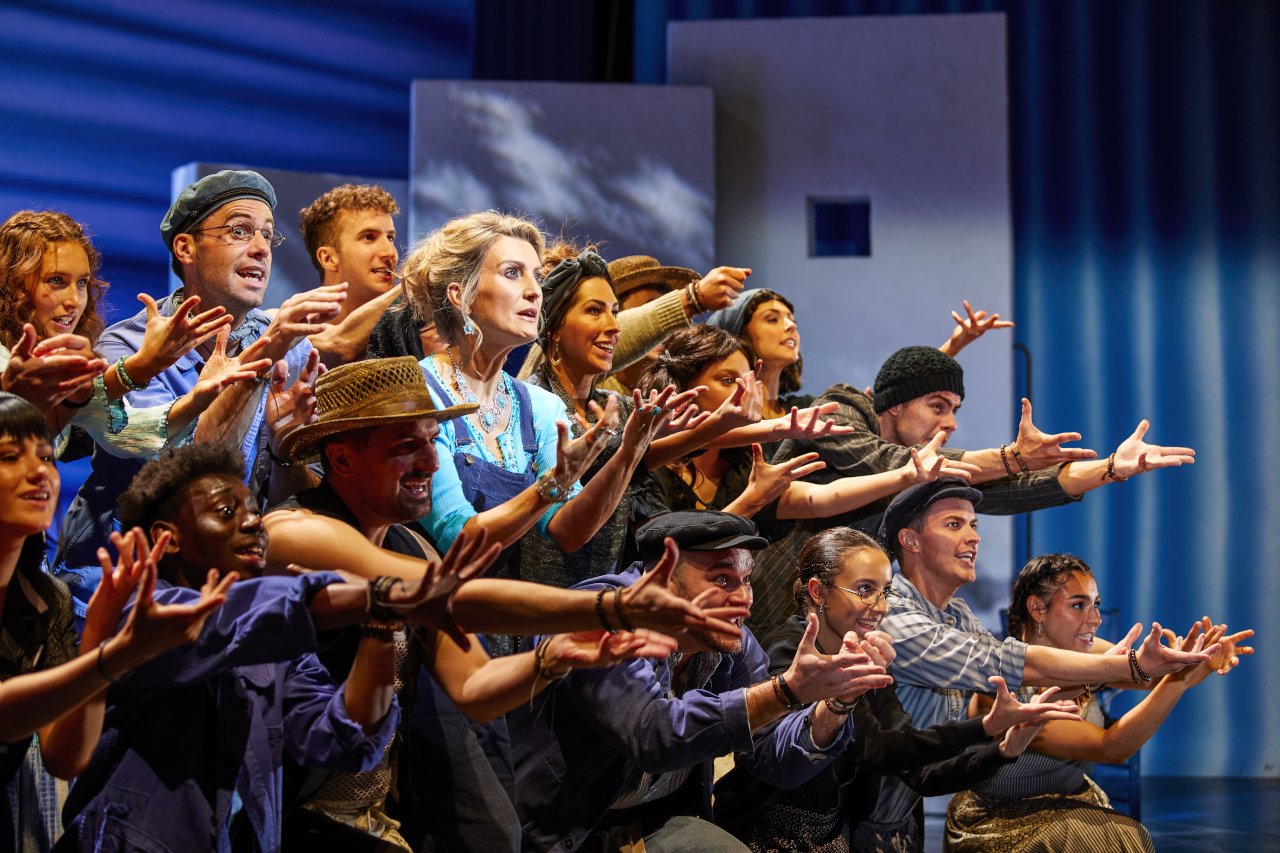 Watching Benny Andersson & Björn Ulvaeus' Mamma Mia! wrap a story around ABBA's discography brought me to another level of appreciation.
Naughty and nice
Mamma Mia!'s premiere night at the Sands Theatre was buzzing with energy, both from the audience and the cast. While the story is slightly predictable, the musical is rife with raunchiness and romps, brought to life by an amazing lineup of actors.
The stage: a quaint Greek island. The person: Sophie, a 20-year-old who is preparing for her wedding and wants her father to walk her down the aisle. The problem: she doesn't know who her father is, and her mother, Donna, doesn't want to talk about it—ever. The inciting event: Sophie goes through her mother's old diary and discovers three men in Donna's past, one of which could be her father.
Watching the Dynamos is a treat. Sara Poyzer's Donna is Sophie's independent, I-don't-need-no-man mom. Tanya, played by Sarah Earnshaw, is the glamorous thrice-divorced diva, while Rosie, played by Nicki Swift, is the free spirit of the group. Every time the three of them are on stage, I want what they have: a supportive female friendship where each person can be themselves. Chiquitita is a great example of this nature of their relationship.
Speaking of relationships, Donna's and Sophie's mother-and-daughter connection is also a touching one, especially during the second act. Similarly, bright-eyed Sophie forms sentimental bonds with her potential dads that make for endearing scenes. The dads and the mystery of Sophie's true father often make for humorous moments of a different flavor that adds nicely to the overall tone.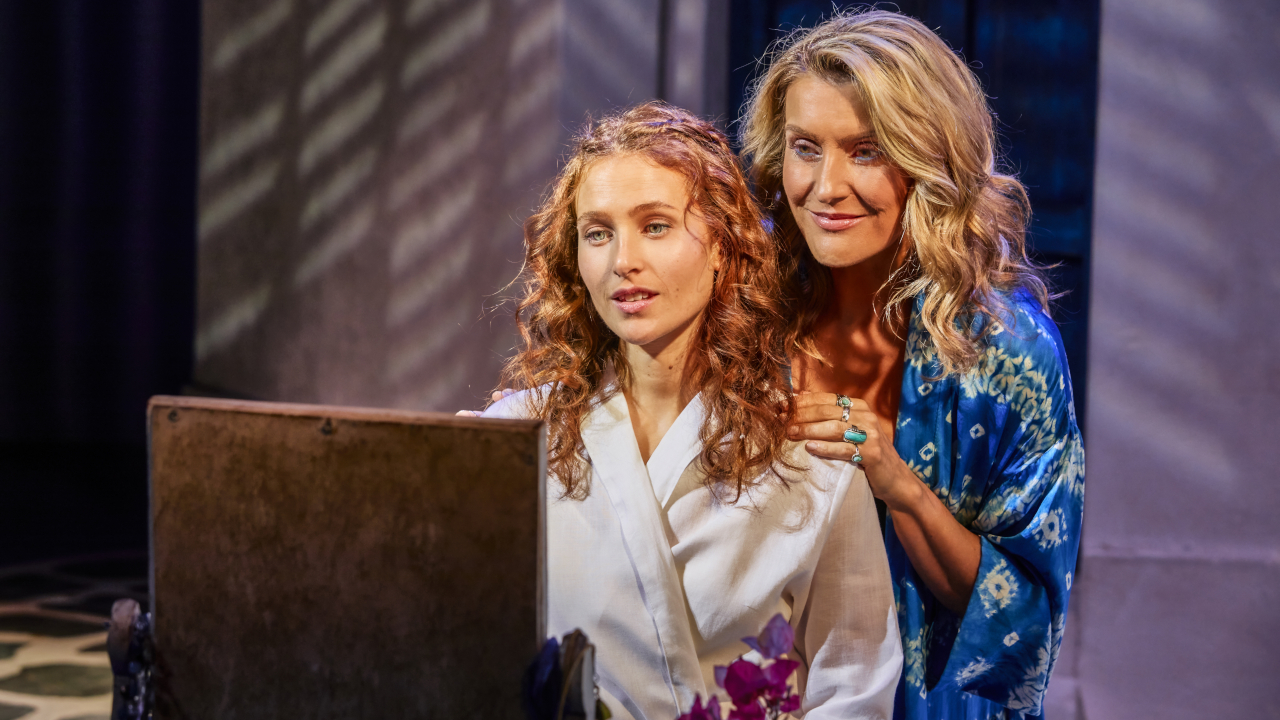 On top of that, there's a healthy pinch of drama thanks to Donna's past with one of the three men (Richard Standing's Sam), which culminates in a big number (The Winner Takes It All) during the second act.
This balance between tender and raucous moments progressed with hits from ABBA (Dancing Queen, Gimme! Gimme! Gimme! (A Man After Midnight), Voulez-Vous, and the titular Mamma Mia, to name a few) rendered amazingly by the band makes watching Mamma Mia! a definite feel-good watch.
Is it f-ABBA-ulous enough?
As spectacular as the cast and performances are, it sometimes feels like the burst of energy is limited within the stage. While it feels smaller than usual, the set does its job: denoting different locations and environments with its simplicity. The movable set pieces depicting the familiar white facades and blue doors of a Grecian abode are cleverly configured in each scene, every nook and cranny exploited to create the feeling of a different place with supporting props. It's minimal, and the novelty only lasts for the first half of the show.
Despite that, the atmosphere in general isn't lacking, thanks to lighting and gorgeous costumes. Both appear different between acts, from the cool colours of the more heart-thumping first act, to warm colours for the more sentimental second act. From flared pants to dazzling sequins to… nearly nothing (only for a little bit), you're sure to believe for the approximately 2-hour runtime that the stage is, in fact, a little island in Greece.
Who's your daddy?
Beyond the dad mystery and the spiciness of it all, the musical unfurls into finding wholeness in one's identity through choices and relationships, whether it's with others or oneself. It's a positive portrayal of different lifestyles and paths, showing us that it's best to live your own way—the way that's most fun for you.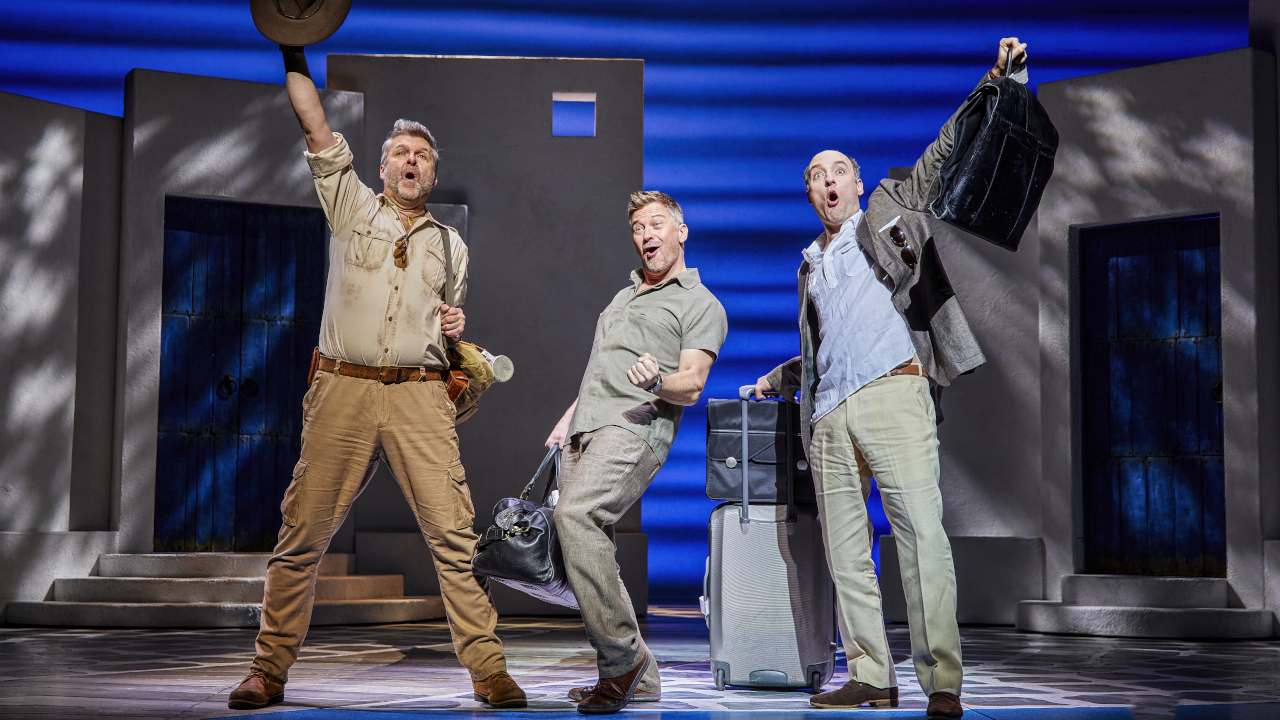 So before you enter the box office, have a little drink, get ready with your friends, or do whatever else you think is fun. But make sure to wear something you can dance in because, at the end of the show, you're going to want to.
Mamma Mia! runs in Singapore till Nov 5, at Marina Bay Sands' Sands Theatre. Book here!
Illustrator, art director, designer who writes sometimes.