The highly anticipated new era of LEGO Ninjago is finally here, captivating fans worldwide with a thrilling combination of fresh characters, innovative products, and an immersive animated TV show.
This groundbreaking release, which debuted on 1st June 2023, showcases a merging of realms within the LEGO Ninjago universe, introducing new heroes, villains, and a captivating narrative that unfolds in a world of merged realms.
At the forefront of this new generation are Sora and Arin, two extraordinary ninja characters who embark on a quest to unlock their true potential. Alongside them is Riyu, a lovable baby dragon, forming an unbreakable bond as they set out to locate the well-known ninjas who have mysteriously disappeared in this newly merged world.
With a remarkable twelve-year legacy encompassing captivating storylines, memorable villains, and character dilemmas, LEGO Ninjago has become a global phenomenon.
The franchise has spanned 16 TV seasons, comprising a staggering 215 episodes, and has expanded into a multitude of mediums, including movies, mini-movies, video and app games, a wide range of merchandise, clothing collaborations with renowned brands, and much more. It has even garnered a dedicated fan community that continues to grow.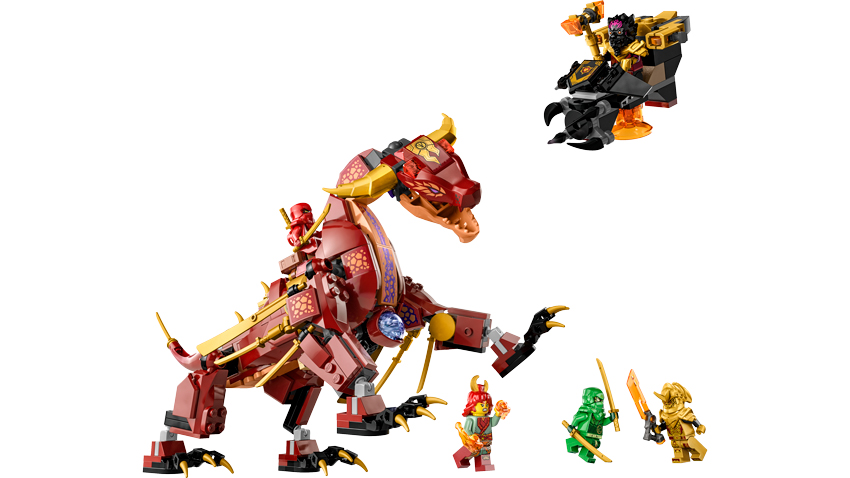 As part of this exciting new chapter in LEGO Ninjago, The LEGO Group introduces an extraordinary lineup of products featuring beloved characters from previous seasons alongside the introduction of brand-new ones.
Join forces with the courageous baby dragon Riyu, along with Sora, Zane, and Jay, as they face off against formidable adversaries like Lord Ras, Empress Beatrix, and the lmperium Guard in sets such as 71796 Elemental Dragon vs. The Empress Mech. Additionally, help Lloyd and Arin conquer their foes by joining them in their Ninja Team Mechs with the versatile 71794 Lloyd and Arin's Ninja Team Mechs set.
For thrill-seekers, LEGO Ninjago offers interactive spinning and flipping toys that allow young heroes to master the art of Spinjitzu.
Engage in exhilarating battles with sets like 71777 Kai's Dragon Power Spinjitzu Flip, 71778 Nya's Dragon Power Spinjitzu Drift, and 71779 Lloyd's Dragon Power Spinjitzu Spin.
Those seeking an immersive and intricate building experience will be enthralled by the 71799 LEGO Ninjago City Markets set, featuring an astounding 6,163 pieces.
This highly detailed set brings the vibrant and bustling NINJAGO City to life, with its cable car, bakery, boat, apartments, rooftop food court, and much more. Standing at an impressive 20 inches (50cm) tall, this set includes 21 minifigures, such as the Blacksmith Kai, Urban Sora, Urban Arin, Detective Zane, Hounddog McBrag, Gayle Gossip, Chamille, Miss Demeanor, and Dareth.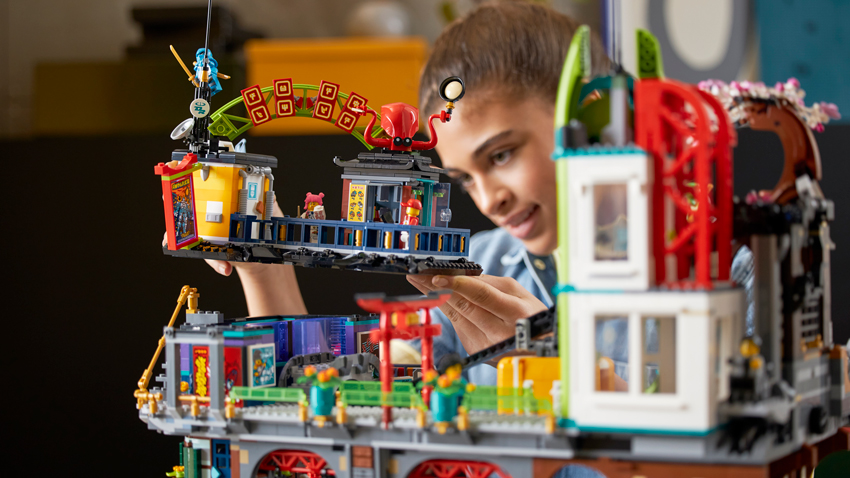 To celebrate the launch of LEGO Ninjago, a thrilling event, the LEGO Ninjago Academy, is set to take place in partnership with Compass One from 1st to 18th June. Children will have the opportunity to join the academy and undergo ninja training, guided by master Lloyd and the new characters Arin, Sora, and Baby Dragon Riyu.
Engage in weapon-building stations, Spinjitzu challenges, and elemental tests of speed, agility, and endurance. Participants can even redeem a LEGO Ninjago minifigure upon completing the missions, with additional chances to win LEGO sets by participating in the Dragon NRG Cores guessing contest. Furthermore, shoppers can receive exclusive LEGO Ninjago merchandise with qualifying purchases