This Earth Month, Impossible Foods is encouraging consumers to calculate the impact of their food choices and do their part to turn back the clock on climate change.
By setting individual #meatgoals to eat Impossible Beef instead of beef from cows, consumers can drastically reduce their environmental footprint and turn back the clock on climate change.
Through a lineup of activities as part of its Earth Month campaign, the planet-first company aims to educate consumers about the enormous sustainability impact of eating plant-based meat instead of meat from animals and make it easier to make the switch.
In Singapore, Impossible fans can look forward to limited edition menu creations, promotions and exciting prizes when they dine out and eat Impossible dishes during Earth Month. Impossible Foods has partnered with restaurant chains across Singapore to create special dishes and offers available at close to 100 outlets across the island.
Special Earth Month menu items include the 'Heal the Earth' Impossible Meatball from RUBATO Italian Kitchen & Bar, seasoned with fresh Mediterranean herbs and filled with handmade burrata in the shape and likeness of our planet; Impossible Olive Flat Bread from Da Paolo Pizza Bar; Le Big Mock from Three Buns; Impossible Meat Pong Tau Hu from Straits Chinese, and more.
Deliveroo is also offering $1 delivery for all participating restaurants, so Impossible Foods fans can enjoy these delicious meals at home and snag limited edition swag when they order in.
Additionally, home chefs can find Impossible Beef in their nearest Cold Storage, Giant, NTUC Fairprice and Market Place stores in 340g packs at $9.90 till April 30. Impossible Beef is also available on Cold Storage Online, Giant Online and Redmart.
Laurent Stevenart, Impossible Foods Country Manager in Singapore, said of the campaign, "As a planet-first company, Impossible Foods is built around a single goal: to transform the global food chain to a more sustainable one, turning back the clock on climate change and halting the collapse of global biodiversity."
"More than ever, Earth Month is an important time for us to further raise awareness and educate Singaporeans on how the simple action of choosing a delicious plant-based option massively reduces their land, water and greenhouse gas footprint."
"In 2020 we were heading into Circuit Breaker amid a global pandemic, yet Singapore still managed to collectively reduce its footprint by more than 100 thousand square meters of land, nearly 50 thousand kg of CO2 equivalents and more than 1 million litres of water. This year, we're setting the ambitious goal to beat our 2020 result by 30%."
SMALLER FOOTPRINT, LARGER IMPACT
45% of Earth's land surface is used for grazing livestock, raising livestock, or growing crops to feed them. A 113 g serving of Impossible Beef uses 96% less land, 87% less water and 89% less greenhouse gasses compared to ground beef from a cow. This translates into 7 square meters of land, 3 kg of CO2 equivalents and 84 litres of water.
To make it easy for people to visualize the positive environmental impact they have made with a simple, delicious swap, Impossible Foods launched the Impossible Impact Calculator (live from April 1), a gorgeous tool that enables consumers to learn exactly how much they can reduce their land, water and emissions footprints by choosing Impossible Beef instead of beef from cows.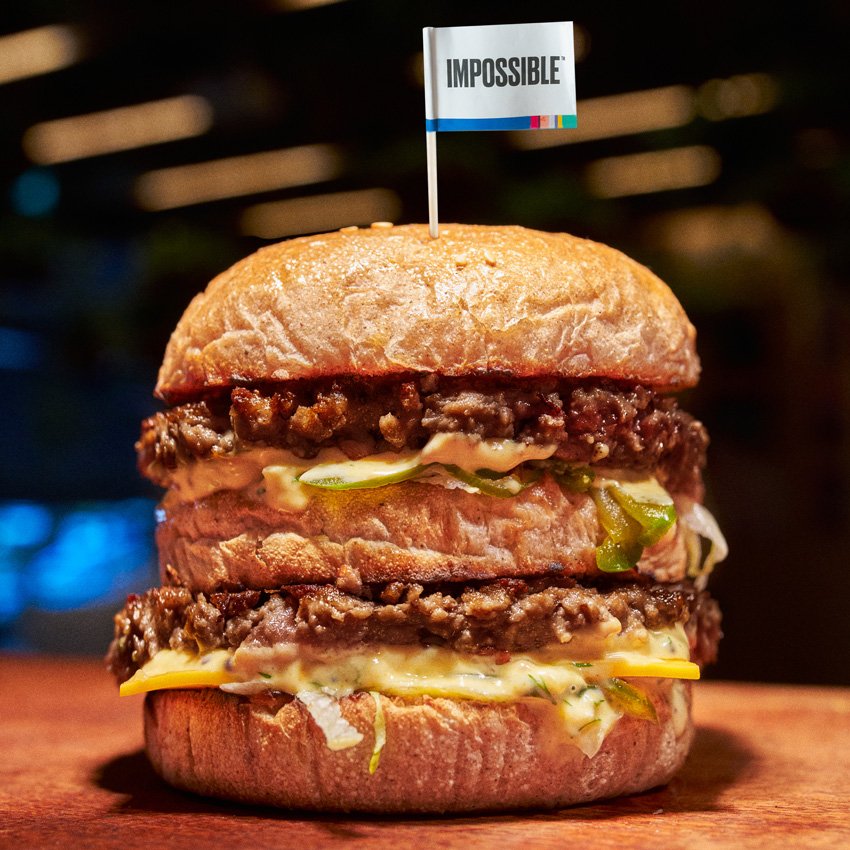 At the end of the campaign, the company will unveil the total sustainability impact across all participating restaurants and retail stores based on the amount of Impossible Beef sold.
"MEATY" REWARDS FOR IMPOSSIBLE BEEF FANS
Using science and technology, Impossible Foods replicates the meaty taste using plant-based ingredients with a significantly lower environmental impact. Meat-loving consumers who want to save the planet can now do so without having to give up on taste or nutrition, and stand a chance to win Impossible Earth Month prizes worth a total of $15,000.
From April 1 through April 30, Impossible Foods has teamed up with brands committed to sustainability including Dyson, Coco & Eve and Happycall to help more people live, eat and cook more sustainably, and reward them when they choose to eat Impossible Beef instead of beef from cows with Prizes worth $15,000.
Fans who purchase any Impossible products or dishes during Earth Month can enter to win by registering their entry and their Impossible receipt to sg.impossiblefoods.com. More than 350 winners will be selected at random and announced in early May.
From March 29 to April 2, fans who tune in to Class 95 between 5 to 8 pm during Car Tunes with Jean Danker will also be able to win $150 worth of dining vouchers from Straits Chinese. There are 5 sets of vouchers to be won.