Get ready to embark on a magical once-in-a-lifetime journey through the captivating world of Disney animation as the highly anticipated exhibition, Immersive Disney Animation makes its first stop in South East Asia from 18 November 2023 at Sands Theatre, Marina Bay Sands.
Immersive Disney Animation celebrates 100 years of Disney animation excellence and promises to transport visitors into the dynamic and enchanting realms of beloved Disney characters.
In addition to the featured animated films such as Frozen, Encanto, Zootopia, and Big Hero 6, Immersive Disney Animation pays tribute to the extensive legacy of Walt Disney Animation Studios. Delve into the art, music, and animation techniques that have brought timeless classics like The Little Mermaid, Peter Pan, and The Lion King to life.
Immersive Disney Animation has been created to take visitors on a journey through 100-years of Disney animation with scenes, characters and songs from Disney animated films of the past and present, making them feel like they have entered the incredible worlds of beloved Disney characters and become one with them.
Pre-Exhibit Area
Immersive Disney Animation offers visitors a unique chance to delve into the captivating world of their beloved Disney animated films.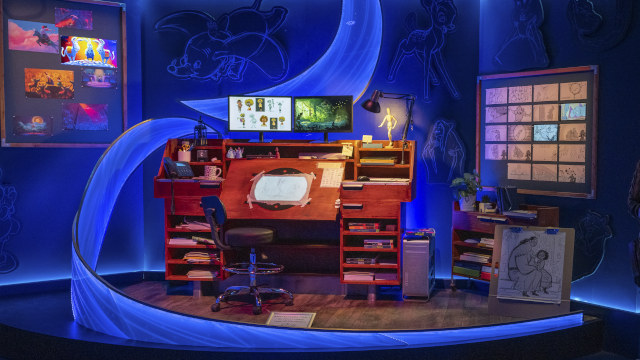 The moment visitors walk into the exhibition, they are transported into the magical world of Disney Animation Studios' vaults as they follow a swirling pixie dust 'wish trail' through the galleries, where they encounter rarely seen exhibits from Walt Disney Animation Research Library, including a series of animator's character sketches, an interactive drawing table that teaches visitors how to draw their favourite Disney characters, an animator's desk displaying time lapses of character creation, introductions to some of the amazing animators behind the legacy, and more.
Bubble Tower Within Gallery Area
Step through the vault doors into a breathtaking 360-degree environment that offers a sensory experience like no other, allowing visitors of all ages to fully immerse themselves in the magic of Disney's storytelling.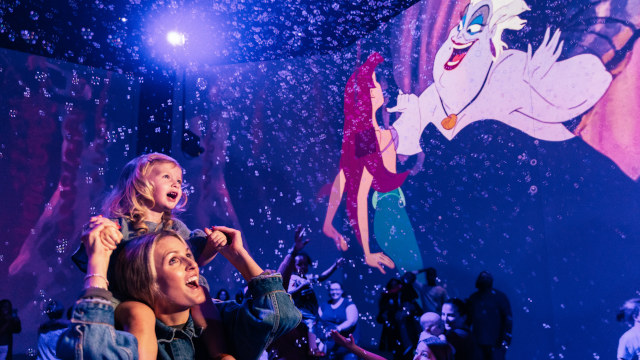 From the Disney Renaissance period to recent blockbusters, this exhibition offers an unprecedented opportunity to traverse the unforgettable scenes and encounter the timeless characters that have captivated audiences worldwide.
And in a truly show-stopping moment, the gallery space will be filled with shimmering bubbles, adding an ethereal touch to the immersive environment.
Interactive Floor
Immersive Disney Animation goes beyond visual experiences, incorporating additional interactive features to further captivate attendees.
With a responsive floor projection design that moves in sync with the visitors' and custom wristbands that illuminate based on the visitors' movements through the galleries, every step is transformed into a magical adventure.
Drawing Table
At Immersive Disney Animation, visitors of all ages are granted an extraordinary opportunity to dive into the captivating realm of animation and gain a comprehensive understanding of how their favourite Disney animated films come to life.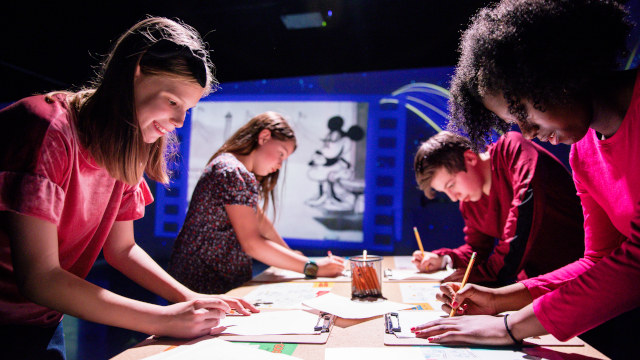 This immersive experience goes beyond mere observation, offering a hands-on and educational adventure for visitors to learn the art and craft of animation. Whether you are a seasoned artist looking to refine your techniques or a budding enthusiast eager to explore the world of animation, this exhibition provides a safe and welcoming space to learn, create, and celebrate the magic of Disney animation.
Prepare to be inspired as you witness the magic of animation unfold before your eyes at Immersive Disney Animation. Gain a newfound appreciation for the artistry, creativity, and dedication that goes into each frame of a Disney animated masterpiece.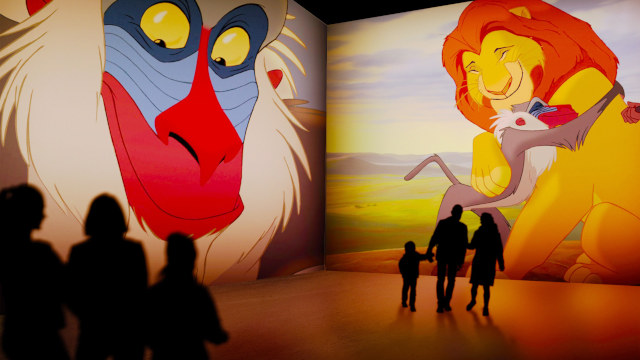 Whether you are a lifelong fan or a curious newcomer, this immersive experience promises to leave you with a deep understanding of the captivating world of animation and a desire to create your own enchanting stories.
Immersive Disney Animation is presented by Base Entertainment in partnership with Walt Disney Animation Studios. The experience begins 18 November 2023 at Sands Theatre, Marina Bay Sands, and will be open from Mondays to Sundays. Tickets can be purchased here.