Supreme Leader!
Excellent value for ergonomic solutions
Breathable, comfortable material
12 years warranty
Slippery Slope
Height approximation may be unreliable
Armrests are a teeny bit too easy to move
Not a one-size-fits-all solution, despite large accomodative range
COVID-19 has tested many of our lifestyle habits, and the chairs that we use are no exception — but you already knew that. A good chair is more than just a feeling. It's in relieving yourself of persistent neck pains from craning, and in being able to take longer walks because your lower back isn't going to give way. In some ways, to me, a good chair is also about retaining youth. It's when you don't look in a mirror to see darker-than-normal necklines and when your posture doesn't look reminiscent of a stooping hunchback.
The ErgoTune Supreme ($599) is that kind of a good chair… almost.
When we received the ErgoTune Supreme chair to review, I was in the heat of my life as a writer. Like my job wasn't already sedentary enough, COVID-19 meant I was moving even less and now resigned to the oak chairs of my old-school dining table — gorgeous, durable, but so uncomfortable over extended periods of time. At that point, I had gotten used to very small daily bouts of mostly negligible pain in my back and mild text-neck. Nothing that couldn't be fixed with a good yoga session.
With gaming chairs hot in Singapore's market, I had considered purchasing one numerous times. But limited by a $400-$500 budget, I never found one with sufficient ergonomic customisability. I found that with ease when ErgoTune's hybrid-mesh throne rolled into my home.
ErgoTune Chairs are Flexible, But You Might be Too Short for the ErgoTune Supreme
With 11 different points of adjustment, ErgoTune's Supreme doubles up as a gaming chair and a work chair. You'll be able to choose between Charcoal Black and Coral Red colours, and you'll have to set it up on your own. The process is fairly simple and takes 15-20 minutes, with a detailed manual and a toolkit to accompany. The chair is recommended for people of up to a hefty 150kg, between 150cm to 190cm in height. The height range seems pretty wide, but our tests disagree with that — we'll get to that later.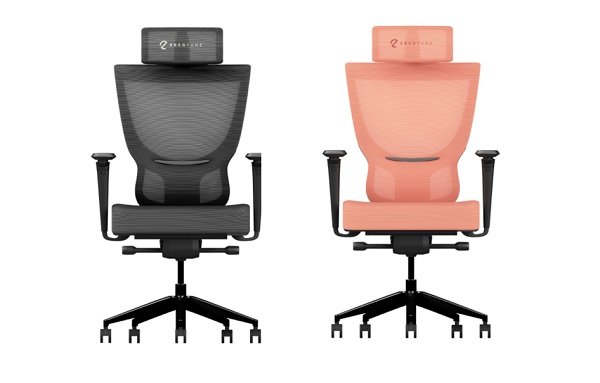 The ErgoTune Supreme is designed to fit your body perfectly, and its adjustment points allow for that very efficiently. The seat pan can be adjusted back and forth, a height-adjustable backrest, and lumbar support called ATLAS (Auto-Tuning Lumbar Area Support). Other adjustable points include their armrest, which is height adjustable and completely rotatable, as well as the headrest, which is height, depth, and tilt-adjustable up to 60°. The chair also has essential height adjustment, powered by class IV hydraulics.
With a name like ATLAS, that lumbar support better be good, and it is gosh darn good–and very adjustable. The ATLAS lumbar system is designed to support your lumbar spine's natural curve no matter how far back you recline the ErgoTune Supreme, which can lean back up to 136°.
The adjustable points of this chair are very thoughtful, and I found myself using all of them on a daily basis. To game on my computer, I would pull the chair in really close to my table, adjusting the armrests to make them lower and able to slide right underneath my table. And when I was working, I'd prop the armrests up high, to make sure that my hands were well supported instead of leaning on my rather high laptop stand. When I wanted to hop on a game of Riot's Wild Rift, I would tilt my chair back, adjust the lumbar support, and rotate the armrests such that I could play a full game on my phone with my hands fully supported from the elbows down.
None of the ErgoTune Supreme's features really go to waste, because they're all so modifiable in a way that makes the chair functional for most purposes. Methods of adjustment are all intuitive and more importantly, easy to execute. The feature that you'll adjust the least is likely the seat pan, but as long as you're diligent with lumbar adjustments, you might find yourself adjusting your seat pan every once in a while.
Mostly Intuitive Design Thwarted by Headrest
The ErgoTune Supreme also takes extra liberties in creating a user experience that's somewhat luxurious all round. Like some other chairs, the ErgoTune allows you to adjust the tension on your recline so you won't just plonk backwards when you try to lean back.
The adjustment "controls" are all easy to remember. Parts like the headrest, backrest, and incline all have a very simple locking mechanism. They all lock at positions "1," "2," and "3," and if you move them beyond a "3" position, a reset kicks in, moving them back to their initial position. However, the armrest rotation happens simply by pushing with little resistance, leading to some unwanted losses of balance when leaning. Secretlab's Titan has a trigger to hold that allows rotation of armrests. In the ErgoTune Supreme, it's used for the armrests' height adjustments. For the most part, it's not a very present problem.
The body is also made of delightful material – that you shouldn't mistake for "cheap", at all. The ErgoTune chairs are made of DuraWeave fabric, a breathable 2:1 fabric of hybrid mesh upholstery, manufactured in Germany. The fabric is STRONG but form-fittingly soft. It's perfect for Singapore's weather, a far cry from the stuffy discomfort that stylish leather and standard cloth chairs bring.
With the shape of the ErgoTune, a throne is exactly what it looks like, lending the fabric some style. The chair in itself is also very spacious, but customisable enough for it to not feel excessively roomy. With an aluminium base, the ErgoTune Supreme rolls smooth, like a car that's just been serviced.
It has got to be difficult to make an ergonomic chair with this many adjustments look stylish. The ErgoTune Supreme does what it can in this aspect, with fluidity and simplicity in design coming together well.
If You Have a Deep Lumbar Curve, Read this before you buy the ErgoTune Supreme.
There's one thing that really plagues the ErgoTune Supreme, and it's the headrest. Note: it's a headrest, not a neckrest. Get it in the wrong position and you'll find your head in unnatural forced positions.
The ErgoTune's headrest is attached to the top of its back panel, and it is height adjustable. Which all sounds great, except for the part where the lumbar adjustment means your entire backrest moves up and down. I'm one of those people with a healthy, but slightly more arched lumbar. Adjusting it to my preference puts the headrest at a rather high position which pushes my head forward and prevents me from even tilting my head backwards properly. I'm not even a short person (as I tell myself in the mirror every day). I sit healthily within ErgoTune's height range of 150cm to 190cm, at 168cm.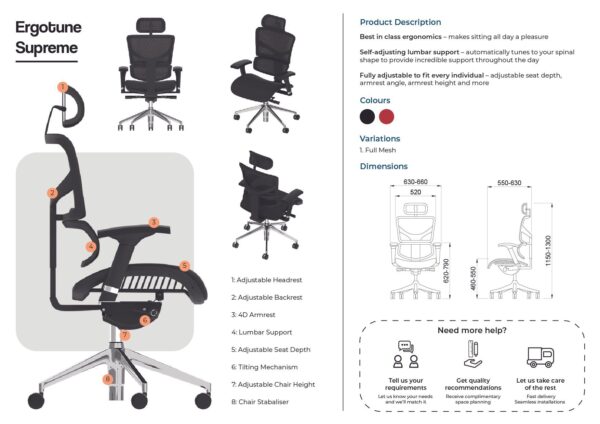 If you're a person shorter than 170-175cm and you have a high, deeper back arch, or a short torso, the ErgoTune Supreme likely isn't for you — at the very least, you'll need to give it a physical try. You could, instead opt for the ErgoTune Classic.
The ErgoTune Classic is $200 Cheaper – Here's What It Doesn't Have
As opposed to the $599 price tag on the ErgoTune Supreme, the ErgoTune Classic is $339 and comes without a headrest. Its armrest is limited though, with no rotation, and the chair's base is made of plastic. For the most part, the $200 upgrade is good bang for your buck. The aluminium base of the ErgoTune Supreme is sleek and gives the chair a nice weight, and the rotatable 5D armrests definitely come in handy, even if they're a little too lubricious. If you're considering an ErgoTune Classic for its lack of a headset, consider that you could also remove the headrest on your ErgoTune Supreme. Just feels kind of "heart pain", doesn't it?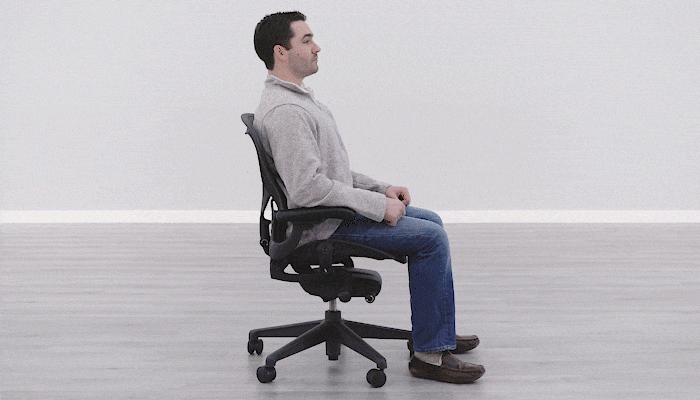 The ErgoTune Supreme is a serious ergonomic chair that works well as a hybrid working-and-gaming chair. Many of the gaming chairs in local markets come with a similar price tag, but with nowhere near the level of comfort that the ErgoTune Supreme can offer. The question that remains is: are you looking to pay for serious style and minimal substance, or for serious substance and some style?
If you're looking for a multifunctional chair that'll tide you through working from home, this is a good option. Our 120KG editorial member will attest to it, with the number of lean-back naps he's taken on it. Check it out here.