Supreme
Fantastically fresh take on an MCU icon
Raimi is at his Raimi-est for a lot of this movie
Cumberbatch truly comes into his own as a leading man for the MCU
BRUUUUUUUUUCE!!
Sinister
Raimi's style can be jarring for what has been a very homogenised franchise.
Not everything "experimental" necessarily work, but they do for the most part
Phase 4 of the Marvel Cinematic Universe (MCU) may have gotten off to a rocky start. Not only did Black Widow pull less than stellar reaction the mega franchise had come to expect, but its foray into assuredly canonical television programming via Disney+ wasn't met with quite the same fervor as its Star Wars counterpart. And yet, here we are, lauding the creative decisions made with not just the characters, but the talents behind the shows over the last year or so.
Basically, Sam Raimi rocked Doctor Strange in the Multiverse of Madness and we're beyond thankful for the return of one of Marvel's directorial godfathers.
Aside from the aforementioned rocky start to Phase 4, there have been some interesting takes on the content and Multiverse of Madness keeps up that tradition. Be it the pretty out-there takes on WandaVision and Loki, or the interesting Christmas angle for Hawkeye, or even the outright bonkers comic-driven run on What If…?, Phase 4 has made it clear it's not here to just retread its predecessors' arcs. And that's not even taking into account the utter mastery of something like Eternals!
Sam Raimi's vision for Doctor Strange continues this trend of creative exploration, sometimes bordering on weird, and it pays off resoundingly. Of course, the movie does present itself in an almost jarring manner, and for those returning to theatres for more of the usual MCU fare may be a little thrown off. Nevertheless, Raimi deftly delivers character and plot development with ease where it matters, and saves precious minutes for the juicy bits he so enjoys–bits usually covered in ooze and blood, consisting of chunks of alien or monstrous flesh.
C'mon, people, we're talking Raimi here–making this a multiverse of monsters was bound to happen… and it's glorious. Raimi continues the individually unique vision for the MCU that seemed more prevalent way back in the earlier days of the series before gunning towards Infinity War became the sole priority. Not to say that it wasn't immensely enjoyable, but (much like Moon Knight), Multiverse of Madness seems to understand that a well-connected universe need not be utilised at every turn, and proceeds to still tell a story deeply entrenched in the MCU as we know it… or not.
It's also an impressive turn where not only does this sequel outperform it predecessor, but it also makes way for arguably larger roles for the original cast while also allowing new characters to grow. From Rachel McAdams' Christine Palmer to Chiwetel Ejiofor's Karl Mordo, seemingly side characters are restored to more appropriate functions. And fan favourite Wong continues showing us why he's at least character supreme (be sure to bow when you see him).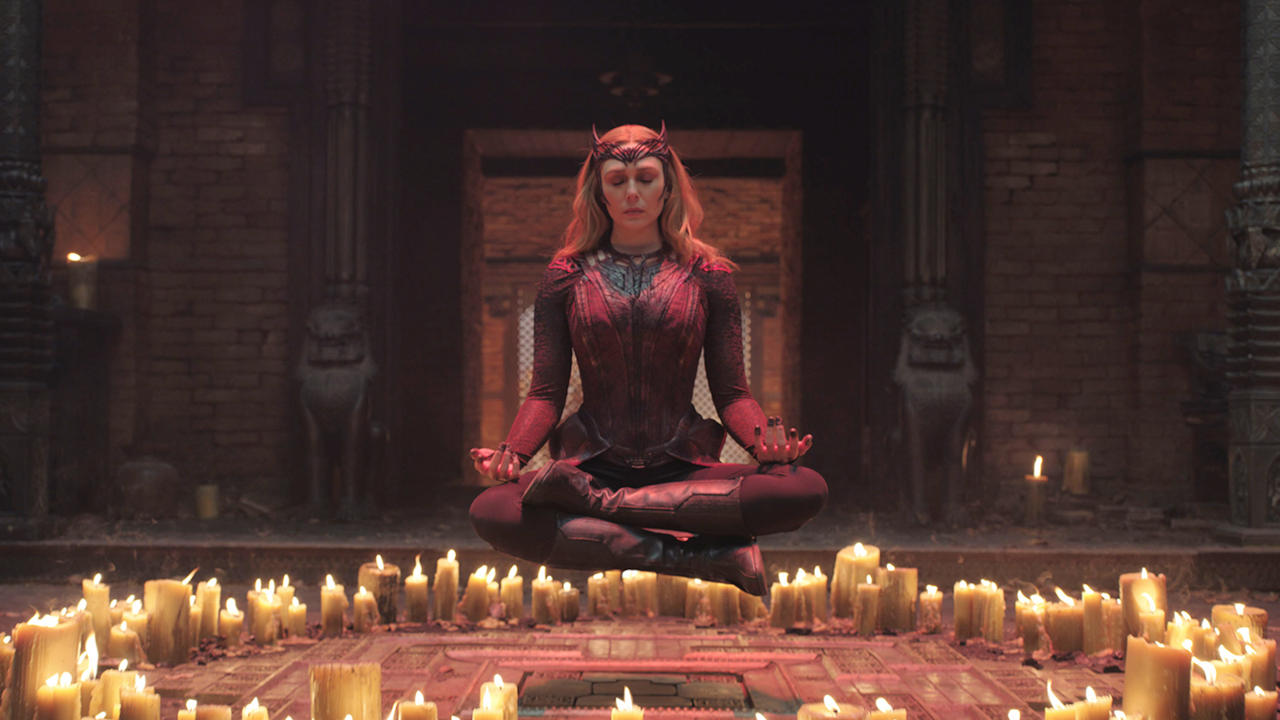 Elizabeth Olsen's return as Wanda, or the Scarlet Witch, simply allows her to once again outdo herself, returning nuance and function to the character which had been largely waylaid in most of her previous feature film appearances.
It's hard to delve into the intricacies of Multiverse of Madness without plummeting into spoiler territory, but it is remarkable that the movie could have worked even without the grand scale of fan service. More impressive is how the fan service doesn't interrupt or detract from the reality of the situation, or the sheer stakes on which the characters' actions are dependent for the sake of appeasing fans.
The uproarious cheering and applause for select scenes are often challenged by sudden silences, and the pain of at least one character is something of a continuing reminder that amidst all the colours and cheer in the Marvel Cinematic Universe, still lies the beating heart of a story to be told.
Doctor Strange in the Multiverse of Madness is out now in theatres, and is a great way to celebrate the opportunity to watch films in big groups once again (but with masks on, of course)!