In a move to feature creative collaborations and support rising stars in the local music scene, Clarke Quay will be launching a new music series called Sound Port, a brand new audio visual
spectacle held at Clarke Quay's Fountain Square.
The first edition will take place 14 to 16 November ( Thursday to Saturday), 7pm – 1130pm, with a stellar lineup of exciting electronic artist and DJS – MYRNE, A/K/A Sounds, brb., Duumu, Shye and YAØ.
MYRNE is no stranger to the international electronic music scene. He performed at Tomorrowland (Belgium), one of the most revered and popular EDM festivals in the world and was also the first Singaporean to perform at Ultra Miami.
Back from a ten-city tour in the US to promote his latest album "In Search of Solitude", MYRNE will be returning to Sound Port on 15 & 16 November to unveil a never-seen-before live performance of his latest material in Singapore.
DJ and producer, Duumu , who has since reached over five million plays on Spotify and Soundcloud, will turn heads with his fresh take on electronic music. Joining him on the second night of Sound Port are some of the youngest breakthrough artists in Singapore.
Winner of the first-ever Singapore Youth Music Awards 2019 " New Kid on the Block" category, singer-songwriter and producer YAØ will ease the crowd into the mood with hits such as "Scenery" and "RHCF" which has since garnered 700,000 streams on Spotify.
Shye , winner of 2018's Vans Musician Wanted, will showcase her signature mix of bedroom indie and electronic pop.
The music continues on 16 November with R&B, Hip-hop and Soul collective brb. comprising Auzaie Zie, Clarence Liew Oliveiro and Marc Lian who have amassed more than 90,000 Spotify listeners in the short span of a year. Making waves across Asia with their iconic sound, the trio will treat party-goers to a sneak peak of their upcoming EP.
Not to be outdone, DJ and co-founder of ATTAGIRL! + BAOWBAOW – A/K/A Sounds will amp up the atmosphere with her inimitable presence and distinct style of electronic music.
Sound Port Clarke Quay will be completed with an immersive, experiential and dynamic environment. Hanging neon-lit geometry, an infinity optical-illusion mirror hypercube, holographic photo walls and illuminated multi-layer visuals are some of the visually spectacular design infrastructures one can expect at Sound Port.
As part of the instalment, pop-up food and drinks stalls from new outlets Live at the Crossroads and Gabbar will be serving fusion food and drinks to fuel party-goers.
Known for his intersections in Pop, Bass and high- energy Electronica, MYRNE began his journey in 2015 with the release of his 'Softsins' EP on dance music behemoth Mad Decent, inaugurating himself as the first Asian on their roster.
His experiences in isolation growing up in Singapore, coupled with his classical training, has granted him a unique outlook on electronic music – with support from the likes of Diplo, Madeon and Martin Garrix as a testament to that fact.
Fresh off his ten-city US tour and performing at Sound Port this coming 15-16 November at Clarke Quay's Fountain Square, we catch up with high-flying DJ MYRNE on his latest music and inspirations.
How was the reception on your US Tour? Was it what you expected?
It was great! I was trying out a slower-paced live set with all originals, and I was surprised that it was received well. Crowds there are extremely open-minded when it comes to catching live acts.
Tell us about the new tracks that you will be playing at Sound Port?
It'll be edits of songs off my album, In Search of Solitude, with live elements.
Who are some of the artists that you follow and what are you listening to at the moment?
I'm currently listening to Mura Masa, Photay, Tourist, and Groke.
Where does your inspiration come from?
Inspiration comes from my environment, and daily life. It's everything but music that inspires my music: "How vain it is to sit down to write, when you have not stood up to live." – Henry David Thoreau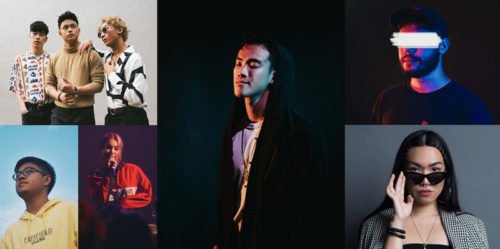 Sound Port Clarke Quay is the first of a three-part music series presented by Clarke Quay in collaboration with music media company Bandwagon.
Admission is free. The first 100 party goers will receive a complimentary drink on the 14th of November.