So swell
The cast shows potential in the film's second half
Musical numbers in the film's second half
Supporting creature friends Sebastian, Flounder and Scuttle are fun
Shipwreck
Drab aesthetics, effects, and colour treatment underwater
Questionable character designs and personality development
Lacks innovation and has very clumsy scripting
The next time Disney is sitting in their think tanks and contemplating a live-action remake of one of their classic animated films, I hope they ask, "But, why?" Perhaps the question will save them the goopy, sub-standard shipwreck production of The Little Mermaid, which, plagued by poor production quality and turbulent pacing, leaves a promising cast stranded at sea.
One assumes that the "why" of something is to charm a modern audience by making the best of more educated social climates and using new filmmaking tools to sparkle some of that Disney magic powder into dated retellings. And while it's possible this "why" may have been present at the conception of this remake, we see mere glimpses of this in the actual film.
Let's address the big shiny mermaid tail in the room
The Little Mermaid is the story of a princess who ached with the curiosity and ambition to see a world beyond her own, above sea. Having a mermaid tail obviously makes this difficult, and having a fearful, protective King Triton for father certainly adds some whirling obstacles. Along comes Prince Eric, who gives Ariel the last push that she needs to live a human life, although she achieves this by making a trade-off with the wicked sea witch, Ursula.
The original animated story has received plenty of flak with many labelling it anti-feminist. Ariel was one of Disney's many White princesses at the time, and was perceived as one who'd given up everything, too much, because she'd fallen head over heels for her prince.
But there's a lot more nuance to the story than that – Ariel had always been fascinated with the human world and Prince Eric was one strong point of fascination in this world. Not to mention, Ariel saved Prince Eric's life early on in the film, a far cry from some of Disney's other damsel-in-distress princesses.
That's not to say that there was nothing to be improved upon, and the remake treads cautiously to establish Ariel's prior fascination with the human world, whilst portraying naivete and individual conviction.
We've also got Black actress Halle Bailey playing Ariel, whose doe-eyed features and gentle demeanour lend efficiently to the character's portrayal. And while the little mermaid might still not be the princess that parents want their daughters to take after, it's nice to have one more princess of colour that people can see themselves in.
The casting of Halle Bailey is plagued by poor writing choices and an absolutely lacklustre ambience in the first half of the film, making her performance fall flat at the beginning, and find its footing (pun intended) only in the later half of the film when she's mute, human, and walking. And while her performance as a human is one that might leave you smitten, it offers little range as opposed to the feisty, passionate emotion that could have been captured during her time as a mermaid.
Running a tight shipwreck
A prevalent thought you'll have when you're watching the first half of The Little Mermaid is that everything underwater looks bleak, dreary, and devoid of any magic. It's difficult to understand why this was the case in a Disney film, but it robs the film of its atmosphere and creates an experience filled with painfully awkward silences between dialogue and character movements. Very lazy.
The casting of Javier Bardem as King Triton proves to have been a very poor one, and it is unclear why he spends almost the entirety of the film speaking with a Mandalorian-like sexy bedroom voice that gets drowned in sea sound filters, a far cry from the strong, booming on-screen presence that the character could have had. It's evident from the character's treatment that Disney had no idea what to do with him, and the lines they've written for him are laughable in almost every instance.
Disappointingly, the same goes with Ursula, one of the most engrossing elements of the original film. The Ursula here, played by Melissa McCarthy, is not the silken, alluring, and confident Ursula that we saw in the original film. Her role is that of poorly executed comic relief and plot movement, nothing more. Any potential that McCarthy could have brought to the film drowns in a sequence of mistimed character interjections and sloppy writing.
Prince Eric played by Jonah Hauer-King is not nearly as mistreated as the other characters in the film have been, and while charismatic in moments, plays a largely forgettable role – which, I'm frankly okay with in a story meant to be about Princess Ariel.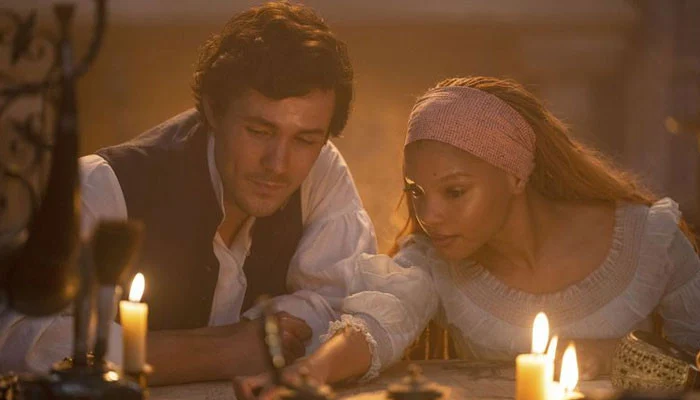 Supporting characters such as Ariel's sisters, each of whom resides in one of the seven seas, add little value to the plot, a tremendously missed opportunity to offer a nuanced perspective when in conversation with Ariel.
Ariel's creature friends, however, seem to benefit from the personality of its rambunctious cast, and the characteristic flavour typical of anything associated with Lin-Manuel Miranda. Daveed Diggs plays a deeply lovable Sebastian, Jacob Tremblay as an anxious Flounder is adorable, and Awkwafina as Scuttle is uproariously entertaining. As with the rest of the film, these characters only shine in the film's second half, but give the film a needed uplift.
The much-awaited musical remakes of the original The Little Mermaid have mostly been recorded well with Alan Menken steering the ship, but it's not the stuff of goosebumps. There are some hits and misses in terms of how they've been delivered and modified, and most under-sea songs offer little in regard to planning or performance orchestration. Halle Bailey does, however, belt Ariel's iconic song, Part of Your World, in a manner most gripping. The music truly comes to life when the plot has moved to land, which, comes too late.
If Disney had given The Little Mermaid the same level of attention, script work, and visual spectacle of the film's second half to its first half, this film might just have cruised through our hearts. But the reality is a murky one, and why the first half of the film got snubbed in the way that it did, will remain a deep-sea mystery.