Sure, you've heard of the "Cronut", but it might have taken you a little more than a second to land on what a "Cruffin" is. Popularised by San-Fransisco based bakery Mr. Holmes Bakehouse, a cruffin is a flaky, sugar-dusted and cream-filled croissant baked in the shape of a muffin. 
One can only imagine how good it tastes. But you won't have to imagine for much longer, because Mr. Holmes Bakehouse is slated to open its first Southeast Asian flagship store in Singapore come June 2021. With its street-facing unit at Pacific Plaza, you're sure to be enticed by the waft of curious fresh bakes from the bakery-cafe. 
We've also got the privilege of this being the only Mr. Holmes Bakehouse storefront to cop their world-renowned cruffins from! Despite the bakery's fame and its mouth-watering perfect Instagram feed, it had to shutter all of its stores with the ongoing and unforeseeable end of the Covid-19 pandemic. The store is being brought to Singapore by Caerus Holdings, the same blessed folk that gave us Danish confectionary brand Leckerbaer and the NYC famous Luke's Lobster.
What's on the Menu at Mr. Holmes Bakehouse Singapore
On its opening, the 41-seater bakery-cafe will treat us to specialities of Mr. Holmes Bakehouse. Think all manner of doughnuts, croissants, and of course, the cruffins that put the bakery on the global map. And despite the tongue-in-cheek Mr. Holmes Bakehouse experience, you'll get with its white-tiled walls and all-pink ceiling, menu items are handcrafted with the rich flavour and refinement of traditional baking techniques. 
Keeping true to the authentic Mr. Holmes Bakehouse experience that'll taste as good no matter where in the world you go, pastry chefs from the original Mr. Holmes Bakehouse flagship store will be flown down to Singapore from the US. They'll work with local counterparts on everything across pastry crafting techniques, recipe development, and operation protocols.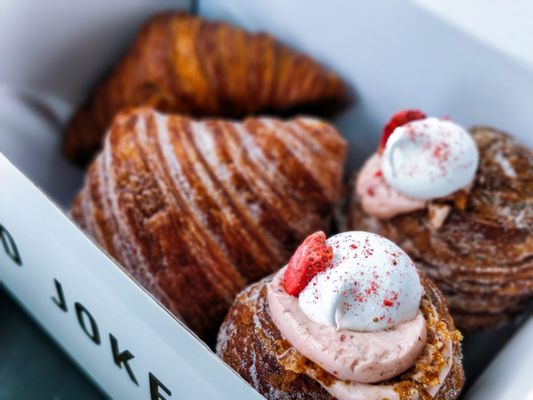 With both dine-in and takeaway options available, you can "get baked" on a spectrum of sweets and savouries on ground, or flaunt your loot with a quick snap against the store signages. You can also pair it with a classic cup of coffee and tea done your way, or kombucha for an effervescent and tart refresher. 
Besides that, there will also be new items every three months! 
The bakery will have a quarterly seasonal menu to keep fans and pastry lovers on our toes. We can look forward to tearing into a new array of delectable bakes every three months so the team gets to explore new ideas in keeping the selection exciting for customers.
More about Mr. Holmes Bakehouse and its epic legacy
Mr. Holmes Bakehouse's tongue-in-cheek consistency across its offerings that include anything from churro croissants to strawberry jalapeño bear claws, store experience and social media allowed the brand to rise to peak success of seven locations across San Francisco and California — including their first overseas expansion into Seoul, Korea — leading Caddel into Forbes' list of 30 under 30 Food & Drink entrepreneurs in 2018.
Named after an employee's cat, the essence of Mr. Holmes Bakehouse is irreverence toward tradition since day one. The rejection of convention, combined with classic French viennoiserie, has bred a philosophy of inventiveness and constant and obsessive menu development, getting scores of fans "baked" with seasonal bakes and adventurous adaptions of signature cruffins, croissants, doughnuts and more.
Moving its narrative forward in a new market in 2021, the love affair with carbs continues, as told by layers and layers of laminated dough.