CO PLAY, a first-of-its-kind communal habitat hosting homegrown and international artists in Singapore, opens in the heart of the city this June at Plaza Singapura! Step into a vibrant space decked with an extensive collection of designer art and collectibles of various mediums as CO PLAY brings its visionary concept of a creative hub involving artists, collectors, and the public sphere to fruition, giving exposure to artists at work while highlighting their stories to the community.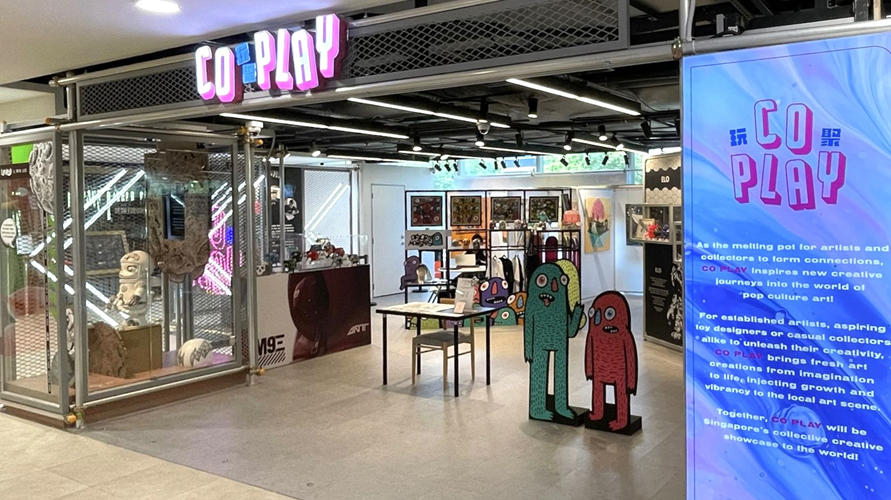 Striving to become a haven for established artists, aspiring creatives, or even casual toy collectors, CO PLAY seeks to inspire new journeys into the world of pop culture art, to transform imagination into life and to inject much needed vibrancy into the local art scene. To foster a community to drive local indie art development, CO PLAY has assembled a diverse cast of artists to showcase Singapore's rich artistic tapestry.
Connecting Collectors & Public with Artists
Featuring an ever rotating roster of local artists-in-residence with their very own open studio booths at CO PLAY's artist village, CO PLAY's unique concept empowers people to bring their dreams to life, showcasing Singapore's creative scene to collectors and the general public in a retail location.
Current artists-in-residence include Eric Chew (@sapientoystudio), Jeremy Tanavit (@Tanavit23), Lester Lim (@lesdoublewood), Rex Lee (@my_spacecats), Toby Tan (@tobyato) and Yang (@yang ovo).
Through encouraging face to face interactions between artists and visitors, and bringing the artists' creative processes to the public eye, CO PLAY fosters an immersive environment where visitors are able to build an emotional connection to the artworks and collectibles being created. By making art accessible to all, CO PLAY lifts the veil to allow visitors to see artists in their element, to learn the stories behind them as well as their creations, and to invest themselves in the artists' process.
Being an open space showcasing our homegrown talents, visitors can catch CO PLAY's artists-in-residence at work in the artist village throughout the week! Visitors can also get their hands on highly sought-after collectibles and exclusive merchandise, or request custom works as well as personalised pieces from the artists onsite. CO PLAY is also the space for artists to introduce and launch new characters, including 'Elo' by Eric Chew's Sapien Toy Studio and 'OOJA' by Yang.
Through offering a truly immersive and multi-faceted artistic experience from this concept space where artists, collectors and the public can interact freely with one another, CO PLAY is set to becoming the platform space representing the development of designer art and collectibles in Singapore!
Bringing Art to Life Through Exploration & Collaborations
Beyond the open studios by local artists-in-residences, CO PLAY is also the enabling platform for new creative talents exploring the world of designer art toys, and for established artists to dive deeper into the world of Intellectual Property creation.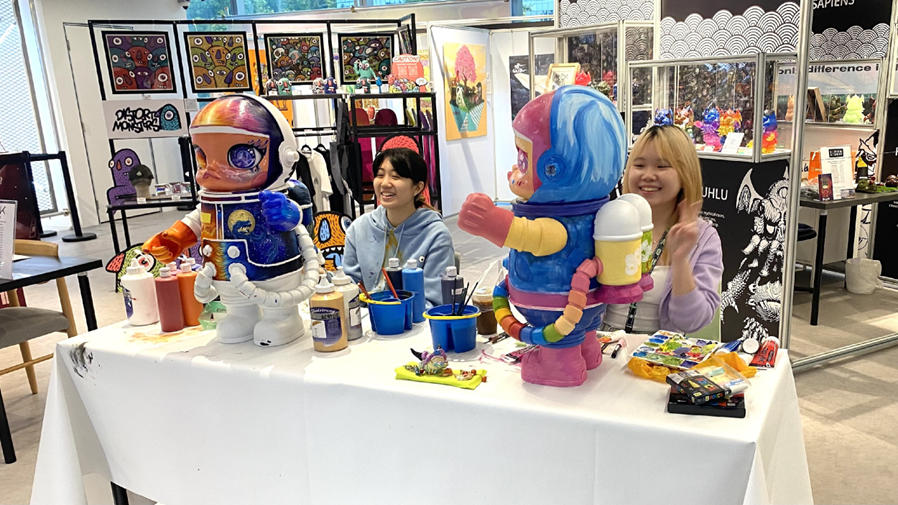 New entrants into the realm of art toys and collectibles include established illustrator Rex Lee and painter Angelina Lim (@ellalinaart), as both artists have recently started creating custom art toys as well as conducting live art sessions within CO PLAY. Best known for his large scale vibrant murals all over the island, local visual artist wunderkind Sam Lo (@skl0) has also painted a wall mural at CO PLAY, and will be showcasing his urban artworks as well as launching his art toy series at this space.
To further tap into a diverse pool of visual and urban artists who are keen to explore creating their own designer art-toys, CO PLAY has also partnered with artist Taketo Kobayashi (@humanoise) to launch an initiative Proto Toyz, a visionary project to create bespoke artworks and collectibles in limited runs for renowned local artists including Adeline Tan (@yell0w), ANTZ (@antz_rscls), Boon Baked (@boonbaked), Chris Chai (@cosmicchai), Farizwan Fajari (@speakcryptic), Kit (@kitctrlaltdelyou), Race Krehel (@supercybertown), Williem Siddik (@siddwills), ZERO (@zero_x_rscls_o) and more.
Other partners include Wasuka Art (@wasuka.art) to feature talented pop artists from Singapore including Andre Tan (@andretanart) whose popular works focus on the impact of popular brands and contemporary cultural icons delivered through vivid colours and witty humour, Kin (@kin80) who is known for his colourful world of wonderful characters amidst surreal landscapes in local context, as well as Emily Moh (@em_ceramic_art) best known for her whimsical pop art creations in ceramics. Beyond the local talents, there are also key works from international artists such as Piao Cheng Long (@piao_chenglong_art) from China and Buakow Phasom (@buakowphasom) from Thailand. With their distinct styles and unique perspectives, these artists bring a diverse range of pop art to CO PLAY, each reflecting their individual personalities and the different cultures that they are influenced by.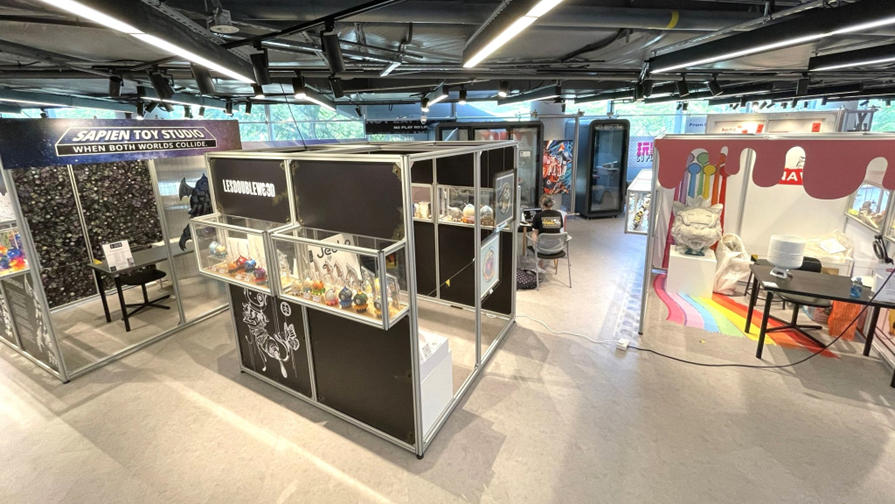 CO PLAY also hosts overseas artists including Benzilla (@benzilla ) from Thailand, Distort Monsters (@distortmonsters) from the Philippines, as well as Daytoner (@day_toner) from Canadian studio Purearts (@pureartsofficial). These exchanges have further fostered collaboration opportunities with local artists. Through this space, Benzilla collaborated with COPLAY artist-in-residence Jeremy Tanavit to launch a new designer art-toy 'BIRDZILLA', a combination of Tanavit's Pitohui character with Benzilla's signature 'LOOOK' design.
With the mandate to support the development of the local arts scene through growing artists and creatives, CO PLAY has also attracted support from organisations sharing the same objectives. This year, UNIQLO Singapore is partnering CO PLAY to encourage shoppers to support local arts and cultural communities #WithUT over two weekends at the Orchard Central Global Flagship Store. To launch this partnership, CO PLAY's artists-in-residences created to a new UTme! collection – Playful Memories, and will also be creating live art sessions for shoppers at UNIQLO Orchard Central to be part of these activities.
Creating The Collectors' Playground
The CO PLAY experience is further complemented with the introduction of an on-site collectors' bazaar, where collectors set up stalls in the space every Saturday to sell both pre-loved and mint vintage toys, designer figures and rare collectibles to visitors.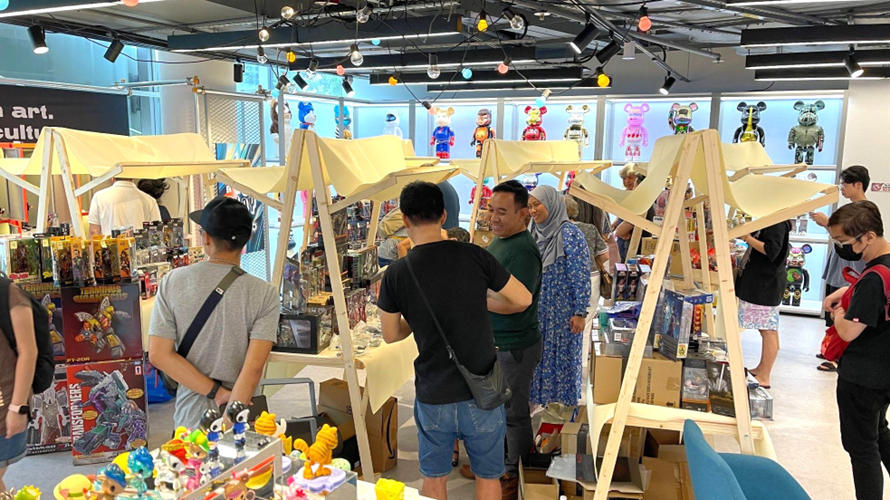 Evoking memories of visiting toy flea-markets on weekends in the past, the collectors' bazaar at CO PLAY provides a communal space for art and toy collectors to gather and show off their wares and serves as a common marketplace for enthusiasts to meet and add to their ever-growing collection.
Operating every Saturday between 4pm to 8pm, CO PLAY brings back memories of simpler times, where those of like mind would gather as a community at weekly flea markets and bond over shared interests.
Beyond the collectors' bazaar, there will be workshops conducted by artists, ranging from illustration and painting to pottery, where visitors can look forward to letting their creative juices flow and producing their very own art pieces under the guidance of the artists including Rex Lee, Angelina Lim and Emily Moh!
Truly the melting pot for artists and collectors to connect and interact, CO PLAY inspires new creative journeys into the world of designer art collectibles and artworks. Other than inspiring artists to collaborate and engage, this concept space enables both artists and public alike to bring their imaginations to life as artworks and collectibles, and is the creative platform to represent Singapore's developing pop culture and arts scene to the rest of the world.
Co Play is located in units 03-67 to 03-69 of Plaza Singapura!