The Good
Idiot-proof customisability
A merger of convenience and quality at its best
Versatile lens, awesome zoom, quality sensor
The Bad
No horseshoe or viewfinder
Things are a little fuzzy around the edges of the lens
Slight overprocessing of images
The Canon G7 X Mark III is almost the complete package. Almost.
Without the bulk of a DSLR, this handy and ultra-portable almost-pocketable-camera takes quality images with a 20.1-megapixel sensor and an impressive lens. The best part? Anybody could use it. And if you're not just an anybody using a camera, the Canon G7 X Mark III has great manual capabilities.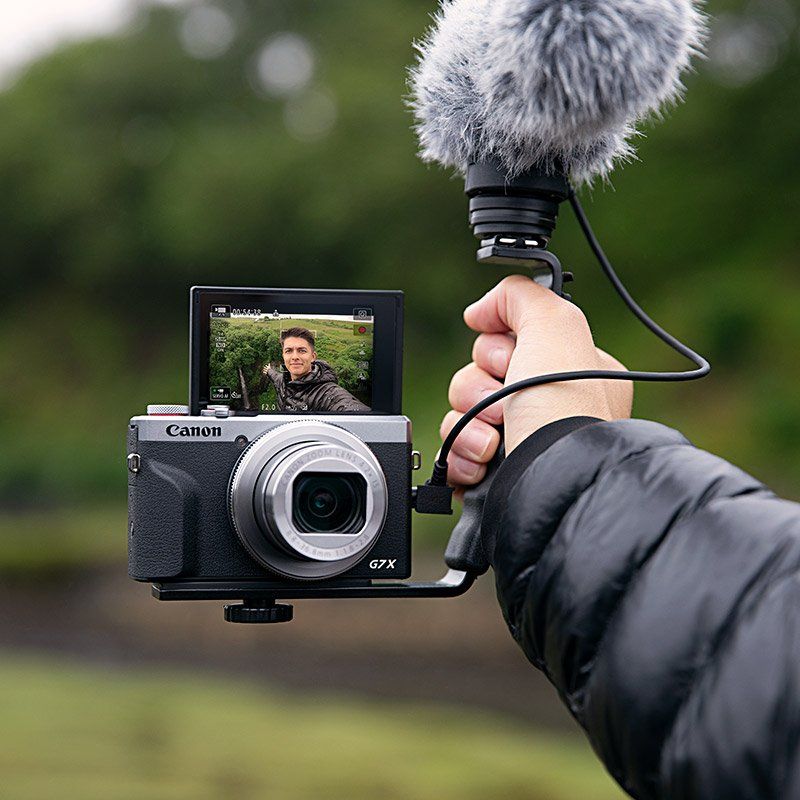 Standout Features
With mobile phones upping the ante on cameras, it's an easy belief that phone cameras have begun to supersede the capabilities of cameras.
While they may situationally pose some stiff competition, the Canon G7 X Mark III's big one inch and 20.1-megapixel sensor produces images that are remarkable under far more testing light conditions than a phone could handle. With that said, the whites are sometimes blown out, making some shots look overexposed.
This compact camera also offers a  built-in 24-100 millimetre equivalent f/1.8-2.8 lens. The 4.2x zoom is capable of capturing some crisp detail with minimal compromise.
With speedy capture being able to shoot continuously at 20fps (30fps on raw), the Canon G7 X Mark III goes a long way in ensuring that almost no moment is a missed picture on the go.
The body of the camera is also worth noting. There's a sculpted rubber grip on the front that makes the camera very easy to hold and control. For clumsy folk with butter fingers, the camera ensures that you can shoot video and selfie-style video while worrying a little less about your gear slipping out of your fingers.
The three-inch LCD monitor can also tilt 180 degrees upward and 45 degrees downward, which comes in handy. Put this in your front pouch on a cycling trail, and you could whip it out in an instant for every precious moment on the go.
Speaking of video…
Other Functionalities 
The Canon G7 X Mark III boasts great 4K UHD video performance, with fast autofocus and good metering even in low-light conditions. The image quality is sharp, picturesque, and stable, although it could be to the annoyance of some that skin and objects appear a tad too smoothened. With 60fps and 120fps slow-motion playback, expect quality.
A train ride on the Yurikamome Line in Tokyo, Japan. Shot on the Canon G7 X Mark III on 1080HD.
There's a plentiful range of beautiful, easily adjustable presets that make shooting on this camera an ease for casuals looking to produce visually appealing images. Face detection is also especially speedy.
For vloggers, the speed at which this camera can adapt and focus on different shots, as well as the overall low-noise aesthetic which it produces unedited–all while on auto–are a dream. That, complete with the wifi, NFC, and Youtube livestreaming capabilities that this camera has makes editing and uploading on mobile an absolute jiffy.
With that said, the autofocus can pose an issue. While you can adjust it via touchscreen, you may waste a little bit of time with the camera placing excessive focus on the wrong things, especially the things in the foreground.
Recorded sound is also unimpressive (but normal), and definitely difficult to use without a cleanup if you're a stickler. Although the Mark III supports an external microphone, the lack of a hotshoe is a definite bummer, if not more noticeable now.
The camera comes with one 260-shot battery. It's a very small battery with the capacity close to a mobile phone's. It's definitely not going to last you the entire day, which is a pity given how suitable this camera is for travellers. Transfers to mobile and prolonged browsing on the camera screen will probably have to wait till the end of the day if you're looking to conserve battery. However, USB charging is an available option via the camera's USB-C port.
Features for if you like to tinker with your camera…
You'll appreciate the manual functionality that the Canon G7 X Mark III offers. The touch screen is immensely responsive and accurate. With proper manipulation, the camera lights impressively, producing surprising images in low-to-no-light conditions. In fact, it puts many DSLR cameras to shame.
The lens ring can be used to adjust aperture and shutter speed, but it does not seem to work as seamlessly when it comes to zoom. There's also an exposure compensation dial, which is always handy. With that said, the lack of a viewfinder WILL annoy you.
In the bigger picture, the Canon G7 X Mark III earns the price tag that it has. It can take a considerable amount of weight off your shoulders, as a decent replacement for DSLR cameras when you're on the go, with capabilities that can be matched in many ways. If you're purchasing this, make sure to get a spare battery or two.