UPDATE: Box Dungeon is fully funded and is now on its journey towards its first stretch goal. With little more than a day left to its campaign end, be sure to go back it now if you'd want a copy of this minimalist dungeon-crawling experience.
(The early bird option for two sets at S$70 is still available.)
Dungeons & Dragons might arguably be one of the most iconic games in the worlds of geeks and pop culture. Yet, for all of its mentions and prominence on TV and at the movies, the idea of actually playing Dungeons & Dragons is one that intimidates most.
Thankfully, in recent years, we've seen a wave of simplified, or even minimalist, games inspired by their iconic predecessor. On the cusp of dungeon crawlers and the likes of Gloomhaven, many dungeons-in-a-box type games have taken the spotlight in welcoming new and more casual players.
And, in a very literal way, Singapore-made Box Dungeon seeks to achieve the same with an ongoing Kickstarter campaign. Aiming to raise S$15,000, Box Dungeon promises to be a minimalist dungeon crawler and RPG card/board game that fits into the palm of your hand.
This 1 to 5 player game—there's a single-player mode, and a dungeon master (DM) can get involved to round of a group of 5—boasts retro artworks meant to invoke the style of older RPGs some may be nostalgic for, while also not being overwhelming for new players.
As a dungeon crawler, Box Dungeon allows you to traverse customisable maps (at the behest of your dungeon master) while encountering and battling monsters, discovering new skills, gaining epic weapons, and—most importantly—building your own character.
Consisting map tiles, loot and encounter cards, monster meeples, 2 sets of dice, and even a DM screen, Box Dungeon succinctly contains everything you'd need for your own Dungeons & Dragons-esque game lite.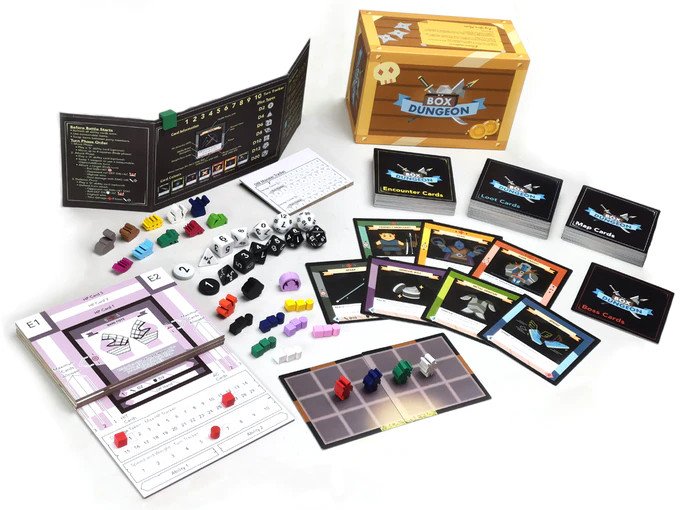 While the complete game can be gotten for S$50, the early bird special offers a 30% discount, pricing it at S$35. Similarly, a pair is available for S$90, or at the early bird price of S$70.
Box Dungeon is up on Kickstarter now and will end its campaign at 11:59pm, 22nd February 2020.