Assassin's Creed Valhalla's next major expansion, The Siege of Paris, is now available and sets Eivor adventuring across the Frankish countryside.
Set in Francia, this new adventure will set Eivor on a dangerous path full of gripping questlines across the cruel Frankish countryside towards one of the most infamous battles in Viking history.
As with new expansions, players will get their hands on new weapons, abilities, gear, and skills to take on new enemy types.
Players will have access to the expansion after completing one of the two first narrative arcs available in England (Grantebridgescire or Ledecestrescire), which unlock just after they arrive from Norway. When in Ravensthorpe, Eivor will stumble upon visitors from Francia offering suspiciously generous presents and will then find their way to Francia.
Unlike the previous expansion, Wrath of the Druids, which you could jump into immediately, the suggested power level for Francia is 200. While there is no mandatory power level to play The Siege of Paris, enemies are ranked higher and yup will need to be a lot more careful when instigating any encounters.
That being said, I like the fact that the stealth and assassination element of the game come into play when you do venture into areas that might be above your current level, and don't allow you to simply bash your way through and rather, spend time to properly plot your course.
Also unlike Assassin's Creed Valhalla's core game and Wrath of the Druids, The Siege of Paris does not have vibrant hills and lush sceneries. In fact, it is quite the opposite.
Paris is miserly, dank and drab. Instead of green hills and bright environs, in the latest expansion, you'll find yourself spending more time in the underbelly of Paris wading through its sewers and its equally dark politics than anywhere else.
As you explore the different districts of Paris, you find that its people have been torn apart by the plague and the sewers are infested with rats that will swarm you if you're not careful.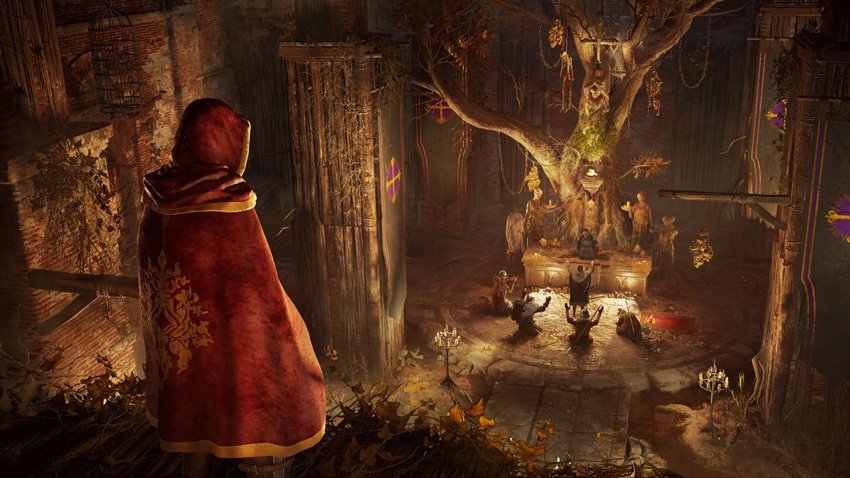 The Siege of Paris also marks the return of Infiltration Missions, directly inherited from long-time, fan-favourite Black Box Missions, which allow players to choose the best way to eliminate their target. Eavesdrop on conversations and blend into the background for the stealthy kill. Before now, Valhalla just didn't seem to have enough "assassins".
It is a sobering experience where Eivor is no longer as efficient and impactful as he was in England and Ireland. Even his infamy has little value in the French court.  Friends are a lot harder to come by and it definitely adds another level to the Valhalla narrative.
The Siege of Paris may be shorter than Wrath of the Druids as an expansion, but it feels like the missing piece that completes Assassin's Creed Valhalla to deliver a well-rounded experience for fans of the series.
Assassin's Creed Valhalla is available on Xbox Series X | S, Xbox One consoles, PlayStation 5, PlayStation 4, the Epic Games Store and Ubisoft Store on Windows PC, at SGD 32.90, MYR 79.00, PHP 900, IDR, 259,000 and/or USD 18.49.