After taking Europe and Australia by storm with its distinctive Cuban flair, elasticity, versatility and energy, Ballet Revolucion returns to Singapore this 5 and 6 May at Sands Theatre – recharged and rebooted.
Previously presented in Singapore in 2012, the show brings a brand-new production fusing contemporary dance, modern hip hop, and ballet from the undisputed home of dance, Cuba – all to number-one hits from favourite artists such as Dua Lipa, Justin Bieber, Adele, Daft Punk, Justin Timberlake and more.
Renowned Australian choreographer Aaron Cash and esteemed Cuban choreographer Roclan Gonzalez Chavez collaborate to create a distinctive fusion of contemporary dance, incorporating elements of ballet and salsa.
This innovative blend generates an exceptional display of unbridled passion and raw energy. Ballet Revolucion embodies boundless enthusiasm, captivating sensuality, remarkable athleticism, and a celebration of life.
We catch up with Aaron to learn more about his approach to dance and what fans can expect from this presentation of Ballet Revolucion.
Hailing from Brisbane, Aaron Cash is a gifted performer and an original member of "Tap Dogs." Early in his career, he was cast by renowned choreographer Kenny Ortega in Cher's Love Hurts Tour, which led to a decade-long tenure as Cher's lead dancer.
Aaron's exceptional talent caught the attention of industry icons, including Twyla Tharp, who selected him as her personal Pas de Deux partner, and Mikhail Baryshnikov, who included Aaron in their global tour. Today, Aaron's expertise in performance, choreography, and artistic consultation is in high demand worldwide.
His diverse portfolio ranges from working with Wet Design on a luxury hotel fountain in Macao, China, to serving as Jolie Richardson's personal tango coach on Nip/Tuck.
Aaron has also appeared in productions like La Traviata and films such as Titanic and The Curious Case of Benjamin Button. His television credits include Scrubs and Terminator: The Sarah Connor Chronicles. Aaron travels extensively, hosting and teaching dance and choreography seminars around the world.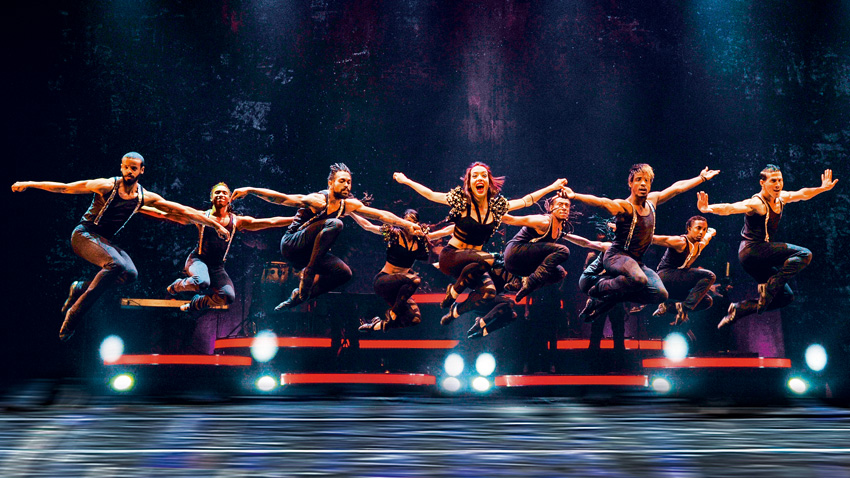 1. How would you describe your approach to choreography and dance?
Aaron Cash: It's storytelling for me. Telling stories through movement. It's never been about steps. That's the basest mentality you can have when it comes to Choreography.
Yes, you've got to have a certain skill level but I'd much rather work with someone who might not be the greatest technician but can physically access their emotions and interpret that through their bodies. That's a real artist.
Touring with Cher as her lead dancer, and then handpicked by Twyla Tharp as her personal Pas de Deux partner, as well as the legendary Mikhail Baryshnikov. How did these experiences shape your creative journey?
A: the rehearsal process is always the most fun. Sometimes the best material doesn't even end up on stage because it doesn't serve the piece. All these incredible artists that I had the pleasure of working with were phenomenally collaborative.
That's where the juice is. When you and the dancers you're working with click on a creative level and everything starts to come together – then the fun begins!
3. Your work spans a variety of mediums, from coaching actors in tango to even working on fountains. What unique challenges and rewards do you find in each of these different projects?
A: Great question, so for me, it's finding a way in. What's the hook? Sometimes it comes really quickly other times it's long and drawn out.
Twyla Tharp would say " You're watching the grass grow. " But when it does click or some kind of breakthrough happens it's the best. And sometimes it's just rubbish hahaha.
Can you discuss your role in Johnny Walker's "Human–Keep Walking" advertising campaign and how this experience may have influenced your perspective on the intersection of dance and commercial work?
A: I'm a triple threat so as I said earlier story is important just as much for an actor as it is for a dancer or singer. With my work, I love to merge my physicality with my acting work.
In that JW campaign, I played an android so the movement had to be smooth but with a hint of an automated being. So I played a lot with the thought of being liquid Mercury.
As a choreographer and performer featured in multiple films and television shows, what are some key differences in your approach to creating movement for the screen as opposed to live performances?
A: You can be a lot broader on stage. Whereas in film, the inner life is very important as your face is blown up so much larger. The smallest thoughts read.
This can sometimes be very challenging when you've grown up on stage and your natural inclination is that of a Showman.
With such a diverse and accomplished career, what keeps you motivated and inspired as you continue to explore new artistic avenues and challenges?
A: Honestly I just love to work and be creative. Whatever avenue it comes from
How did the idea for Ballet Revolucion come about, and what continues to inspire a production that blends contemporary dance, modern hip hop, and ballet with Cuban flair?
A: The original idea came from two of the producers Mark Brady and Jon Lee. New dancers and new music always help to keep It fresh and interesting.
What challenges did you face in bringing Ballet Revolucion to the global stage, and how have you managed to overcome those obstacles to achieve success in Europe, Australia, and now Singapore?
A: Originally when we started, over a decade ago it was the distance of all the parties involved. One producer in Australia, one in England, one Choreographer in Los Angeles the other in Havana.
Then the fact that this show hits the scene and nobody had ever heard of it. We were an unknown quantity.
The last couple of years- well we all know the changes that brought. But the he fact that we are still going and audiences are still enjoying the show is a real blessing.
What do you believe makes Ballet Revolucion stand out among other dance productions, and what impact do you hope it has on audiences around the world?
A: The Cuban dancers. They are so passionate about bringing their dance, their flavour to the world. It's a very big honour to be a dancer in Cuba.
Can you discuss the process of selecting the music for Ballet Revolucion – with hits from popular artists like Dua Lipa, Justin Bieber, Adele, Daft Punk, and Justin Timberlake, how do you feel this choice of music enhances the overall production?
A: This is a commercial dance show we try and make it accessible for as many people as possible. We take the work seriously but not ourselves. This show is about joy, passion and fun.
How has Ballet Revolucion evolved since its initial presentation in Singapore in 2012, and what can fans expect from this "recharged and rebooted" version of the show?
A: It's a new generation of Cuban dancers with different artistic sensibilities than their predecessors. There's new music and Choreography. It's the same high energy good time show, but like everywhere else in the world Ballet Revolucion is constantly evolving to reflect the times.
Ballet Revolucion will be presented in Singapore at on 5 and 6 May at the Sands Theatre, Marina Bay Sands. Tickets are on sale now.